Let's honor Dad this Father's Day and show him the love with these super tasty ideas that "sneak" veggies into every delectable bite! Try my twist on zesty enchiladas using farm-fresh zucchini in place of tortillas.
For years now, I've written about ways to sneak veggies into your child's diet.
You've written back with tons of great ideas that have made their way into recipes that we are all familiar with today.
You know what? It turns out that kids are not the only ones that need those veggies.
As we grow older, our healthy diets become just as important for us as they are for our children.
If your household is anything like mine, it's Daddy dearest who often shoves away that cauliflower while he adds a serving or two of French fries. I'll make you a bet that nary a pickled beet has been spooned onto his salad plate.
Even with Popeye as a role model, our father shuns any green leafy veg unless it is swimming in cream sauce.
This Father's Day let's honor Dad and show him the love by sneaking a couple of veggies into his everyday meals. Won't that be FUN!
Here are some ideas…
A SALAD is a terrific way to hide fresh veggies. In addition to good old lettuce and tomatoes, try sneaking in these:
🌿Microgreens – full of nutrients and a big punch of taste in a little bitty leaf.
🥬Squash – Shave thin slices of zucchini and yellow squash into thin strips that resemble lettuce leaves.
🥕 Carrots – I know, you're saying anybody can add carrots to a salad. BUT what if Daddy hates carrots? Here's a secret. Put the carrot in the dressing! Use your trusty food processor to emulsify the veg into your vinaigrette. You can do this with any veggie. 🥦 Cauliflower, broccoli, and spinach will work too.
Sneak those veggies into your MAIN meals so that Dad won't know what hit him!
For pasta sauce make your favorite red, white, or green sauce and add some new veggies into the mix. For spaghetti and meatballs, add sauteed veggies to the meatball like eggplant, peppers, or kale.
When sautéing onions and garlic to make your red sauce, add shaved Brussels, diced cabbage, or riced cauliflower. Add roasted butternut squash to your fettuccini sauce. Make pesto with spinach and pea sprouts instead of basil.
You can add every veggie to stews and soups. Bell and spicy peppers are a terrific addition to chili. Add turmeric root, turnips, or sweet potatoes to your chicken noodle soup.
VEGGIE VESSELS are a terrific way to merge more veggies into your main meal. Stuff roasted peppers with chicken and rice. Add Cajun-spiced shrimp to spaghetti squash boats. Hollow out zucchini for veggie enchiladas. (This recipe comes from "Canvas and Cuisine", my most veggie-filled cookbook!)
Let's give Dad a real present this year. One that will keep him around for lots of future Fathers Days!!
Zucchini Enchilada Boats
With Chorizo and Black Bean Filling
This dish has all the flavors of enchiladas but stars farm-fresh zucchini in place of tortillas. Spicy chorizo sausage and meaty black beans are the heart of its fiery filling. The yummy enchilada sauce brings the whole thing together. It's pretty darn delicious!
Good For:
Dinner
Entertaining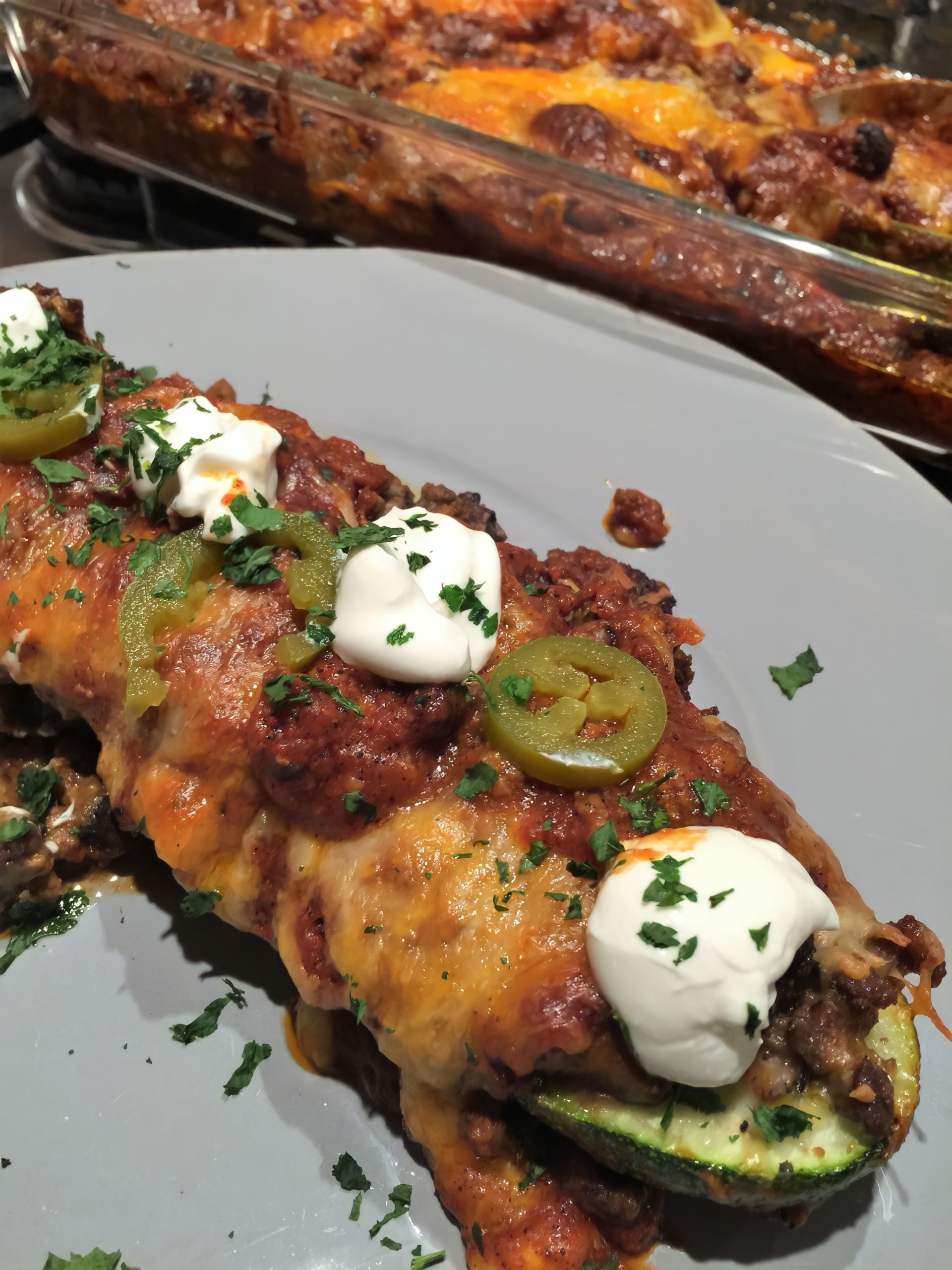 Tried it? Tag it!
I would love to see what you did with this recipe.  Share your creation by tagging #inthekitchenwithjorj and with Scrumptious Possibilities With Jorj, my free private home cooking group.
Preheat the oven to 400°. Heat the olive oil in a skillet over medium-high heat. Cook the onion in the skillet until soft, about 3 to 5 minutes. Stir in the garlic and cook for 1 minute more. Add the sirloin and chorizo and stir, breaking up large clumps, until the meat is browned, about 3 to 5 minutes. Add the black beans. Season with salt and pepper. Use a potato masher to break up the beans into the meat filling. Remove the skillet from the heat.
Whisk together the vegetable oil, flour, and chili powder in a pot over medium heat to form a paste. Stir in the tomato paste and ½ cup of water. Stir in onion powder, garlic powder, cumin, and oregano. Simmer the sauce for 5 minutes to thicken and allow the seasonings to merge. Taste and season with salt and pepper. If the sauce is too thick you can pour in a bit more water. Remove the pan from the heat.
Spoon some of the enchilada sauce into the bottom of a 13 x 9 x 2-inch baking dish. Use a spoon to remove the seeds and hollow out the zucchini leaving about a ¾-inch boat. Place these into the dish. Season zucchini with salt and pepper. Spoon the filling into the boats. It's ok if the filling spills over. Pour the remaining enchilada sauce over the top of the boats. Layer cheese over the top. Cover the dish with a sheet of aluminum foil. Bake for 15 minutes. Remove the foil and bake until the cheese is melted and beginning to brown, and the zucchini is fork-tender, about 20 minutes more.
Garnish the boats with fresh cilantro, jalapeno slices, guacamole, and sour cream.