Sunday Best Dishes by Jorj Morgan
Cooking diva, food blogger and five-time published author Jorj Morgan has published her very first e-book: Sunday Best Dishes: A Cookbook for Passionate Cooks.
Deliciously crammed with breakfast, lunch, dinner and dessert, this book will show you how to morph into a celebrity chef overnight. The recipes are easy, yet extravagant. Cooking techniques, instructions, inspirations and more, are presented in such a groundbreaking way, you will always remember this book.
More than just a pretty plate, each recipe is also foolproof, perfected by the author's loyal band of recipe testers.
Readers will enjoy "tap and learn" features like Sunday Best Dressed, Inspirations and Must Have Kitchen Gadgets that help "repli-plate" everything they see and just about taste on screen.
When you discover how much fun it is to play in the kitchen, these are just a few Sunday Best Dishes you'll make:
Bananas Foster Skillet Cakes with Cinnamon Swirl Syrup
Smoked Gruyere Cheese Tart with Spinach and Bacon
Lemon-Ginger Chicken with Cauliflower and Carrots
Tie Dye Cake with Orange Creamsicle Sherbet
…and so much more!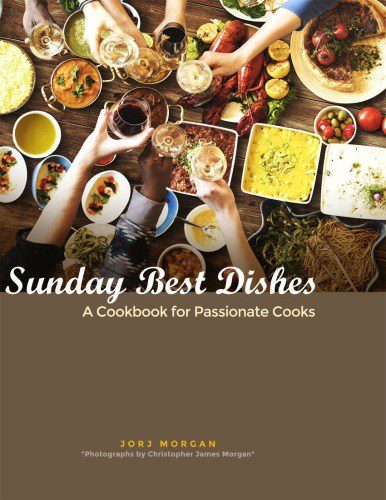 Read it, and you'll unearth a deeper connection to your family and community. If you are the type to show your love through cooking and entertaining, this book is for you. 
And because everyone deserves food made with honest, fresh, seasonal ingredients, Sunday Best Dishes makes a wonderful gift, worthy of the ones you love. It's more than a cookbook; it's a teaching tool that lets you achieve your personal best.
Purchase a copy of Sunday Best Dishes today and take your cooking skills to a professional level, preparing everything from beloved French and American classics, to the kind of soulful, rib-sticking cooking many of us grew up with after church. 
Are you ready to put on your Sunday Best and get cooking?