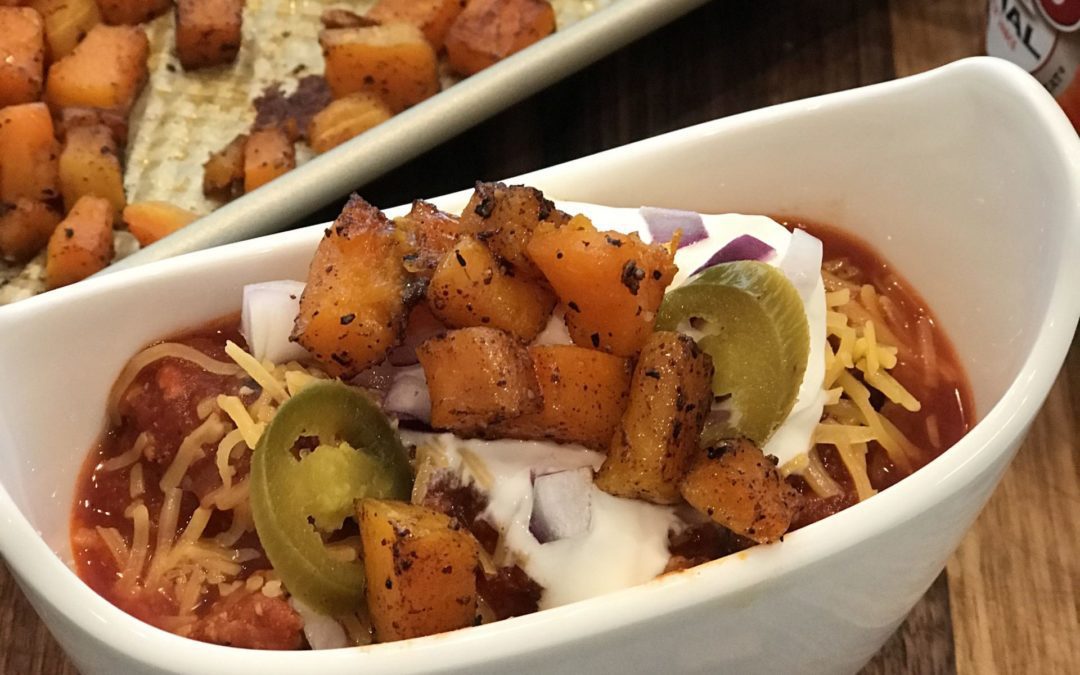 What's better than a bowl of chili on game day? Well, a bowl of chili topped with cinnamon roasted butternut squash, that's what. I really like to make food that's ready when you are… especially if the game is close and the shouting is loud. Chili is the perfect one pot meal. You can make it early on, and keep it simmering 'til half time. You can load it up with toppings and serve it in a mug. It's simple to make, you can't blow it. If it's too spicy, add something cool and sweet. If it's too lame, pass the bottle (of hot sauce!).
I have a recipe for chili in my cookbook, Sunday Best Dishes for chili with pork chunks, butternut squash and black beans. This version replaces the pork with turkey, puts the butternut squash on top, and exchanges black beans with a combo of red and black. It's proof that using a recipe as a guideline to create your own dish is not only doable, but required for a simplified, use-what-you-have-on-hand, game day dish! Serve your favorite chili, and you are definitely a game day winner!
Turkey Chili Topped with Butternut Squash
Serves a Crowd
40 Minute Cuisine Plus Simmering
For Butternut Squash:
1 medium butternut squash, peeled and seeded, cut into ½ -inch dice
2 tablespoons olive oil
1 tablespoon ground chili powder
1 teaspoon ground cinnamon
2 teaspoons kosher salt
2 teaspoons coarse black pepper
For Butternut Squash:
3 tablespoons olive oil
2 large onions, peeled and diced into ¼-inch dice, about 2 cups
1 large green bell pepper, seeded and diced into ¼-inch dice, about 1 cup
2 large jalapeno peppers, seeded and finely diced, about 1 cup
1 whole head garlic, cloves peeled and minced, about 4 tablespoons
3 pounds ground turkey (a mixture of white and dark meat)
3 tablespoons (or more) ground chili powder
2 tablespoons Worcestershire sauce
4 to 6 drops (or more) hot pepper sauce
2 (28-ounce) cans crushed tomatoes
1 (12-ounce) jar chili sauce
1 (6-ounce) can tomato paste
1 (15-ounce) can black beans, drained and rinsed
1 (15-ounce) can red kidney beans, drained and rinsed
Diced avocado
Sour cream
Diced red onion
Pickled jalapeno pepper slices
Corn chips
Preheat the oven to 450°. Place the butternut squash pieces onto a baking sheet. Drizzle with 2 tablespoons olive oil, 1 tablespoon ground chili powder and 1 teaspoon ground cinnamon. Season with some of the salt and pepper. Use your (very clean) hands to gently toss all the squash with the seasonings. Roast until the squash is soft and beginning to turn golden, about 20 minutes. Remove from the oven and transfer to a bowl.
Heat 2 tablespoons olive oil in a large pot over medium-high heat. Add the onion, peppers and garlic and cook until the veggies are soft and beginning to brown, about 8 to 10 minutes. Don't forget to stir things around a bit.
Add another tablespoon olive oil to the pot. Add the ground turkey and cook, breaking up the clumps until the turkey is beginning to brown, about another 8 to 10 minutes. At this point, generously season the turkey with salt, pepper and 3 tablespoons chili powder. You can add more later on! Stir in Worcestershire and hot pepper sauce. Pour in crushed tomatoes and chili sauce. Stir in tomato paste with the beans. Reduce the temperature to low and simmer your chili for 20 minutes or so to let the flavors blend. Stir, taste and adjust the seasonings to your taste. Add additional salt and pepper, chili powder and/or hot pepper sauce. Continue to simmer the chili until you are ready to serve.
Ladle the chili into bowls. Offer toppings of chopped avocado, sour cream, diced onion, pickled peppers and corn chips. Spoon roasted butternut squash on the top and dig in!