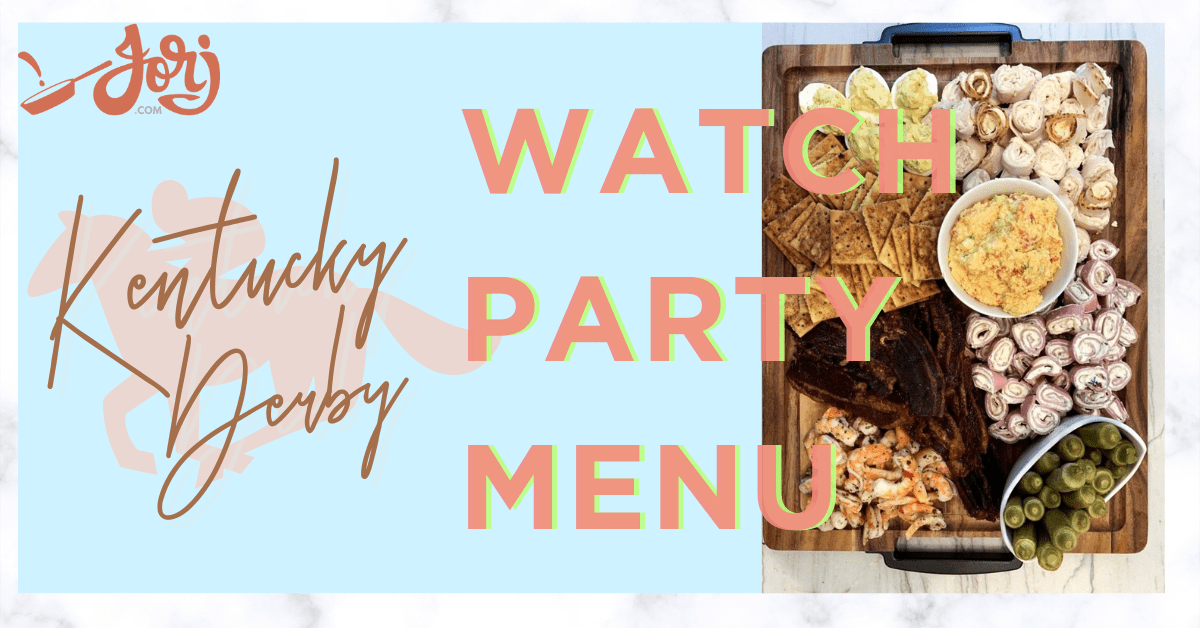 The Kentucky Derby is this weekend and it's time to prepare your party provisions!  Share these on Saturday in a small backyard soiree or savor them television side with the hubby.
We all know and love the term, "Spring is in the air," but imagine, too, the divine way it smells, beckoning us to our backyards with the promise of barbeque with the fixin's….And with Kentucky Derby right around the corner, we can really pull out the Southern stops for a safe and delicious outdoor gathering.

Whether you're setting an elegant table or wearing a Kentucky Derby hat as you graze an outdoor buffet, consider these your go-to Kentucky Derby party plans:
The Kentucky Derby doesn't have to be a marathon if you play host this weekend. A simple charcuterie board elevated with Southern-style taste and ingredients will come to the rescue! This board's arranged with deviled eggs, spiced crackers, pimento spread, pickled okra, millionaire's bacon, my special cilantro shrimp recipe, and an assortment of turkey and ham roll-ups. Serve with Kentucky Derby's infamous Mint Juleps and you'll have yourself a party:

The Savoy Cocktail Book, Harry Craddock, 1930
4 sprigs fresh mint
½ tbls powdered sugar
1 glass bourbon, rye, or Canadian whisky
Use a long tumbler and crush mint leaves and dissolved sugar lightly together. Add spirits and fill glass with cracked ice. Stir gently until glass is frosted. Decorate on top with 3 sprigs of mint.
From family to family, here in the South, there is debate about how to make a traditional hand pie. But one thing is for sure: This recipe makes for a delicious peach pie!  This recipe yields a pie that looks like a puffy, jelly doughnut and is over-the-top delicious. Top with confectioners' sugar and cinnamon and serve with vanilla ice cream for a delicious Southern treat.
This Southern recipe was made from my Farmer's Market opening day bounty and pulls together a few of my favorite farmer's market finds: Tender collard greens, paired with rich pork belly. This dish is perfect if you've just had a stash of your greens in your drawer that you've been looking to work into a dish or perhaps bought a bushel too much from your local farmer's market trip. This dish makes for a lovely first course or a wonderful side dish.
My chilled soup adds farm-fresh sweet strawberries for a cool and refreshing treat.This recipe features both ways of making a gazpacho – you have the option to seed the tomatoes or you don't. Either way, you'll still have a great batch of gazpacho!
Like pickles? You'll love this recipe, and you'll be delighted to discover that there are so many ways to create a delicious batter for your fried pickles. I personally like the combination of seasoned flour and buttermilk for a tangy topping. You can fry them whole or sliced, fried in vegetable or peanut oil – Whatever floats your boat! The comeback sauce featured in this recipe is definitely to die for.
I've always considered that my recipe for hush puppies is TOO GOOD…Try it and you be the judge. This recipe is my own version of that South Carolina fisherman's special recipe. The great thing about it is that you don't have to follow it precisely to get a tasty result. If you're looking for a recipe that you can get creative with, this is it! Pick and choose your add-ins and sauces.