It's National Book Lover's Day and my book club party planner is here! Host a Southern-style book club supper with "Big Lies In A Small Town" by Diane Chamberlain and these recipes from my cookbooks.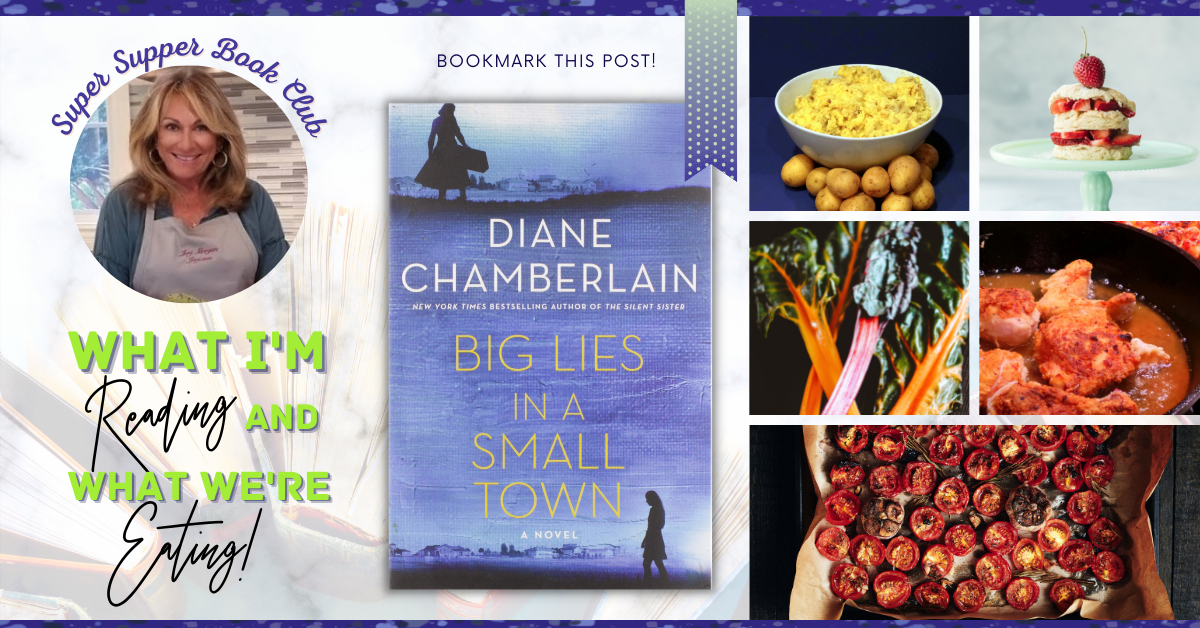 This post contains affiliate links. If you use these links to buy something we may earn a commission. 
I must admit, I was captivated by this book from the first sentence. After all the main character's first name is Morgan.
Her surname is Christopher (name of my middle son) and her boyfriend's name is Trey (name of oldest son). There's a Jon in there somewhere, I'm sure!
The extra pull is that the novel is set in my adopted state of North Carolina jumping back and forth from the early forties and to the present. But it is the writing that really captures the reader. You feel like the characters are your peers. You find yourself dancing in a time warp while you are cheering for the heroine(s).
This is my next pick for our Super Supper Book Club. Gather your readers, give them the title and dole out the recipes for what will be a roller coaster discussion and meal.
Morgan Christopher's life has been derailed. Taking the fall for a crime she did not commit; she finds herself serving a three-year stint in the North Carolina Women's Correctional Center. Her dream of a career in art is put on hold―until a mysterious visitor makes her an offer that will see her released immediately. Her assignment: restore an old post office mural in a sleepy southern town. Morgan knows nothing about art restoration, but desperate to leave prison, she accepts. What she finds under the layers of grime is a painting that tells the story of madness, violence, and a conspiracy of small town secrets.
I already cooked up some questions for your Super Supper Book Club gathering…
After a year, you get your hands on a cell phone for the first time. Who do you call? 

Was it brave or crazy for Jesse's family to aid Anna?

Does Morgan ever come to accept that alcohol is a problem for her, or does she simply comply with her parole requirements?
My Southern inspiration for this Super Supper Book Club menu is Jesse's family's Sunday dinner. I take the liberty of substituting Anna's least favorite vegetable (collard greens) with my delicious recipe for Swiss chard. I exchange corn on with cob for creamed corn. In place of stewed tomatoes liberated from the family's root cellar, I substitute slow roasted cherry tomatoes.
The author didn't mention a dessert, but I bet the farm, there was strawberry shortcake somewhere, sometime on Sundays. My swaps are allowed, because all these recipes are rooted in my love of the South. Lest there be controversary during the discussion, keep those paintbrushes close to allow everyone to express themselves.
This post contains affiliate links. If you use these links to buy something we may earn a commission. 
Super Supper Book Club Menu: "Big Lies in a Small Town" by Diane Chamberlain