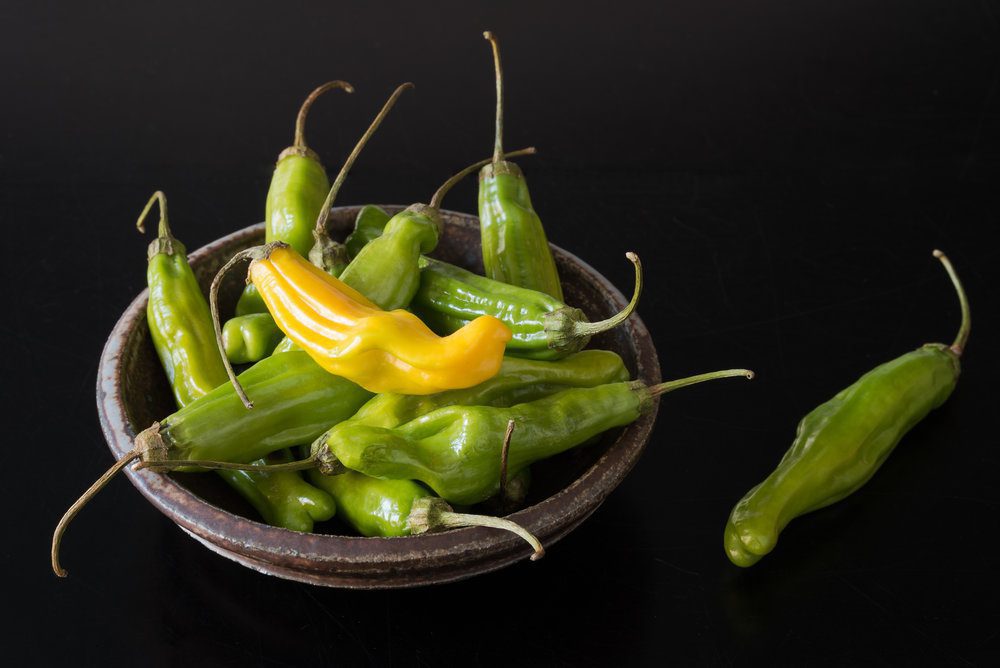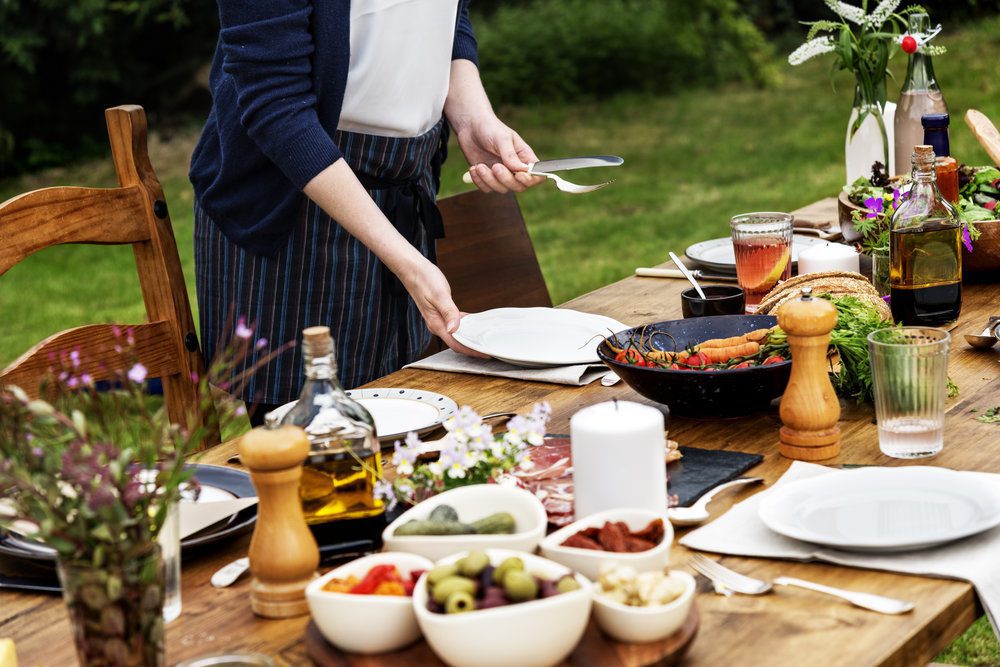 Imagine your favorite trendy food on this table :)!!
You remember the edamame rage. It wasn't so long ago… really! You, in your best (I am so healthful) voice, order up an edamame appetizer from the very approving waiter. Within minutes, the kitchen produces a steaming pot of pods, garnished with just a sprinkling of sea salt. You, (so hungrily) pull those pods between your clenched teeth and out bursts a tiny seed or two of a very trendy snack.
Meet the next craze in trendy appys, the shishito pepper. You'll find them in the farmer's market or in your local grocery store if you look really, really hard. They are made-in-the-USA, but they have an Asian ancestry. Here they are for you to ogle: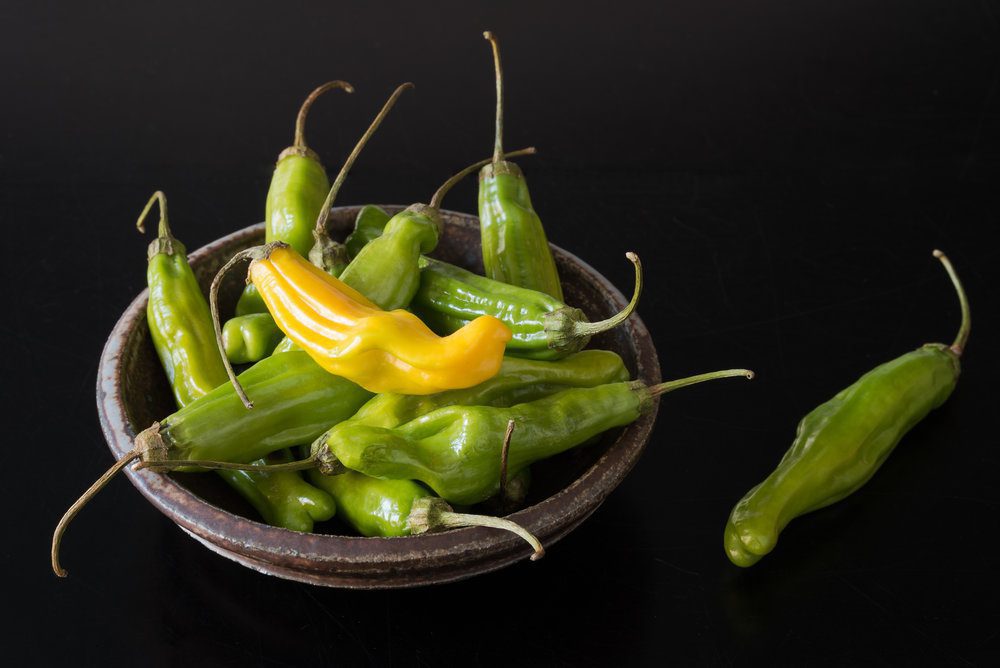 Fresh picked shishitos
A Japanese cousin to the Spanish padron pepper, shishitos are the size of a jalapeno with a crinkly skin and a sweet-crisp taste. Easy to prepare, you can cook them on a grill – OR my favorite preparation: roast them in a cast iron skillet with a squeeze of lemon juice, a bit of minced garlic, a drizzle of kosher salt and a bit of crushed red pepper flakes. Serve them hot on their own, or with a side of your favorite dipping sauce.
If you're like me, you just might find that you got a tad carried away when purchasing your peppers for the week. Faced with a mound of peppers, and not enough friends to eat them, I took a page from Grammy's cookbook, and decided to pickle these little devils. I used my favorite brine (from my Pretty Pickles recipe from my book Fresh Traditions), which adds a bit of turmeric and a couple slices of fresh ginger. Instead of squash, I pickled the shishitos and they are a hit!!
You can eat them out of the jar, or get a little creative with your high-end cocktail. Skewer a pickled shishito on the end of a toothpick, and dangle it over the rim of your best Bloody Mary. Now we're really moving into the new age!!
Here's my recipe for Pretty Pickles. Not only can you insert shishito peppers, feel free to pickle any of your favorite veggies. You really can't go wrong!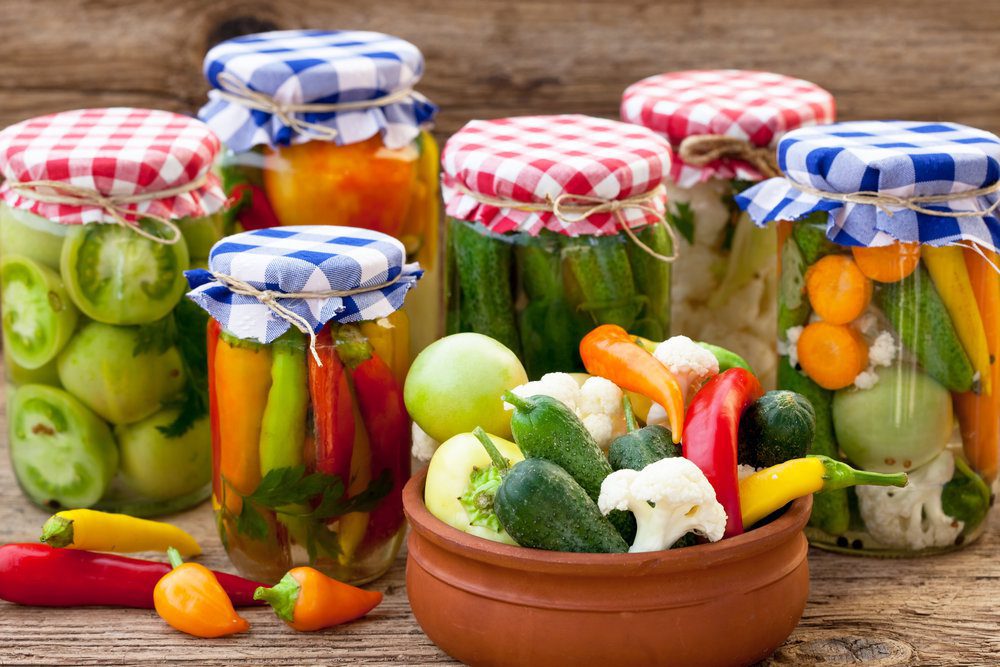 When it comes to pickling, the possibilities are endless!
Pretty Pickles
This is a really fun way to preserve freshly harvested veggies.  The brine mixture allows crisp vegetables to last in your fridge for at least several days, and up to several weeks.  This showstopper dish works well alongside panini sandwiches, as salad toppers, or all by themselves on your picnic table.  Any veggie and veggie combo will work in this recipe. 
2 cups raspberry vinegar
1 cup granulated sugar
2 tablespoons coarse salt
4 medium garlic cloves, minced (about 2 teaspoons)
2 teaspoons pink peppercorns
2 bay leaves
1 teaspoon ground turmeric
1 (1-inch piece) ginger, grated (about 1 tablespoon)
2 tablespoons chopped fresh parsley
2 large yellow squash
2 large zucchini
1 medium red bell pepper
To make brining liquid, combine the vinegar with 2 cups of water in a large pot over medium-high heat. Stir in the sugar, salt, garlic, peppercorns, bay leaves, turmeric, and ginger and bring to a boil.  Cook until the sugar dissolves, about 2 minutes. Remove the pot from heat.  Stir in the parsley.  Cool the brine to room temperature.
Cut the squash, zucchini and pepper into very thin slices. (If you are using shishito peppers, blanch them, and then transfer to ice water. Drain and place whole peppers into the jars.) Layer the vegetables into glass jars, or plastic containers with lids. Pour the brining liquid, covering all the vegetables.  Seal the container.
Refrigerate for at least 4 hours or up to several days.  Drain the pickles from the brine, reserving extra liquid for re-packing left-over pickles.
Yield:  about 2 quarts
Preparation Time:  20 minutes plus chilling
Blanched Veggie Pickles
It's totally A-OK to blanch veggies before placing them in the brine.  This process (placing the veggie in boiling water, then refreshing in ice water), brings out the color in green beans, and crisp-cooks broccoli and cauliflower.  Other nice pickling choices include English cucumbers (which are seedless), boiled beets, pearl onions, patty pan squash, and julienned carrots.
Spiced Pickles
You should always experiment with your favorite herbs, spices and flavors in the brine.  Substitute with distilled white wine or apple cider vinegar.  Cumin, mustard seeds, white and black peppercorns, whole coriander, cloves and fennel seeds, are just a few of the possible brine flavorings.