I'm feeling pretty good these days. I found a healthy lifestyle diet – the Whole30. It's a misnomer to say "diet" – it's just 30 days of eating so well, you hardly notice you've cut carbs, sugar, dairy and alcohol from your life. When the 30 days are up, you can (although you might be feeling so great, you don't want to) gradually add these foods back in, and see how you react after a month of eating clean. I don't follow the plan religiously, but enough to say I lost several pounds, get compliments on how much younger I look, and left my doctor's office with A+ blood work. Here's the Whole30 Program's official site if you're interested in ideal health and wellness.
Doing this for myself, made me – as a recipe developer – rethink a lot of dinnertime staples. What's a stir-fry without rice? I asked myself. It turns out, you can trick your brain into thinking you're eating white rice, in less time in the kitchen than if you were actually making…WHITE RICE!
I've made fried "rice" a lot this summer, using my own go-to CAULIFLOWER FRIED RICE recipe. Though delicious, anyone doing Whole 30 must be advised to delete the soy sauce from the ingredient list. My "rice" stands as a good recipe without it; I simply enjoy the salty kick! NOTE: Whole30 publishes a list of approved substitutes, if you're looking to replace the soy sauce with something just as good.
Since Whole30 reminds me of the Paleo diet with attitude, I've tried all kinds of meats with my "rice".  This recipe is particularly good with a kabob stick of grilled shrimp on top!
With a single head of cauliflower, you can make enough to have leftovers. A brilliant shortcut in making it, is to use matchstick carrots from the grocery store. Worth noting too: the recipe pasted below is not the Bible on Cauliflower Rice. You can add or subtract the ingredients you see listed. Last night, I made it with just carrots, onion and generous splashes of Sriracha Sauce and curry powder. It was so spicy and delicious, I could swear I was an Indian chef in a past life!
Please know that you don't have to have a food processor to make this! A garden variety spatula can chop your cauliflower to rice-sized bits just fine. Savagely attack your veggies as they roast in your sauté pan. YUM!!!!!
When the "rice" is ready, trick your brain into thinking you're having a carb-infused gourmet restaurant experience, by following these 2 simple steps (1) Pack the rice into a small cup or ramekin (2) Turn it upside down, and let sit for a second.  Shake the cup gently loose. VIOLA, it looks like this!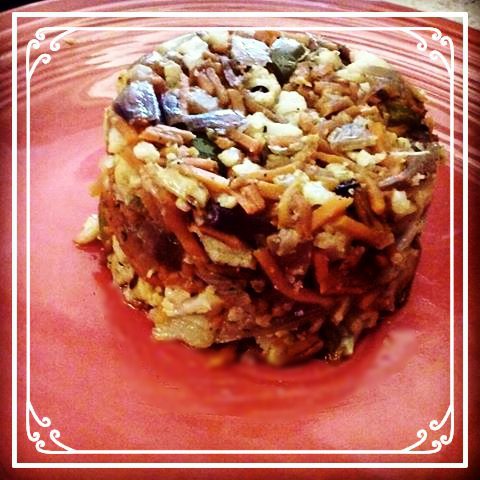 Now, here's my recipe, with about 80 percent less calories than real rice. Let me know what you think!
Cauliflower Fried Rice
Serves 4 as a side dish
30 Minute Cuisine
Here's one for those veggie lovers out there. Cauliflower takes the place of rice in this riff on a traditional Asian side dish. Fresh peas, carrots and two types of onion take the veggie quotient to the upper limits!
I large head cauliflower, stem and outer leaves removed
2 tablespoons sesame oil
2 tablespoons soy sauce
1 medium white onion, peeled and diced
2 medium carrots, peeled, trimmed and diced, about 1 cup
¼ pound fresh shelled peas, 1 cup
2 large eggs, beaten
½ teaspoon kosher salt
½ teaspoon coarse black pepper
4 to 5 green onions, thinly sliced, about ½ cup
Chop the cauliflower into pieces and place into the bowl of a food processor. Pulse until the cauliflower looks like rice. This will only take a few pulses.
Heat the sesame oil in a large skillet or wok over medium high heat. Add the cauliflower, white onion and carrots. Cook until soft, about 5 to 10 minutes. Stir in the soy sauce. Add the peas to the pan. Cook until the peas are tender, about 3 to 5 minutes. Stir the eggs into the pan. Season with salt and pepper. Cook until the eggs are soft and fluffy. Sprinkle green onions on top. Serve as a side dish or top with grilled shrimp or chicken for a whole meal.