I love it when a versatile recipe comes together, and practically forces you to eat something that you normally wouldn't. I'm talking about BREAD! No other food has been so greatly loved (bread of life) and hated (it's a white carb, for goodness sake!), than bread. I mean really, who partakes of that bread basket when you are dining out? I've notice lately that waiters offer you the basket before they bring it to the table and then, look at you with dismay if you actually take a piece. What lifestyle diet puts bread at the top of the list of approved foods for you to eat? None! What cooking school offers classes is bread baking? None! How many of your friends actually know what a dough hook is? None! I can go on….
However, there comes a time in dining, when bread is a NECESSARY part of the meal. I'm talking spaghetti and meatballs. Bread is a mighty part of the sauce slurping experience. It's practically a utensil since we don't always have an oversized spoon for twirling. And what makes the bread even better? Garlic, butter and cheese, of course.
So, when my sweet brother-in-law came to visit, and after three grueling days of mountain golf, when we decided to stay in for dinner, I made his favorite and ours, spaghetti with gravy. Luckily, I had a loaf of bread tucked into the back of the freezer (for emergency purposes – purely medicinal, I'm sure). I defrost the bread, split it in half and spread it with butter. I toast the bread in a hot oven until the edges begin to turn brown. Then I remove it from the oven and get down to business.
This is where it gets fun. For garlic bread, I mix together two kinds of cheese with mayo, garlic powder, salt, and pepper. Spread this topping onto the toasted bread and place it into a hot oven until the ooze and bubble of the cheese, just a couple of minutes. Voila! Really good garlic bread. But, here's where it gets FUN. You can mix anything into the cheese. You can use any cheese and add veggies like chopped green onion, diced sun-dried tomatoes, and chopped olives. You can mix cooked, diced chicken and hot sauce for an open-face Buffalo Cheese bread. Or leftover shredded pork and sautéed onions for a Southern-Style Cheese bread. How about chopped corn beef and sauerkraut for a Rueben Bread (with a side of Thousand Island, of course). I've even mixed in diced cooked shrimp for a cheesier version of Shrimp Toast!
But start with this carb-filled and oh-so delightful template. Haters gonna hate…but they gotta eat too!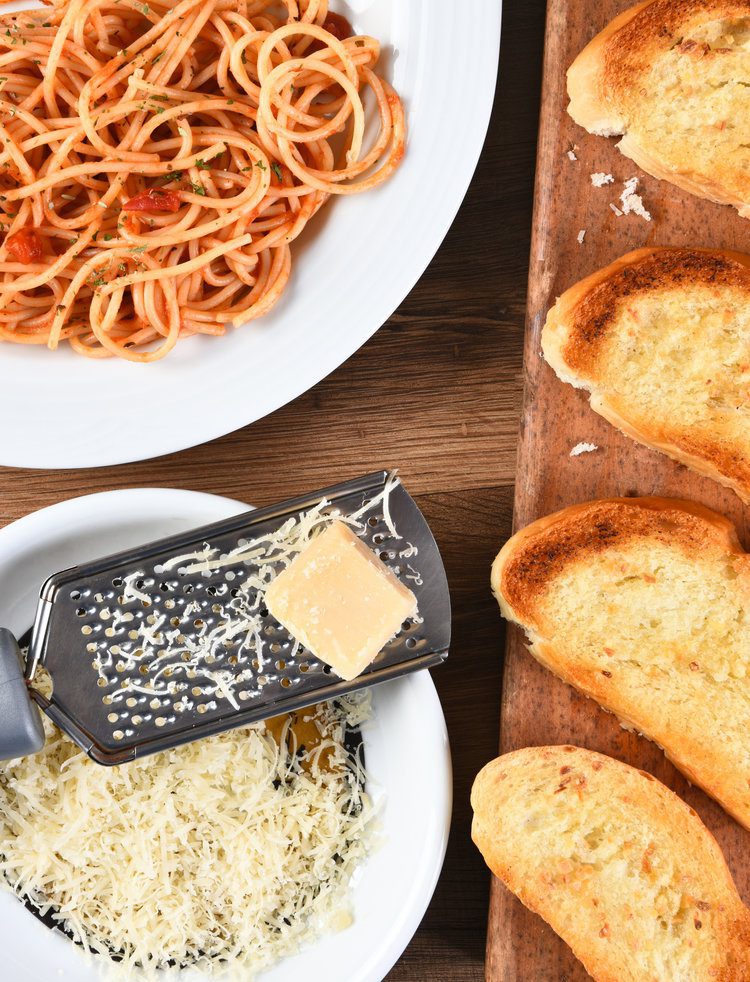 Really Cheesy Garlic Bread
Serves 10
20 Minute Cuisine
Just bite into this cheesy, gooey garlicky bread and relive a childhood memory or two. It's just that good!
12 ounces cheddar cheese, grated, about 3 cups
4 ounces Monterey Jack cheese, grated, about 1 cup
2 ounces Parmesan Cheese, grated, about 1 cup
½ cup mayonnaise
1 bunch green onions, thinly sliced, about 1 cup
¼ teaspoon kosher salt
1 loaf crusty French bread
½ cup butter, 1 stick
4 cloves garlic, peeled and minced
Preheat the oven to 425°. Stir together the cheeses, mayo, green onions and salt in a bowl.
Cut loaf of bread in half horizontally, and place onto a baking sheet lined with aluminum foil. Melt the butter in a skillet over medium heat. Add the garlic and cook until soft and fragrant, about 1 to 2 minutes, being careful that the garlic does not burn. Brush the garlic butter over the cut side of the bread. Place the bread into the oven and toast until just golden, about 3 to 4 minutes.
Spread cheese mixture on warm loaves and place back into the oven until the cheeses melt and begin to bubble, about 8 to 10 minutes.  Slice the bread into wedges and serve warm. To prepare garlicy bread in advance, simply wrap the bread in the aluminum foil and keep warm.