My gift to you this holiday season is a foolproof, make-ahead recipe for the best, most delicious gravy…ever.  Click to skip to the recipe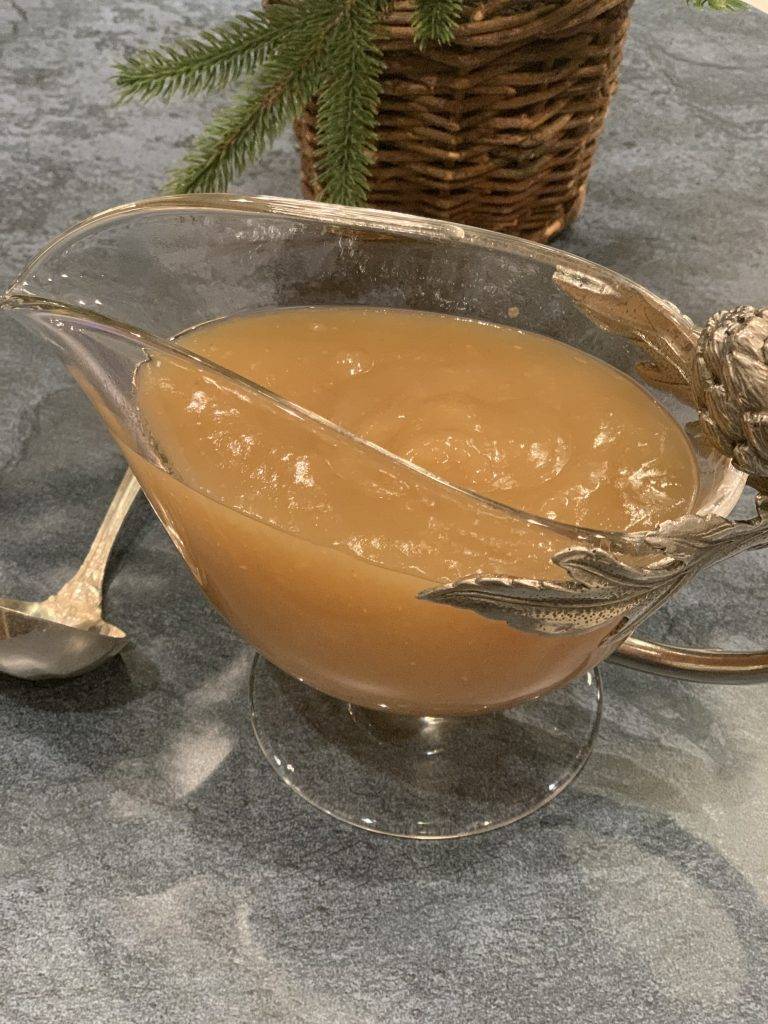 Right after Al Gore invented the Internet, a good friend reached out to me to help her with the launch of her website BlueSuitMom.com.
It was and continues to be a website filled with content to help busy working moms balance childrearing with their demanding jobs.
She appointed me Director of Lifestyle content and gave me a list of food-related questions that she gleaned from her marketing surveys.
The number one asked question was, "how do I make gravy without lumps." I found this question fascinating.
Of all the food questions you could have, this was the most disconcerting? Gravy is gravy. Sauce is sauce. It just comes together, right?
Well, apparently not. I did my research and answered the question with several tips on how to make lumpless gravy.
I answered this and other questions and my food-writing career was born.
It's been almost twenty years since the birth of BlueSuitMom and the publishing of my first book, At Home in the Kitchen.
I featured a recipe in that book for roasted turkey with a really good gravy.
Jump to 2020, when we are all spending way too much time in our kitchens and I think I finally get why that gravy question was so important to so many cooks.
It's not about lumps. It's about accenting your meal with love.
It's about texture, depth, richness, velvetiness, pourability. It's about the icing on the cake, the cherry on your sundae, the crème de la crème.
Gravy is the crowning achievement lavished on a meal well-done.
This might be stretching it a bit. But you get the point.
Every fine dish prepared by a dedicated cook has a splash of sauce or a puddle of gravy somewhere on the plate.
A warm, silky gravy takes a humdrum chicken breast to a level of refinement. A wine-laced sauce takes your supermarket beef steak from commonplace to company-worthy. Each and every Southern knows that a sauce made from butter, milk, and a crumb or two of sausage elevates the every-day biscuit to the star of Sunday brunch.
When you get right down to it, it's all about the gravy.
My gift to you this holiday season is a foolproof, make-ahead recipe for the best, most delicious gravy…ever.
And what's even better is that you can use this recipe as a guideline for creating any sauce that you like.
Simply by switching the ingredients from poultry to beef and swapping the veggies and seasonings, you can create a lovely sauce to go with your standing rib roast on Christmas Day. And I guarantee you no lumps!
Enjoy this and a few of my other favorite holiday recipes included in upcoming posts. Stay healthy and safe and I'll see you in 2021.
​
Make Ahead Gravy
This full proof make-ahead gravy recipe not only saves you time but is also the most flavorful gravy you've ever made!!
Ingredients
2 tablespoons olive oil
2 heads garlic, halved
2 medium onions peeled and cut into chunks
4 large carrots, trimmed and cut into chunks
6 celery stalks, cut into pieces
4 large turkey wings, about 3 pounds 
2 (or more) tablespoons cornstarch
1 tablespoon kosher salt
2 teaspoons course black pepper
1 teaspoon ground sage
Serves A Crowd
Time: 30-minute prep cuisine with some roasting and simmering
Preheat the oven to 450°. Drizzle the olive oil onto a baking sheet with lip. Place the vegetables and turkey wings into the baking sheet. Roast in the oven for 15 to 20 minutes, then reduce the heat to 350° and roast until the turkey wings are golden brown, about another hour. During that time, check to make sure that the veggies are not sticking to the baking sheet. You can add water to loosen everything. Remove the pan from the oven and let cool slightly. Scrape everything into a large pot or Dutch oven. Place the pot on the stove. Add 1 cup dry white wine and simmer over medium heat until most of the liquid disappears, about 5 minutes. Cover the vegetables and turkey wings with water, about 1 quart. Bring the liquid to a boil over medium-high heat and then reduce the heat to medium-low. Simmer the stock until it is reduced by half, about 1 hour. 
Pour the stock through a wire mesh colander and into a medium-size bowl. Use the back of a spoon to push the veggie and turkey pieces into the bottom of the colander to push through all the juices. Place the bowl with the stock into the fridge to chill for up to one hour or for several days. (You can sift through and gather enough turkey meat for a couple of yummy hot turkey sandwiches!)
To make gravy from stock, remove the bowl from the fridge. Use a large spoon to skim off and discard the thin layer of fat from the top. Transfer the stock into a saucepan and slowly bring to a boil over medium heat. Whisk together 2 tablespoons cornstarch with 1 tablespoon water. As the stock slowly boils, stir in the cornstarch slurry. The gravy will begin to thicken. You can add as much thickener as you like to get your desired gravy consistency.
Reduce the heat to low and let the gravy simmer slowly. Season the gravy with sage, salt, and pepper, stirring in just a bit at a time and tasting while you stir.
Tip:
Here's another great tip. You can use this same method for beef stock that turns into a lovey gravy or sauce. Simply exchange beef bones for the turkey wings! I use beef short rib bones. I choose the skinny ones from the package and reserve them until I collect enough to make a really good beef stock. I use red wine instead of white and adjust the seasonings from sage to thyme and rosemary. It's pretty darn delicious!