On my recent milestone birthday, I experienced an extraordinary event that made me feel like a queen. It was a surprise!
A grand celebration that exceeded my expectations, orchestrated by none other than my loving husband.
The festivities were characterized by a 30-piece band, a sumptuous feast, and most importantly a guest list brimming with my incredible family and dearest friends who have been there for me in the past and will continue to be in the future.
They traveled far and wide and I just was shocked at every turn and with every face that I saw. Oh… and there were presents. Well-thought-out presents that touched my heart. It was overwhelming.
The night was perfect, and I was treated like royalty! I never could have imagined the love and downright fun in the room. I felt like the queen of queens.
And while we're on the topic of queens, there's a coronation on the horizon, and I've heard that the menu includes a dish called Coronation Quiche.
I've crafted my own variation of the dish that is perfect for indulging in while watching the grand crowning ceremony of the new king and queen.
You know what else? It also makes a for a yummy brunch dish on the morning after an unforgettable birthday celebration.
Spinach, Bacon and Caramelized Onion Tart
Is it a quiche or is it a tart?  By definition, a tart is a sweet pastry dish with an open top.  A quiche is made from pastry too and looks like a finished pie; it gets its texture from an egg and milk-based custard. We break a few barriers here and prepare a savory tart with a layer of custard.  It's the perfect dish for a brunch or outdoor luncheon because you can bake it in advance and serve it the next day at room temperature.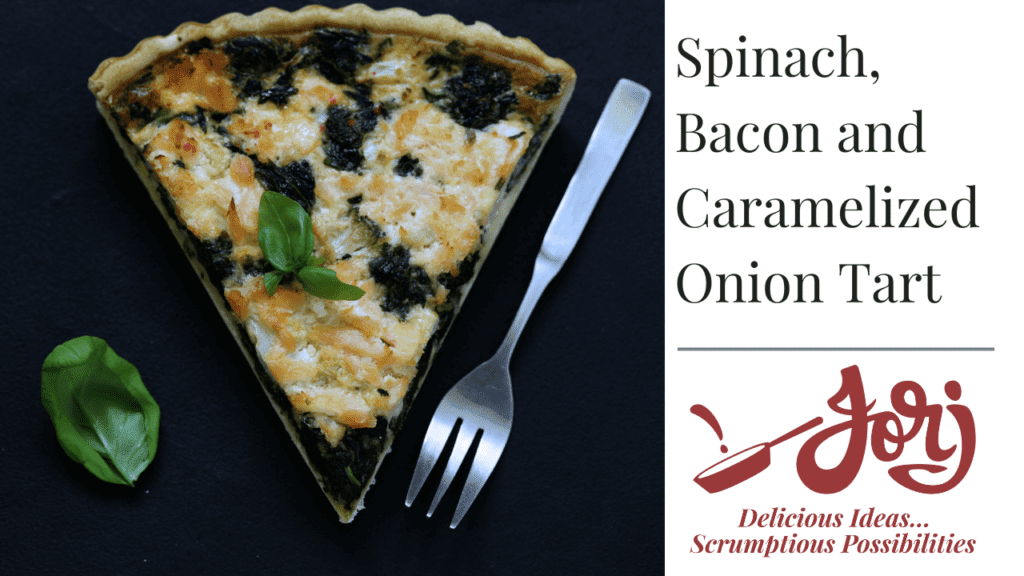 SERVINGS
6-8
READY IN
60 Minutes
Preparation Time: 20 minutes
Bake Time: 30 to 40 minutes  
GOOD FOR
Brunch
Luncheon
Party Appetizer
Ingredients
1 (9-inch) refrigerated pie crust
½ pound bacon, cut into 1-inch pieces
1 tablespoon olive oil
1 tablespoon butter
1 medium yellow onion, peeled and finely diced, about 1 cup
1 tablespoon balsamic vinegar
1 pound fresh spinach leaves, about 4 cups (or substitute with 10 ounces frozen spinach, thawed)
1 teaspoon dried Herbs de Provence
8 ounces smoked Fontina cheese, grated, about 1 cup
4 extra large eggs
½ cup heavy whipping cream
1 teaspoon kosher salt
½ teaspoon coarse black pepper
½ teaspoon ground nutmeg
Directions
Preheat the oven to 400°.  Unroll the pie crust and press it into a 9-inch tart pan with removable bottom.  Pierce the bottom of the pie crust with a fork.  Bake until the pie crust is golden, about 9 to 12 minutes.  Set the baked pie crust aside.
Cook the bacon in a skillet, over medium-high heat, until crisp.  Remove the bacon with a slotted spoon and drain on paper towels.  Carefully pour off the fat left in the pan.
Heat the olive oil and butter in the same pan, over medium-high heat.  Cook the onion in the pan until soft, about 5 minutes.  Drizzle with balsamic vinegar and cook for 4 to 5 minutes more.  The diced onion should be golden and slightly syrupy.
Cook the spinach in the pan until just wilted, about 5 minutes.  Sprinkle with Herbs de Provence and set the cooked spinach aside.
Carefully slide the baked tart shell onto a baking sheet.  Sprinkle the bacon onto the bottom of the baked tart shell.  Cover the bacon with grated cheese.  Cover the cheese with the caramelized onion.  Spread the spinach over the top.  Whisk together the eggs and cream and season with salt, pepper and nutmeg.  Carefully pour this mixture over the ingredients in the tart.  Place the baking sheet holding the tart into the oven.  Bake until the egg mixture puffs and is golden about 30 minutes.  
At this point, you can cool the tart to room temperature.  Carefully wrap the tart in plastic wrap and refrigerate.  Two hours before you are ready to serve, remove the tart from the fridge and bring it to room temperature.  For a warm tart, you can place it into a warming drawer (or oven set on lowest temperature)on the medium-low setting for 1 hour.  
Remove the side portion of the tart pan.  Cut the tart into wedges and serve.
Resources/Substitutions
You can purchase smoked Fontina cheese from the deli counter of your grocery store.
If it is not available, substitute with grated aged English cheddar or Gruyere cheese.
Of course, in place of refrigerated pastry dough, you can make your own pastry for this tart.
In case you need a recipe, this is one of my favorites:
Jorj's Homemade Pastry Dough
1 ¼ cups unbleached, all-purpose flour
Pinch of salt
7 tablespoons organic unsalted butter, chilled and cut into small pieces
1 to 2 tablespoons ice water, or more as needed
Place the flour, salt, and butter into the bowl of a food processor. Process until the mixture resembles coarse crumbs, about 10 seconds. With the machine running, add the ice water through the feed tube until the dough comes together and starts to pull away from the sides of the container, no more than 10 pulses. Gather the dough into a ball, flatten it into a disk, and wrap in plastic wrap. Refrigerate for at least 1 hour.
TRIED IT? TAG IT!
I would love to see what you did with this recipe.  Share your creation by tagging #inthekitchenwithjorj and with Scrumptious Possibilities With Jorj, my free private home cooking group.