Hi everyone! I hope you had a great Thanksgiving and weekend. As we head back to work and school tomorrow, it's nice to have snacks in mind for the next time we get to kick back — maybe as early as next Saturday night! I'm hoping snackage like this will get me in the Christmas spirit. I think it's a way to add a little fire side to your holiday — that is…if you're willing to go whole hog on the jalapenos. This muy caliente guacamole is special for a couple of reasons. For one, the ingredients are grilled, which gives it the most incredible smokey flavor and two…you can recruit party guests into helping you make it.
Whatever mashing tools you have on hand will do, but giving someone one of those stone crucibles to grind the avocado in, is pretty fun, and makes a cool stocking stuffer. You can glue my recipe to the side of the gift! Most big box stores carry the mortar and pestle pictured.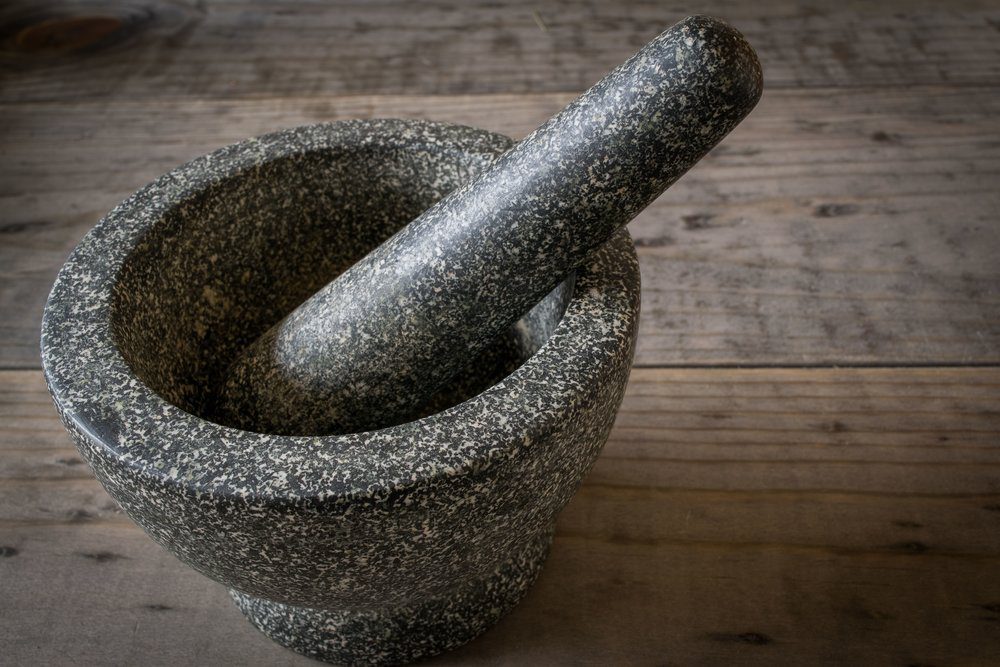 Macy's carries these for around $20. You'll use it constantly!
But now, a little background on this dish. Tex-Mex food is a staple in the southwest, one of my FAVORITE places to travel. I'm a fan of "Keeping Austin (Texas) Weird", loving every aspect of their guac prepared tableside. This recipe, however, blows the doors off any guac I've ever had. Make it just for FUN, or impress your guests by grilling all of the ingredients, and asking them to mash the guac for you. Serve on nachos, as a condiment on fish or chicken, or…how about frying a tortilla in oil for just a couple of secs. Break off pieces and dip into the grilled guac for a communal appy? It doesn't get any better!! Spread this guac on toast, enjoy it with cocktail shrimp, slap it on a sandwich — heck, even leave it for Santa instead of cookies. Cheers!
Grilled Guac
Serves a crowd
20 Minute Cuisine (plus an hour for roasting garlic)
2 tablespoons olive oil
2 large avocados, halved and pitted
4 medium plum tomatoes, halved
½ large red onion, peeled and cut into ½-inch rounds
2 large jalapeno peppers, cut in half and seeded
2 limes, cut in half
6 cloves roasted garlic (see Cook's Tip at bottom of recipe for roasting instructions)
1 teaspoon ground chili powder
1 teaspoon kosher salt
½ teaspoon coarse ground pepper
Heat a grill pan over high heat. Drizzle with 2 tablespoons olive oil. Place the avocado, onion, tomatoes, jalapeno peppers and limes onto the grill pan, cut side down. Cook until you see grill marks on all the food, about 3 to 5 minutes. Flip the veggies and limes and cook on the other side for about 2 to 3 minutes more. You want the onions to be fork tender, and the rest of the food firm, but not mushy.
Remove the food to your work surface, and let cool so that you can handle each item. Scoop the flesh from the avocado into a bowl. Chop the tomatoes, onion and jalapenos. Add them to the bowl. Squeeze the juice of one lime into the bowl. Add the roasted garlic. Season with chili powder, salt and pepper. Use a potato masher to mash all the ingredients to your desired consistency. Less mashing for chunky guac. More mashing for smoother guacamole. You can drizzle additional olive oil into the guac for added richness and more lime juice for extra smoothness.
Cook's Tip
To roast garlic, cut the top third from the whole bulb. Place the bulbs (I do three or four at a time) onto a sheet of aluminum foil. Wrap the foil around the garlic leaving an opening at the top. Drizzle with salt and pepper and a bit of dried oregano leaves. Place the foil packet onto a rack in the oven. Roast in at 375° until the cloves are golden and are trying to escape their papery skin, about 1 hour. Remove the cloves by squeezing them away from the skin or by using a tiny fork to lift them free. You can refrigerate the cloves and use them in absolutely everything for up to one week…maybe more!