Hubby and I are embarked on an African adventure!
Besides the shots, mosquito repellent, neutral-colored clothing, and hats, the one thing I'm happy to pre-plan is the food!
Although springing up in several cities, African fare is still a unique meal to find.
It just so happens that when reading several of the MUST-HAVE holiday gift guides, I came across Kitchens of Africa, a company with a mission to bring the diverse and exotic cuisine of Africa to the rest of the world. 
Originating in Raleigh, North Carolina, Kitchens of Africa offers a variety of sauces that we can use to bring the flavors of Africa to our home kitchens. 
Of course, I bought a box from Kitchens of Africa and received four different jars with recipes to go along with each. 
I decided to start with the Zanzibari Curry Simmer Sauce. I chopped some veggies and chicken and simmered them in the sauce. It was delish!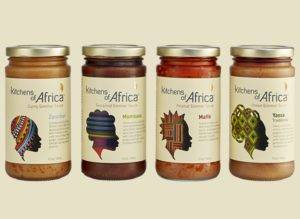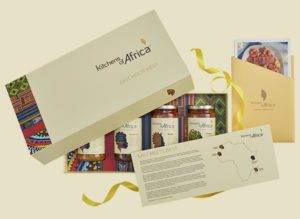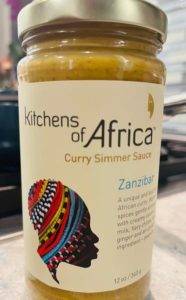 If you have a craving for curry, and you haven't placed your order from Kitchens of Africa, do not worry. 
I've included a recipe from Canvas and Cuisine that will hold you over until you do!
Chicken and Cauliflower Curry
With Lime-Avocado Yogurt and Fried Chickpeas
Servings
Serves 4 as a Main or 6 as a Side
Ready In
60 Minutes
Good For
Dinner
Ingredients
2 tablespoon olive oil
2 boneless, skinless chicken breasts cut into 2-inch pieces
1 medium onion, peeled and diced, about 1 cup
4 garlic cloves, peeled and diced, about 2 tablespoons
2-inch piece fresh ginger, peeled and grated, about 2 tablespoons
1 medium jalapeno pepper, seeded, veins and stem removed, finely diced, about 1 tablespoon
2 tablespoons tomato paste
2 tablespoons curry powder
2 tablespoons garam masala
1 cinnamon stick
2 cups homemade chicken stock or prepared low-sodium broth
1 head cauliflower, cut into small florets
1 (15-ounce) can of diced tomatoes
½ cup coconut milk
1 teaspoon kosher salt
½ teaspoon coarse black pepper
For yogurt:
1 cup plain Greek yogurt
1 ripe avocado, peeled, seed removed
2 small green onions, thinly sliced
Juice of 1 lime, about 1 tablespoon
2 tablespoons chopped fresh cilantro
For chickpeas:
1 (15-ounce can) chickpeas
½ cup olive oil
1 teaspoon paprika
1 teaspoon kosher salt
Zest 1 lime, about 1 teaspoon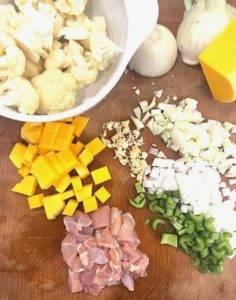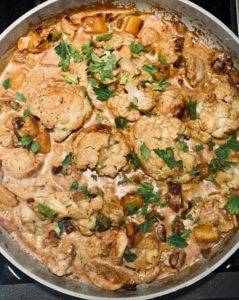 Heat olive oil in a skillet with deep sides over medium-high heat. Place the chicken pieces into the skillet and cook until golden brown on all sides. Season with some salt and pepper. Transfer the chicken to a platter.
Reduce the heat to medium and add the onion, garlic, ginger, jalapeno, tomato paste, curry powder, garam masala, and cinnamon stick to the skillet. Stir and cook for 2 to 3 minutes.
Your kitchen should begin to smell like curry! Stir in the chicken broth. Add the cauliflower to the skillet and cook until tender, about 6 minutes. Add the tomatoes, sautéed chicken, and coconut milk. Cook for 5 minutes more. Reduce the heat and simmer until the chicken is cooked through and the cauliflower tender but not mushy, about 15 to 20 minutes more. Taste and season with salt and pepper.
Use a hand mixer, blender, or immersion blender to blend the yogurt and avocado until smooth. Stir in the green onions, lime juice, and cilantro. Taste and season with salt.
Rinse, drain and pat dry chickpeas. Heat olive oil in a skillet over medium-high heat. Place the chickpeas into the oil and fry until golden brown, about 15 to 20 minutes. If your pan is not very large you can do this in batches. Remove the chickpeas to a baking sheet lined with paper towels. Sprinkle with paprika, salt, and lime zest. Toss to coat.
Serve the cauliflower and chicken curry in a bowl garnished with a spoonful of lime–avocado yogurt and sprinkled with fried chickpeas.
Tried it? Tag it!
I would love to see what you did with this recipe.  Share your creation by tagging #inthekitchenwithjorj and with Scrumptious Possibilities With Jorj, my free private home cooking group.