Many of us love to cook for children, for friends, and if you are like me just for fun! Our kids grow into adults with fast and furious schedules that lead to fast and furious meals. Dinner parties for friends evolve into, "let's get together for cocktails and then go out to a restaurant." Even cooking for hubby has its drawbacks – it's hard to splurge on a rich red wine sauce and add in a decadent dessert on a Tuesday night!
Still, the need to feed exists and the hunger must be satisfied.
The statistics are staggering: millions of children go to bed hungry. Millions of seniors do not get enough nutrition in their meals. Many more millions of parents cannot feed their families. Yet there are cooks like you and me that have the means, the skills, and the passion to fill this need. All we have to do is bring together the cooks and the hungry to achieve lots of smiling faces and full tummies.
Let's start with the basics, cookie baking. Home-baked cookies fill empty tummies with wholesome ingredients. It only takes a minute to think of someone who would love to eat a cookie or two with a glass of chilled milk or a cup of hot tea. The best part about baking and sharing cookies is that you can do it in minutes and it provides an abundance of smiling memories. Share with a friend whose family is coming for the weekend, or as a take-home thank you for a repairman that's been in your home. How about dropping a batch to a busy mom, or a friend that's by themselves? Cookies are perfect for everywhere you go and everyone you see.
I'll start with an easy recipe for Ginger Cookies that I adapted from Chef Mary at Frederica Resort in Sea Island, GA. These cookies are wonderful to stack and pack, and nothing says comfort like a home-baked cookie.
---
Ginger Cookies
Yields 3 dozen cookies
Preheat the oven to 350 degrees
2 ½ cups unbleached all-purpose flour
1 ½ teaspoon baking powder
1 teaspoon ground ginger
½ teaspoon ground cinnamon
½ teaspoon ground cloves
½ teaspoon salt
¾ cup unsalted butter, room temperature, 1 ½ sticks
1 cup brown sugar
⅓ cup molasses
1 egg
Granulated sugar
Whisk together the dry ingredients in a bowl. Use an electric mixer to whip the butter until creamy. Mix in the brown sugar, molasses, and egg. Add the flour in three additions until just combined. The batter will be sticky.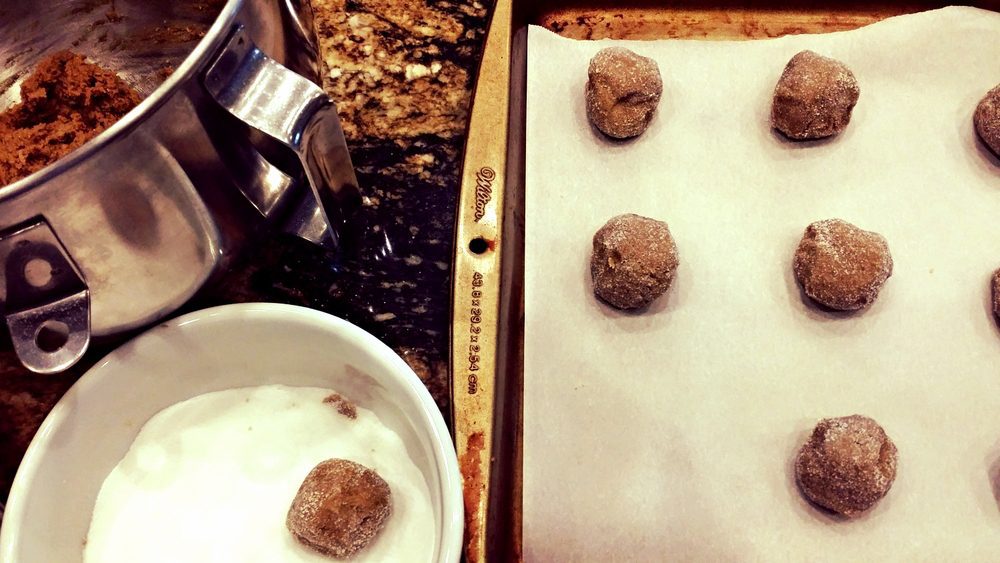 Use a tablespoon to scoop the batter into 1 ½-inch balls. Roll the balls in granulated sugar and place onto a parchment-lined baking dish. Bake until the tops of the cookies are golden and firm to the touch, about 10 to 12 minutes. Transfer to a rack to cool.