Make Mother's Day weekend a fiesta in your kitchen with this fun (AND EASY) brunch recipe! Bonus: You may already have all of the ingredients you need already!
Cinco de Mayo (May 5th) and Mother's Day (May 8th) come callin' pretty darn soon and pretty close together.

Let's don our sombrero's, tune up the guitars and add some spice to our Sunday Brunch dish to treat Mom and friends and neighbors alike.
Huevos rancheros is a traditional mid-morning dish served on rural Mexican farms featuring tortillas topped with black beans with cheese, spicy red sauce and topped with a fried egg.

Workers gather together to share the meal, taking a much needed break from farm chores.

I am inspired by this communal meal and opted to create my own version of this dish with a strong Southern flare.

Why the heck not….Right?
And here you have it:

Baked beans spiced with onions and peppers, topped with hand grated cheddar cheese, sautéed ham in mustard-maple butter, fried eggs and garnished of diced avocado and (farm fresh again) chopped tomatoes.

This is a great dish to share with friends, especially when most (if not all) of the ingredients are probably sitting in your pantry and fridge.

It's also a great brunch dish to serve Mom on Mother's Day. 
You can serve one large portion and pass around forks, or you can use smaller tortillas and let everyone choose their toppings.

Either way this is an eggcellent way to combine two FUN holidays!
Here's my dish for a mixed up Huevos Rancheros that puts a whole bunch of South in your mouth!
Southern Style Huevos Rancheros
Serves:
2 Large Plates -or- 4 Small Plates
Ready In:
30 minutes 'til you're ready to eat
Ingredients
For baked beans:
1 tablespoon olive oil
3 slices bacon, diced
1 bunch green onions, tough tops removed, cut into thin slices, about 1 cup
1 small jalapeno pepper, seeded, deveined and finely diced
1 (16-ounce) can baked beans, drained
1 teaspoon salt
½ teaspoon coarse black pepper

For the tortilla:
1 teaspoon olive oil
2 (10-inch) spinach tortillas
3 tablespoons butter
2 tablespoon Dijon-style mustard
2 tablespoon pure maple syrup
8 slices deli ham
4 ounces shredded cheddar cheese, about 1 cup
4 large eggs
1 avocado, pitted, peeled and diced
1 small tomato, diced
Directions
Heat 1 teaspoon olive oil in a medium skillet over medium heat. Add the bacon and onions and cook until the bacon begins to crisp, and the onions are soft, about 5 minutes. Drain as much liquid as you can from the baked beans and pour them into the skillet. Season with some of the salt and pepper, stir and reduce the heat to low. Simmer the beans while you cook the ham.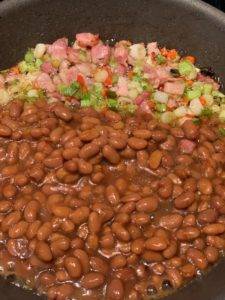 Heat 1 teaspoon olive oil in a large skillet over medium heat. When the oil is hot, carefully lay one tortilla into the oil. Cook for a few seconds. Use tongs to turn the tortilla to the other side. Cook for a couple of seconds more and transfer to a large platter. Repeat with the second tortilla and transfer to a second platter. Add the butter, mustard, and maple syrup to the same skillet. Stir together to melt the butter. Add the ham slices to the pan. Cook until the ham begins to brown and crisp on the edges, turning several times, about 2 minutes. Turn off the heat.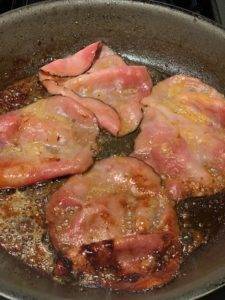 Spoon half of the beans onto one tortilla. Top the beans with half of the shredded cheese. Arrange four slices of ham on top of the cheese and beans. Repeat with the second tortilla. Crack the eggs into the same skillet. Reduce the heat to medium-low and cook until the whites of the eggs are set, and the yolks are still runny (about 3 to 4 minutes). Season with salt and pepper. Transfer two eggs onto each tortilla. Top with diced tomatoes and avocados.