Feel like you can't get it right when you're in the kitchen? I'm here to tell you that happy recipes happen when you approach fresh ingredients with curiosity. Embrace the imperfections in your meals and learn how to make each meal more magical!
There's a day to celebrate EVERYTHING. This one hit me in my kitchen!
I think some of the intimidation surrounding cooking is the thought that:
"I'm not going to get it, right?"
"It won't turn out like the picture."
"It won't taste like it should."
If you feel like this before you begin, how are you going to cook with confidence?
Let's get rid of this stinkin' thinkin' and learn that no matter what you do, it will work out!
I'm working on a new book with just this idea in mind…
Create a dish that works for you with what you have on hand and the flavors you like. Then when you are comfortable with this, start experimenting with new flavors using your trusted basic recipe.
Let me give you an example…Let's make mac and cheese from scratch. We start with the sauce.
Melt butter in a large pot or deep pan. Whisk in an equal amount of flour to form a paste (two tablespoons butter needs about two tablespoons flour).
Now we're going to stir in a liquid. You can stir in milk, half and half, chicken stock, or a combination of lemon juice, white wine, and stock…any liquid you use will work. Stir the mixture over medium heat until it thickens into a sauce.
Next, we add cheese. ANY cheese works.
If you grate the cheese, it will melt quicker, but chunks of cheese are fine. You can add a combination of cheese and as much or as little as you want. Stir until the sauce is cheesy goodness.
Now you can flavor your sauce with any herbs or seasonings you like. Salt and pepper for sure, but try dried thyme or tarragon, onion and garlic powder, nutmeg, or chili powder. It's yours to decide. Taste as you go and add a little at a time.
Finally, we boil the pasta, again any pasta you like. Once the pasta is done, drain it and add it to the sauce. You have mac and cheese ready to serve.
Or you can pour the sauced pasta into a dish and bake it for baked mac and cheese. You can top this casserole with more cheese or breadcrumbs or crumbled potato chips or anything you like.
Got it? There's no right or wrong. There's only you having FUN in the kitchen!
Let's do the same thing with chicken breast. Slice a boneless, skinless chicken breast in half horizontally.
Then pound the chicken breast so that it is an even thickness. This will make sure it cooks evenly.
Season the breast with salt and pepper and anything else you like. At this point, you can grill it and slice it for sandwiches and salads.
Let's coat the chicken with anything we like. Brush it with mustard and dredge in breadcrumbs. Brush with mayonnaise and crust in crumbled cracker crumbs. Dust in flour and season with oregano. Anything you want to do will work.
Melt olive oil and butter in a sauté pan over medium-high heat. Cook the chicken until golden on one side, turn, and cook on the other side.
This will only take you a couple of minutes depending on how hard you hammered your chicken! Now you have a seasoned chicken breast that you can use for everything.
But let's make it better! In the same pan, make a pan sauce by adding more olive oil. Cook your favorite vegetables like onions, peppers, garlic, celery…anything.
Deglaze the pan with about a cup of wine or chicken stock. Now you can add in other flavors.
– For Chicken Piccata, add lemon juice and capers.
– For puttanesca add olives and tomatoes.
– You can add sliced artichoke hearts, freshly sliced fennel, spinach leaves.
Anything THING will work.
It's your sauce for your chicken breast. Add a bit of butter at the end of cooking for a buttery sauce, a bit of cream for a creamy sauce, a bit of tomato paste for a tomatoey sauce, mustard for a mustardy sauce.
Got it? Again, any THING will work!
Here's a preview recipe from the new book. Use it as a guideline to create your own chicken dish and share it with me and everyone else!
Remember, an upsy daisey can turn into a creative opportunity!!! Especially in the kitchen.
Millionaire's Chicken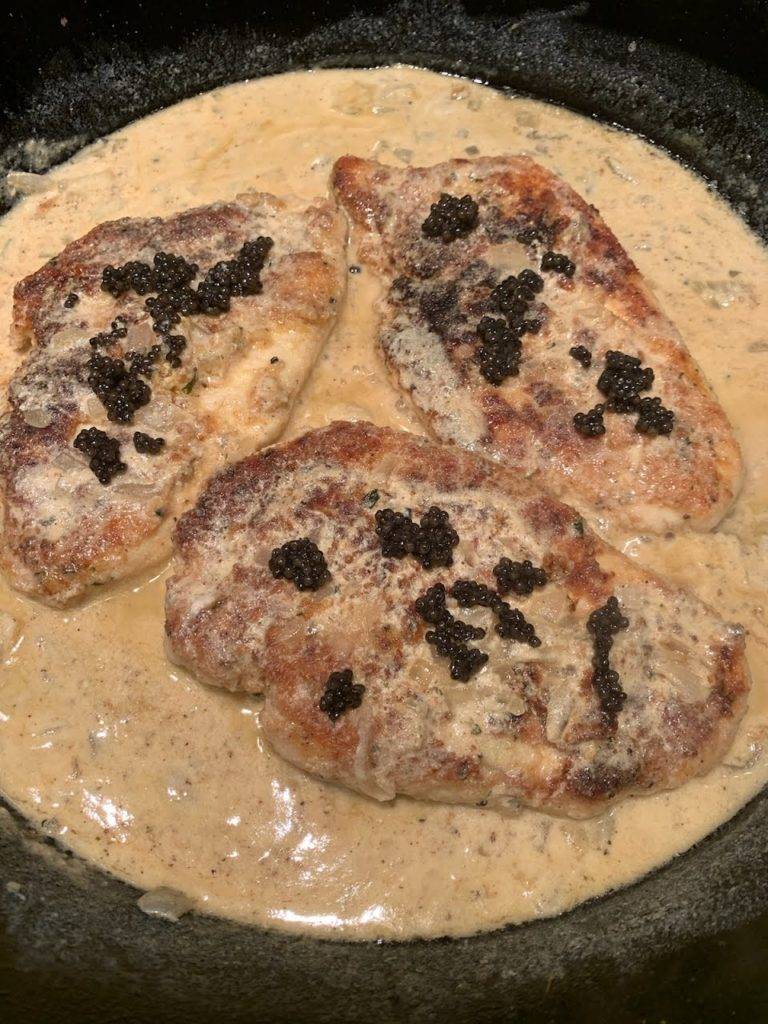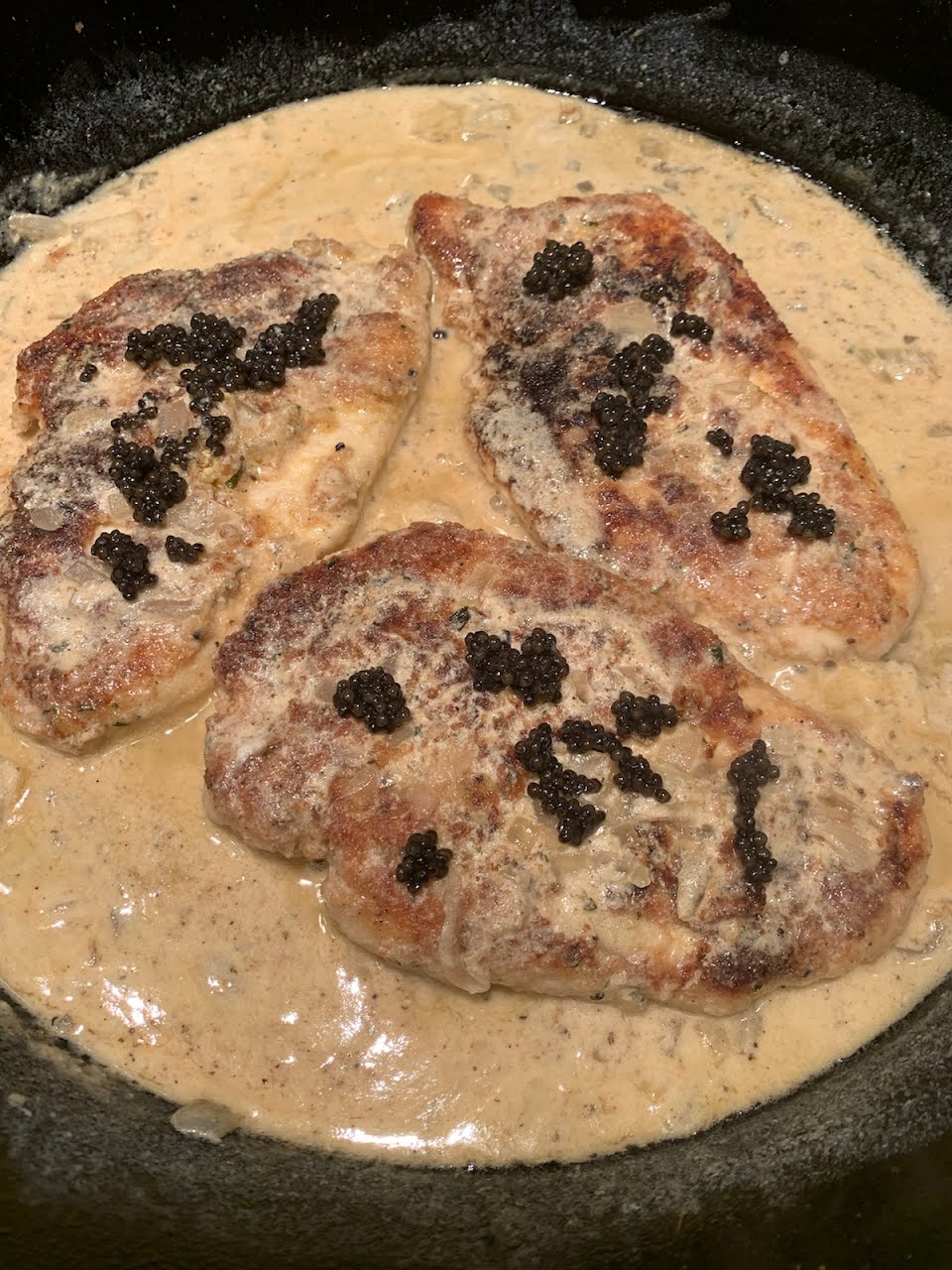 Servings
4
Ready In
30 minutes
Good For
Dinner
Entertaining
Directions
Place the chicken breast between 2 sheets of plastic wrap. Use a meat mallet or rolling pin to pound the chicken to about ½-inch of thickness. Season both sides with some salt and pepper. Brush both sides with mustard. Dredge in breadcrumbs.
Place the chicken onto a platter, cover with plastic wrap, and place into the fridge. You can do this several hours in advance.
Heat the olive oil and butter in a large skillet over medium-high heat. Cook the chicken breasts until golden on one side, about 4 to 5 minutes.
Carefully flip and cook on the other side until golden, another 4 to 5 minutes. Transfer the chicken to a platter, tent with aluminum foil.
Reduce the heat to medium. Add the onion to the pan and cook until just soft, about 4 to 5 minutes. Stir in the wine, removing all the browned bits from the bottom of the pan. When most of the wine has disappeared, pour in the chicken stock and cream. Stir in the mustard.
Reduce the heat to medium-low and simmer the sauce until it begins to thicken. Add the chicken back into the sauce and simmer until the chicken is cooked through, another 4 to 5 minutes.
Serve the chicken with the sauce and garnish with a bit of caviar on the top. I recommend sustainable American-produced caviar from Marshallberg Farms.
Tried it? Tag it!
I would love to see what you did with this recipe.  Share your creation by tagging #inthekitchenwithjorj and with Scrumptious Possibilities With Jorj, my free private home cooking group.