Every October, there's things you gotta do, places you gotta visit, and most definitely stuff you gotta eat! If you've got pumpkin fatigue, that's good, because the autumnal dessert I'm all excited about, is an apple butter cake. This dish has a beautiful back story; it's from one of my favorite fall festivals up in the North Carolina mountains.
The annual Valle Country Fair is held in October in a little town called Valle Crucis. Featured is their home churned apple butter – a jar of which you'll see in this blog's photos. You MUST arrive early, stand in line and ask politely for more than one jar per customer. Like my company name, WORTH IT, it's definitely worth it to do so. The apple butter is sooooo good… the smell of spiced, simmering apples wafts for counties! I was indeed the early bird this year and managed to grab an extra jar before the crowds drifted in. This cake is my ode to apple butter.
Apple Butter Cake
With Cream Cheese Frosting
Serves a crowd
60 Minute Cuisine
For the cake pictured here:
3 cups all purpose flour
2 teaspoon ground cinnamon
1 ½ teaspoon baking soda
¼ teaspoon kosher salt
1 cup unsalted butter, room temperature, 2 sticks
1 cup brown sugar
¾ cup granulated sugar
3 large eggs
1 ½ cups apple butter
For the frosting you'll be tempted to eat before it's ready: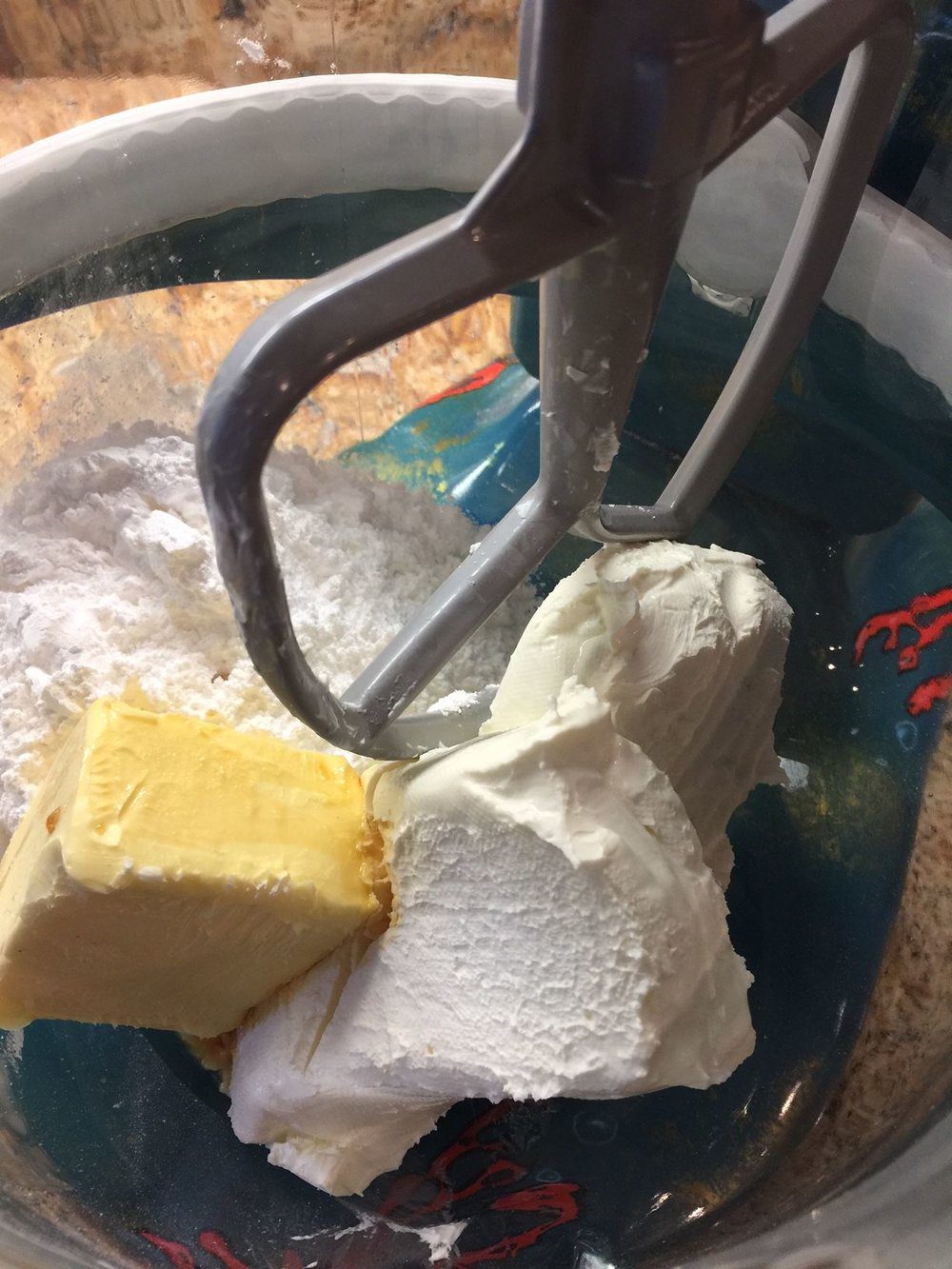 2 cup confectioners' sugar
2 cups cream cheese, room temperature, 2 8-ounces packages
½ cup unsalted butter, room temperature, 1 stick
1 teaspoon vanilla extract
1 to 2 tablespoons milk (as need to thin frosting)
1 cup walnuts, chopped
When the frosting is all whipped up, it looks like this: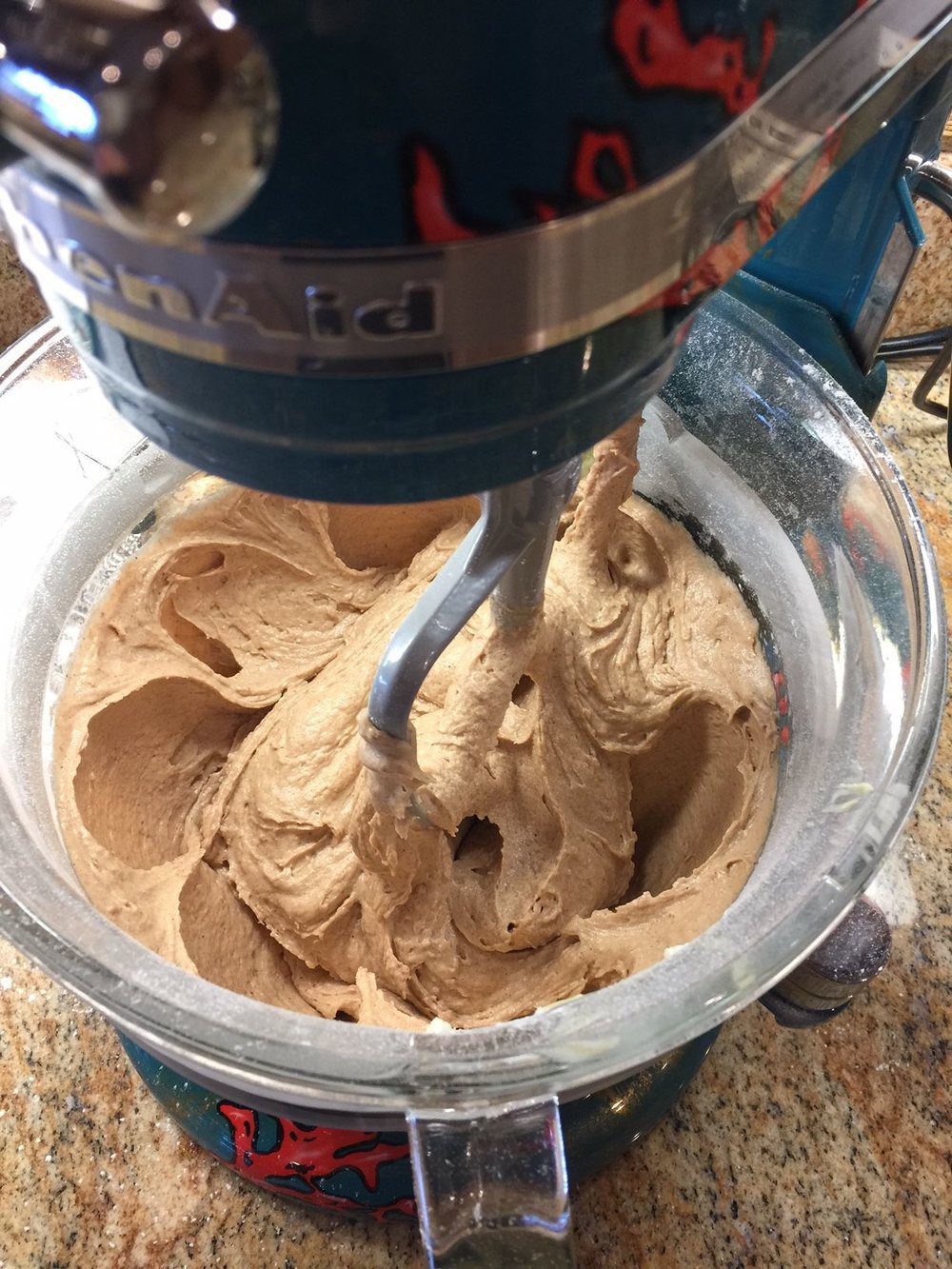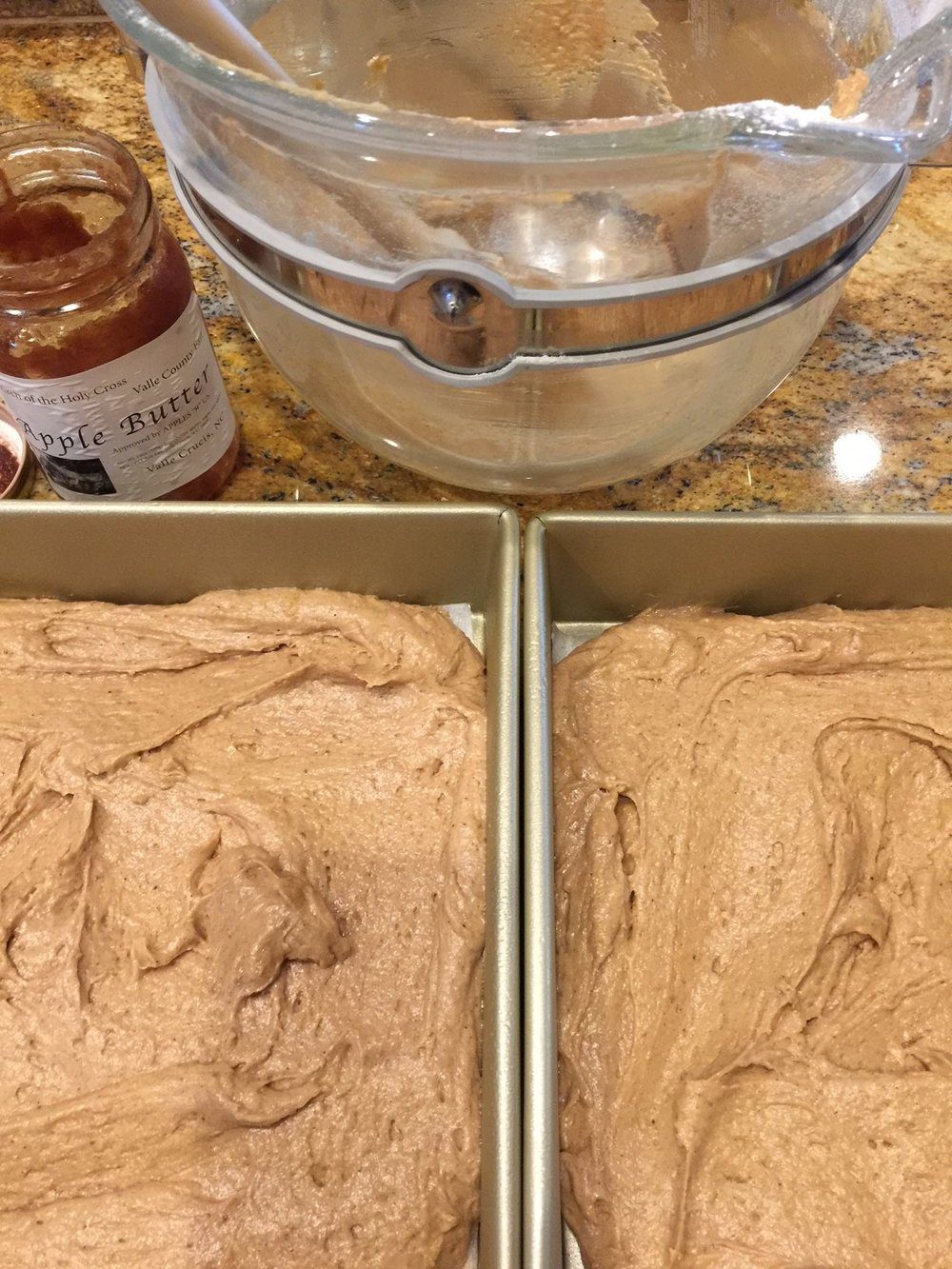 Here are the baking instructions – I hope there's room on a counter top that looks like mine, in the delicious wake of making apple butter cake!
Preheat the oven to 350°. Coat two 9 x 9-inch (you can certainly change the size of the pan if you choose) cake pans with vegetable oil spray. Place a layer of parchment paper in the bottom of each pan and coat the paper.
Whisk together the flour, cinnamon, baking soda and salt in a small bowl. Use an electric mixer to combine 1 cup butter with both brown and granulated sugars until fluffy. Mix in the eggs. Pour in 1/3 of the flour mixture followed by ½ cup of the apple butter. Mix well and continue alternating ingredients until all the flour and apple butter are mixed into the batter. Spread the batter into the two pans. Bake until a tester inserted into the cake comes out clean, about 30 minutes. Cool the cakes in the pan for 10 minutes. Carefully invert the cakes onto a rack. Remove the parchment paper and cool the cakes completely.
Use an electric mixer to combine confectioners' sugar with the cream cheese, ½ cup butter and the vanilla until smooth and creamy. You can mix in a teaspoon or two of milk to get the consistency that you prefer for frosting. Place one cake onto your serving platter. Slather the cake with frosting. Top with the remaining cake. Cover the sides and top of the cake with the remaining frosting. Sprinkle the top of the cake with chopped walnuts.
Farmers Market Tip
Mark your calendar for a fall excursion and plan to visit the Valle Country Fair. All the proceeds of the fair go to local charities. Check it out at http://www.vallecountryfair.org/ . Look for this jar of awesomeness:
Cook's Tip
If you are feeling like a "Top Chef Baker", you can make this a four layer cake! The simplest way to separate each cake into two halves is to take a piece of thread and wrap it around the cake horizontally keeping the tread in the middle of each side of the cake. Now, simple pull each end of the thread toward you and you have split the cake in half. Now spread on that frosting and keep layering.
I REALLY HOPE YOU MAKE IT – YUMMMM!!!!