My friend, Jenny (the one who loves to can the food she grows in her Napa garden) brought me a jar of her plum preserves, along with a jar of her calamondin jam. Plums you know about. Calamondins are tiny orange-looking fruits. They are citrusy tasting, but not necessarily sweet like an orange. To make calamondin marmalade, Jenny has to seed each little globe, cut them into quarters, and fill a huge soup pot. She saves the seeds and ties them in cheesecloth. These, too, go into the pot with sugar and other secret ingredients! The seeds create the pectin that gives the marmalade its viscous texture.
In case you're curious, here's a collection of homegrown calamondins!
I switched up between a spoonful of plum jam, and a spoonful of calamondin marmalade on my toast each morning…and then it happened! While sipping coffee and gaining consciousness, I accidentally put both the jam and the marmalade on one single piece of toast. Strike up the brass band and fireworks! The taste was delicious" a merging of tart and sweet with a twangy aftertaste. It was phenomenal.
I came across an old cookie bar recipe that called for strawberry jam and said to myself,
"'Self, what the heck… let's get this fusion of flavors going!"
And here it is a recipe for an oatmeal bar, filled with both calamondin marmalade and plum jam. It's pretty delish!! Now, if Jenny is not your friend, you might just have to go to the store to look for the proper filling. There are plenty of marmalades and jams on the shelves of your local grocer. If you venture to your local farmer's market, you'll find even more varieties. The lesson here is to experiment with new flavors in your traditional recipes to create a new, fresh taste. You can't go wrong!!
Oatmeal Bars With Jam Filling
Yield about 16 (2-inch) bars
45 Minute Cuisine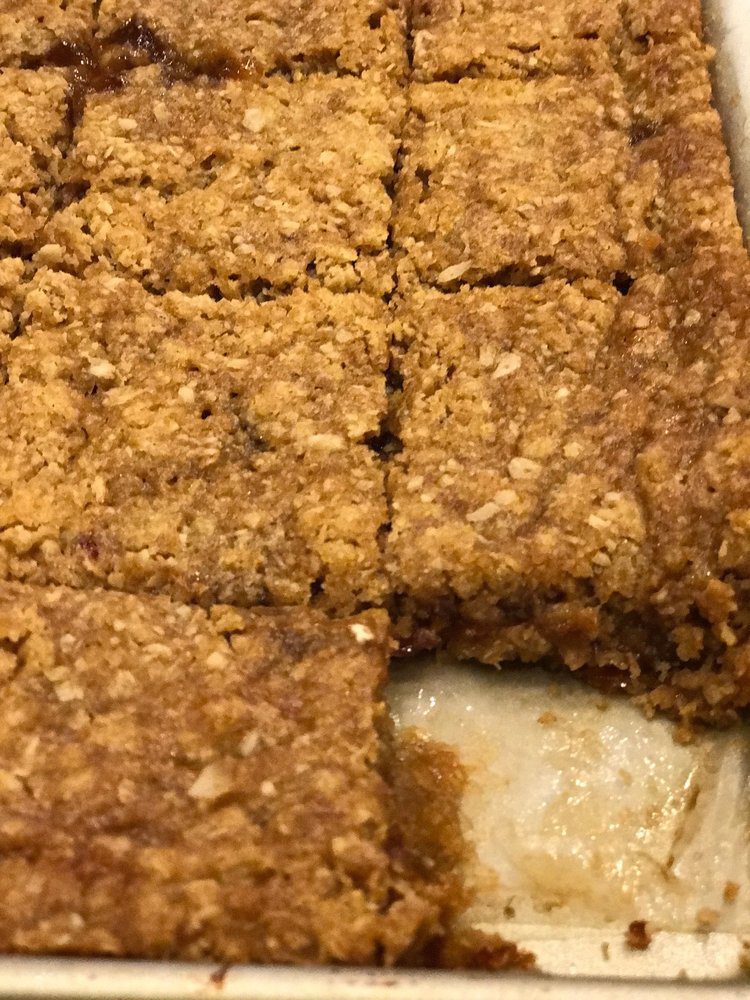 Simple to make and crumbly to eat, these bars are the perfect after-school snack or grab and go breakfast for that picky little eater.
1 cup butter, cut into pieces, 2 sticks
2 cups unbleached all-purpose flour
2 cups old-fashioned rolled oats
1 cup brown sugar
1 teaspoon baking powder
½ teaspoon salt
1 ½ cups your favorite jam
Preheat the oven to 350°. Spray a 9 x 13-inch baking pan with vegetable oil spray and line with parchment paper.
Place the butter, flour, oats, sugar, baking powder and salt into the bowl of a food processor. Pulse until coarse crumbs form and the dough begins to clump together, about 3 to 4 minutes of pulsing.
Spread half of the dough into the bottom of the pan, pressing down to form a layer. Spread the jam over the top. Place the rest of the dough onto the top of the jam. Press down lightly.
Bake until the bars are golden brown on the top, about 30 to 40 minutes. Remove from the oven, cool to room temperature, and cut into squares.