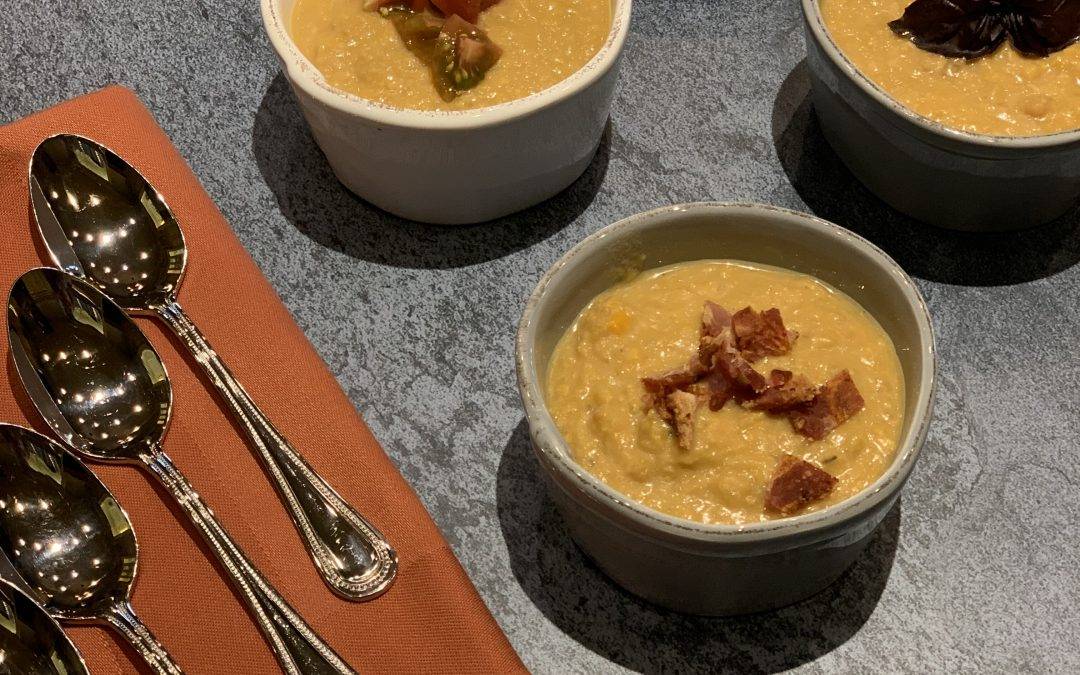 Creamy and sweet with a touch of heat, this soup is fabulous served after a brisk walk on a cold day!  Welcome Fall with my Jalapeno Corn Bisque!

Click to skip to the recipe
We took a drive through the countryside this past week. This was by complete accident.

We were on our way to our friend's home across the state, about a three-hour drive. Usually, we take freeway to by-pass freeway to alternate state road freeway and bam…we're there.

Not this time. I pecked in the address, plugged the phone into the car, and listened to my (Aussie-voiced) virtual assistant as he directed me along the way. In an entirely different way!

We were on roads that we had never traveled.

Once hubby looked up from his iPad and asked me where we were…and I couldn't say…we began to look around at our whereabouts.

We drove through town after town and passed farm after farm and noticed the fields full of growing cornstalks. Hubby noted that it was soon to be harvest time for that corn and that was just enough insight to send me off in that direction.
I found my recipe for Jalapeno Corn Bisque from Canvas and Cuisine and altered it by placing the ingredients into a slow cooker while I skedaddled towards errand running.

The results were delish.

But I pushed the meal up a step by adding a wedge of home-baked focaccia bread (Also, a recipe from Canvas and Cuisine). Now, it was both delish and tummy-filling.
If you are in the mountains of North Carolina, then you know fall is in the air. If you are living by the ocean in Florida, then you are experiencing the dog days of summer.

Either way, you will find corn is most plentiful at this time of year and I invite you to "harvest" some of your own and chow down on this really yummy soup.
Creamy and sweet with a touch of heat, this soup is fabulous served after a brisk walk on a cold day; I like my bowls fireside! I was introduced to this soup, by a super chef in Banner Elk, North Carolina. It was that kind of bone-chilling Autumn day when you just need a big bowl of soup to warm you from the inside out. It didn't hurt that the corn is grown right down the street from the restaurant.

2 tablespoons olive oil
1 large onion, peeled and chopped, about 1 cup
1 whole leek, washed, white part chopped, about 1 cup
4 large jalapeno peppers, seeded, veins removed, diced, about 1 cup
8 ears of corn, kernels removed from cobb, about 6 cups
1 teaspoon kosher salt
1 teaspoon coarse ground pepper
1 teaspoon ground cumin
1 teaspoon garlic powder
1 cup sherry 
3 cups homemade chicken stock or prepared low sodium broth 
4 cups half and half
1 tablespoon all-purpose flour mixed with 1 tablespoon room temperature butter (beurre manié)
Fresh chopped cilantro
Time:   60-Minute Cuisine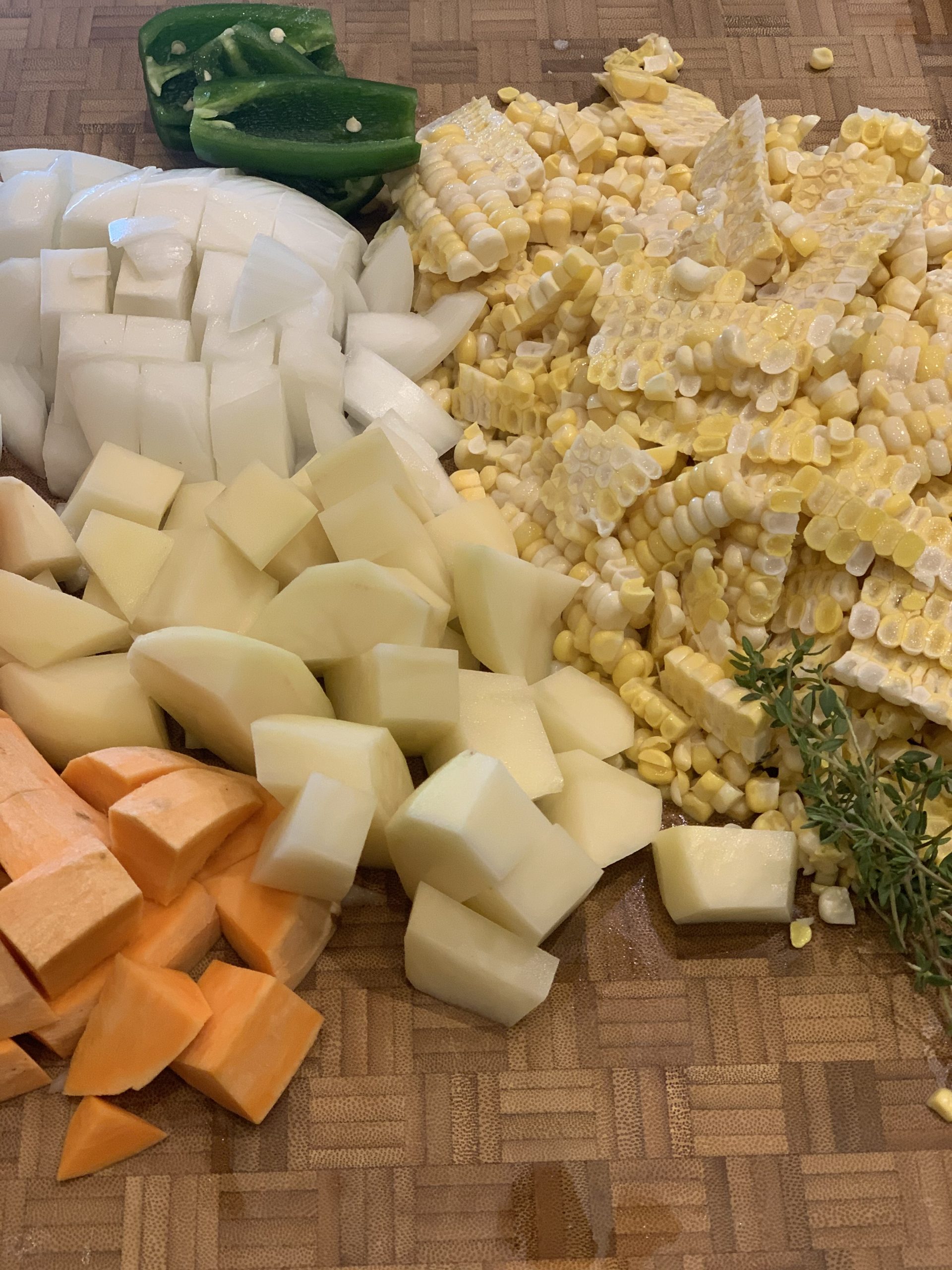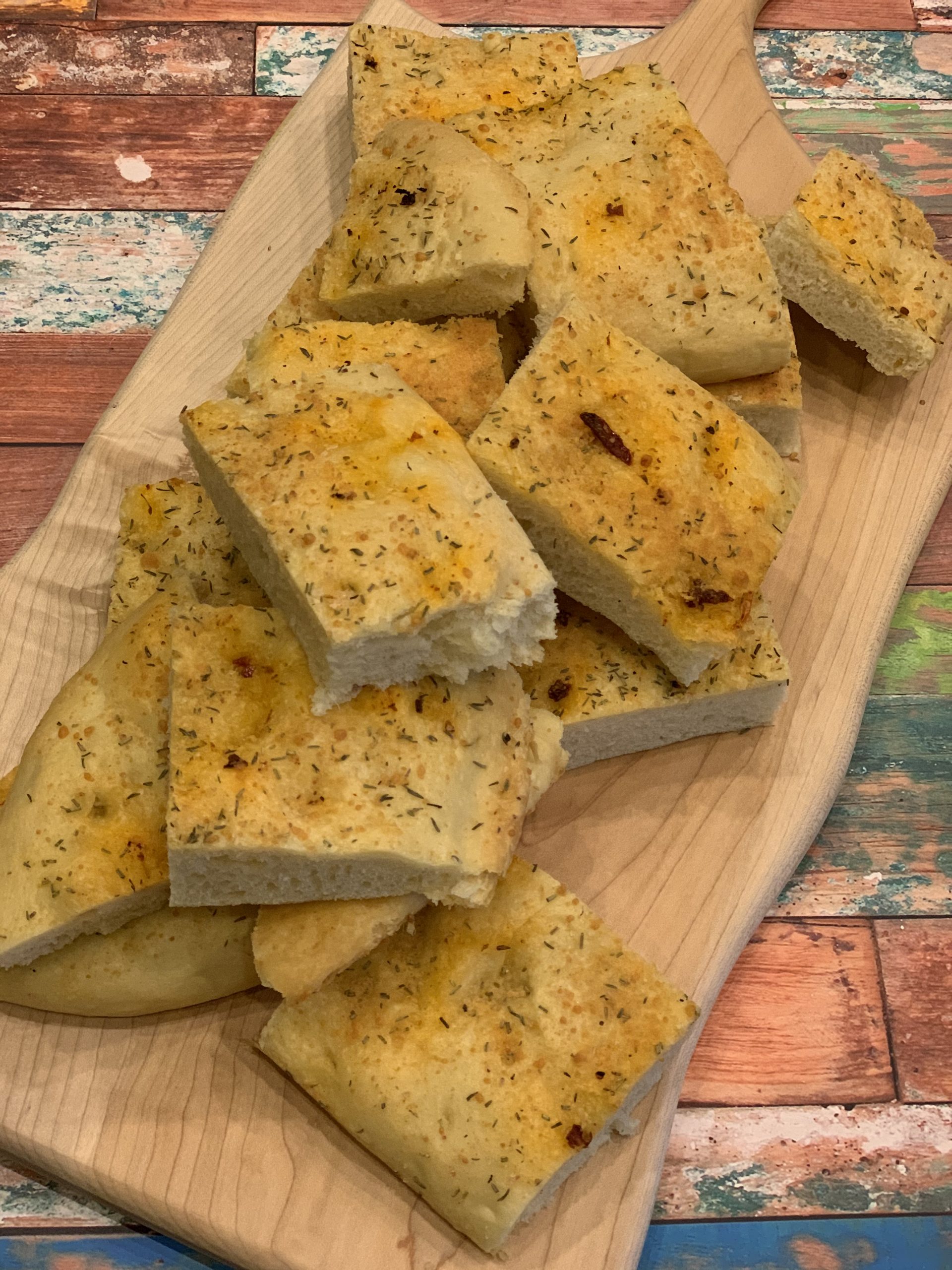 Heat the olive oil in a deep soup pot over medium-high heat. Add the onion, leek, and jalapeno pepper and cook until beginning to soften, about 2 to 3 minutes. Add the corn and cook for 5 minutes more. Season with salt, pepper, cumin, and garlic powder. Pour in the sherry. Cook until the liquid is almost all evaporated, about 3 minutes. Pour in the chicken broth. Cover the pot and reduce the heat to medium. Cook until the veggies are soft, about 20 minutes. Remove the pot from the heat. Use your gadget of choice (food processor, blender, or immersion blender) to emulsify the soup. 
Return the soup to the pot if you have used a blender or food processor. Heat the soup over low heat. Stir in the half and half. Drop small pieces of the beurre manié (flour mixed with butter) into the soup. Stir until the soup thickens to your desired consistency. You can add more cream to thin the soup or more of the beurre manié to thicken it.
Garnish with fresh herbs, cheddar cheese, salsa, cooked bacon, or all the above!