Homemade pasta is not only delicious, but it's a great activity to do with kids. Click for recipe to make pasta in all the colors of the rainbow with your kiddos! Click to skip to the recipe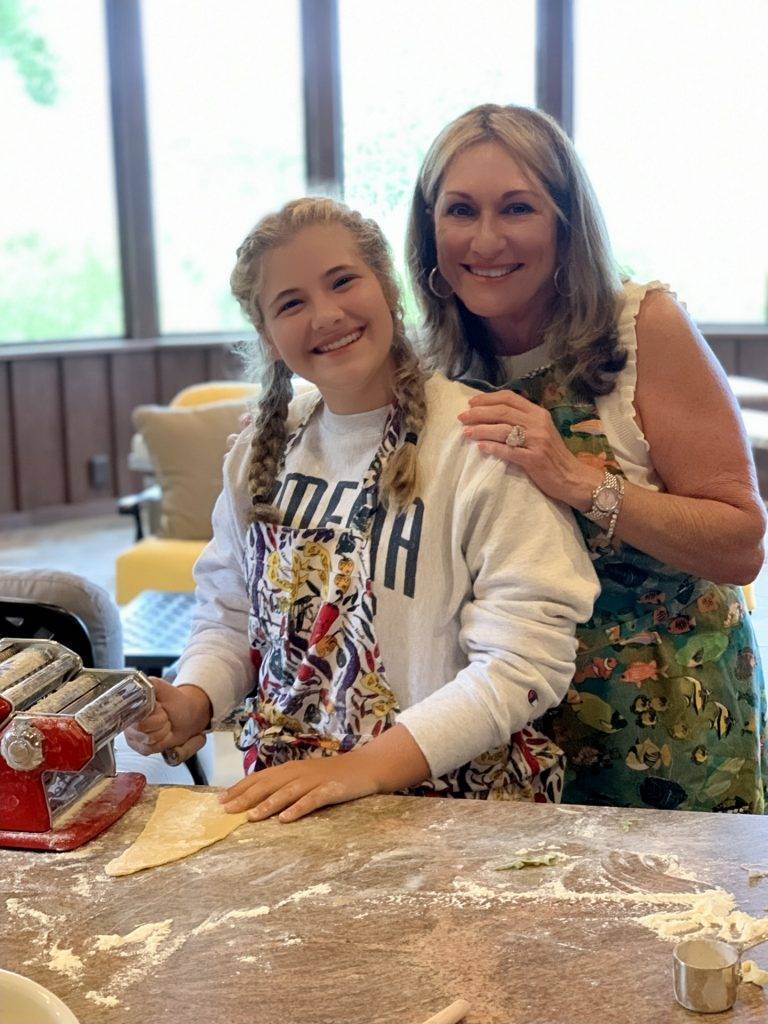 While brainstorming to come up with some activities to do with campers at my recent Camp Nana, one of my first ideas was to offer a class on baking and cake decorating. 
But, here in the mountains of North Carolina, we sit in a bit of a rain forest. 
A humid, wet rain forest. 
This is not the best environment for cake decorating as the frosting has a hard time setting up. Get the pun?
My next thought was to do a cooking class where we eat what we cooked for dinner, doing double duty.
Then I thought about pizza which led me to think about pasta (My mind wanders in strange and mysterious ways…)!
This time, I thank goodness for strange thoughts as this class went down with pasta perfection.
My over-achiever self decided that we would make differently colored pastas instead of plain old noodles. 
Why not? If you are going out on a limb, it might as well be a high one. 
I amassed several pasta machines and decided to make a go of it. 
I took beets and boiled them, spinach leaves and steamed them and carrots and roasted them. Then I pureed each veg into a puree. 
Note to self, boiling root vegetables creates a smoother puree than roasting, although roasting gives a better flavor. The difference in the pasta is that a smoother puree will create a full-colored noodle, where a coarser puree will create little bits or dots in the noodle. How's that for insider info?
The technique is really simple and a perfect activity for kids of all ages. 
Since we were creating four different types of pasta, I used a smaller amount of ingredients per pasta maker. You can double or triple this basic recipe based on your needs. You dump the flour onto your work surface and use your CLEAN, WASHED hands to bring it together in a circle. 
You then create a well and put the wet ingredients in the center. This is just like you pool gravy in mashed potatoes at Thanksgiving. 
Then use a fork to start swirling the dry ingredients into the wet ingredients and eventually form everything into a smooth dough. Kids LOVE this!!! 
Next, we cut the dough into pieces and run it through the machine. Through various degrees of thinness, we smooth the dough into thin sheets. The last setting on the machine cuts the dough sheets into the size noodles you prefer.
We let the noodles dry on a rack for a bit and then we boil them quickly in salted water and serve them with a topping of your choice. 
I offered marinara sauce, alfredo sauce, and plain old delicious browned butter with just a hint of sage. 
It was soooooo much FUN!!!
You don't have to have a group of kids to make pasta. You can make pasta with just one of your favorite kids. 
Or you can gather a few and take turns on the pasta machine. You can store dried pasta for several days in the fridge. 
You can also purchase prepared sauces to go on top of your pasta. It's all good.
Just as long as the smiles keep coming. Enjoy!
A Rainbow of Fresh Pasta
Homemade pasta is not only delicious, but it's a great activity to do with kids. You can make pasta in all the colors of the rainbow, although some might take a bit of imagination! Gather a kid or two and have some fun!
Ingredients
2 large eggs, plus 1 egg yolk
½ cup spinach puree (substitute with beet, carrot, or your favorite)
2 ½ cups unbleached all-purpose flour
1 teaspoon kosher salt
Serves:  4 hungry kids

Time:   60-minute cuisine
Use a fork to combine the eggs and yolk with the puree in a small bowl. Place the flour onto your work surface. Use your impeccably clean hands to scoop the flour into a circle. Make a well in the center of the flour. Pour the liquid ingredients into the well. Use a fork to combine the flour into the wet ingredients starting from the center of the well and working your way to the outside. Use your hands to gently knead the dough into a smooth circle.
Cut the dough into four pieces. Flatten with your hand and run through a pasta machine on the thickest setting. Do this twice and then move to the next setting until you get a thin sheet of pasta. Run this sheet through the machine on the final setting that cuts the pasta into the noodle size of your choice.
Dry the pasta for several minutes (or longer) on a rack or swirl the noodles onto a baking sheet lined with a bit of flour. Cook the pasta in salted, boiling water for just a few seconds, until the pasta is tender. Drain and top with your favorite sauce.
Overboard Tip:
To make the puree, cook (boil or steam) the vegetable until it is incredibly soft. Drain the vegetable thoroughly in a colander and squeeze out as much liquid as you can. Place the veggie into the bowl of a food processor or blender and pulse until it is pureed.