Spring means berries and cherries and all the delicious baking that goes with it! Even if you can't go to the farm, let the farm come to you by way of your local grocer and get ready to cherry and berry. Click to skip to the recipe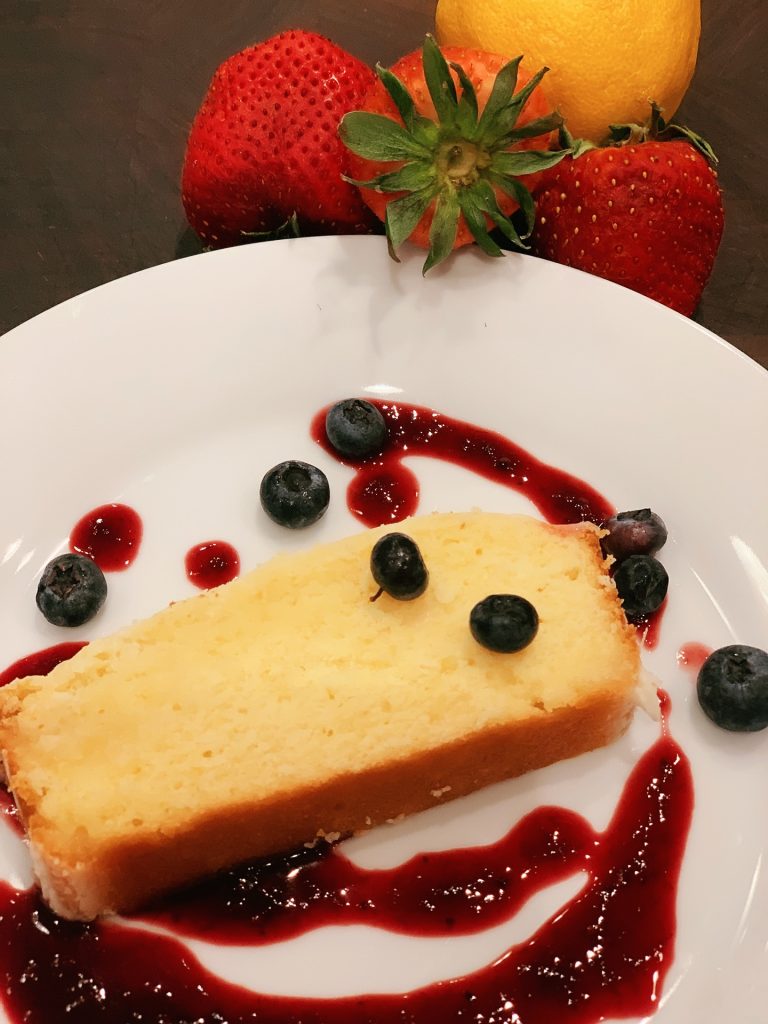 When I think of Spring, I think about berry pickin'. When I was little, my grandparents had a huge garden. (They also raised pigs and chickens… but that's another story.) In the garden we picked ripe strawberries from vines for Gram when asked.
We usually ate more than we turned over for Gram's famous berry pies as was evidenced by our stained (and somewhat guilty) smiles.
At the end of Gram and Gramp's long, dirt drive was a hedge of berry bushes. I think they were huckleberries, but they could have been blackberries. I remember my brother and sister and I would pick the berries and thread them onto long straws and then eat them like an ear of corn. Yumm! Many of these didn't make it to the pies, either.
Luckily, Gram had nine grandchildren, and even given our full bellies, pies were baked!
Today, I love to take my grandkids to a strawberry patch at this time of year, but, in this climate of social distancing, the patches are devoid of pickers, yet abundant in berries. I recently bought a box of over-sized deeply red, ripe, strawberries from my grocery store. The handwritten sign told me that they came from a local farm, not but five miles away.
Which leads me to my berry recipes! The first is not a recipe. It's a "just a little extra' to your everyday standard.
I'm talking about blueberry pancakes with blueberry syrup.
Blueberry Pancakes with Berry Sauce
I add a dash of vanilla and a sprinkle of cinnamon to my standard boxed pancake batter. Then I substitute melted butter for vegetable oil. This creates rich batter for your cakes.
I reserve about twenty blueberries from a pint. The rest I place into a deep saucepan. Pour maple syrup over the berries and simmer on low until the berries break down. Be careful, the berry syrup can bubble up if you're not watching. Turn off the heat so that the syrup cools down a bit.
Make the pancakes as you normally would, but place a few of the reserved berries onto each one before you flip it over. Stack the blueberry pancakes on a plate. Top with a dollop of butter and ladle warm berry syrup over the top. The cakes absorb the berrieness from inside and out! It's a treat.
As you might imagine, I can find myself with a bunch of leftover berries. These, I freeze and use to make smoothies and sauces. My lemon cake is the perfect foil for an easy berry sauce.
Glazed Lemon Cake With Very Berry Sauce
Serves:
Time:
A crowd
30-Minute Cuisine, Plus 1 Hour Baking
Ingredients
This lemony cake with berry sauce is just puckerable enough to make it into the lip smackin' category.
For cake:
1 ½ cup unbleached all-purpose flour
½ teaspoon baking powder
½ teaspoon kosher salt
¾ cup butter, 1 ½ sticks, room temperature
1 cup granulated sugar
3 large eggs
¼ cup sour cream
Zest from 2 lemons, about 2 tablespoons
Juice from 2 lemons, about ¼ cup
1 teaspoon vanilla extract
For glaze:
1 cup confectioners' sugar
Juice from 1 lemon, about 2 tablespoons
1 tablespoon cream
½ teaspoon vanilla extract
For berries:
4 cups assorted berries (I used frozen left-over berries)
½ cup granulated sugar
Preheat the oven to 350°. Lightly coat a 9" x 5" loaf pan with vegetable oil spray. Fit a piece of parchment paper into the pan with some of the sheets overlapping so that you can use the paper to remove the cake after baking. Then spray the paper.
Whisk together the flour, baking powder and salt.
Use an electric mixer to combine the butter and 1 cup sugar until creamy and smooth. Stir in the eggs, one at a time. Stir in the lemon zest and juice from 2 lemons, sour cream, and vanilla. Add the flour about ½ cup at a time, until the batter is just mixed together. Pour the batter into the loaf pan. Bake until a tester inserted into the center of the cake comes out clean, about 45 to 60 minutes. Cool the pan on the rack for 30 minutes, then transfer the cake from the pan to the rack to cool completely.
While the cake cools, stir together the confectioners' sugar, juice from 1 lemon, cream, and vanilla. The glaze will be thick, but pourable. Place the cake onto your serving platter. Pour the glaze over top.
Place the berries and ½ cup sugar into a deep saucepan and simmer over medium-low heat. Cook the berries until they break down and are soft and mushy. Cool to room temperature. Place a colander into a larger bowl. Push the berries through the colander, using the potato masher. You want most of the pulp and seeds to stay in the colander. Transfer what's left in the bowl to a small pitcher.
Drizzle the sauce onto a plate. Top with a slice of cake and a few extra berries for garnish.
Best Cherry Tart Recipe
I have a thing with cherries. I love cherry pie, cherry jam, cherry chutney. Just eating freshly pitted cherries with grandson, Ben, is a blast. He loves the pitting!
On the flip side, I deeply dislike canned cherry pie filling; Don't get me started!
So, I came up with a way to satisfy my cherry pie craving, using fresh cherries and time-saving refrigerated puff pastry dough. It's easy and delish!
Serves:
Time:
Makes about 20 palm-sized tarts
30-Minute Cuisine
Ingredients
These little tarts are best warm from the oven. You can make them and freeze them and bake them off when you're ready for a treat!
For cherry filling:
2 pints fresh cherries, pitted about 3 cups
½ cup granulated sugar
¼ cup cornstarch
Zest from 1 lemon, about 1 tablespoon
Juice from 2 lemons, about ¼ cup
For pies:
1 (13.5-ounce) refrigerated package puff pastry dough
1 egg beaten with 1 tablespoon water
1 tablespoon coarse sugar (I used raspberry flavored coarse sugar)
Place the cherries into a deep saucepan. Add the sugar and splash in about 2 tablespoons of water. Heat the cherries over medium heat until they begin to breakdown and the sugar dissolves, about 5 to 8 minutes.
Stir together the cornstarch, lemon zest and juice until smooth and pour into the pot. Continue simmering until the cherries begin to bubble up the sides of the pan. Use a potato masher to mush together the cherries in the syrupy sauce. Continue simmering until the mixture resembles fruit jam. Remove the pot from the heat and cool to room temperature.
Place the dough onto your floured board or work surface. Roll out the dough to a rectangle about 15" x 18" and about 1/8-inch thickness. Cut the dough into four equal strips, horizontally and 5 equal pieces, vertically. You will end up with about 20 squares.
Preheat the oven to 425°. Place a colander into a larger bowl. Pour the cherries through the colander, using the potato masher to squeeze out as much of the juice as possible. Place a tablespoon of cherry filling on each square of dough. Fold the dough over and seal with the tines of a fork. I folded mine into triangles, but rectangles or squares are fine too! Place each tart onto a baking sheet lined with parchment paper. Brush each tart with the egg wash and sprinkle with coarse sugar. Bake until the tarts are puffed and golden, about 15 to 18 minutes.