An earthenware pot, Granny would have loved…
In the Deep South, "Chow-Chow" is a well-known decoration on sandwiches and plates of BBQ. One of my readers, Martha McCray Wallace, is on a mission to recreate her Grandma's Chow-Chow, so it lives up to the version in the food memoir she seeks to publish. My assistant, Jen Russon, is editing Martha's book, and I have to tell you, the passages she's shared with me about Martha's grandparents and their downhome country cookin', had my mouth watering! I look forward to this poet and journalist's narrative cookbook gracing bookstands – the memoir has so many recipes that are just a thing of beauty, in terms of simplicity and tastiness. I can't wait to make them all!
When you make Chow-Chow, your home fills with a savory aroma that doesn't seem possible, considering how few ingredients are involved. Beyond the vegetables called for, I used only butter, salt and pepper to flavor this dish. True, when I served it, I added a dollop of sour cream, but I would have been pretty happy with or without that.
I think the next time I make kielbasa, Chow-Chow is going right on top.
Other than lots of chopping, it's easy to make. So, if that's so, then why is it hard to find or duplicate in one's own kitchen, a faithful rendering of Granny's Chow-Chow? Well, it could be that Martha's grandparents, born of Alabama sharecroppers, grew nearly everything they ate in their own backyard. These Chow-Chow experts also used top secret recipes: special pickling spice and vinegars they shared with no one – not even Martha. When I told her my own version of Chow-Chow contained butter, she was quick to point out her Grandma skipped that ingredient, altogether. Whoops…well, it was still darn good!  
Country Cookin' back in the day: How Granny Made Chow-Chow
"The chopped veggies were placed in an earthenware crock, with kosher salt, for about 12 hours. Then the spices got mixed in. The following day, Grandma drained the veggies with cheesecloth, then placed them in a large pot and put the water, seasonings, sugar, vinegar, pickling spice…letting them cook about 5 minutes. While they were cooking she prepared the mason jars for canning it."
I've seen Chow-Chow at farmers markets, but it's just not the same. Those vendors average short spans from field to table, too, but it's still hard to get that recipe exactly right. I will have to see if my Watauga County Farmers Market in North Carolina carries it, and does an honest job. As to Martha's search, LaGrange, Georgia had something almost akin, but it lacked the amazing earthy flavors of her Granny's version.   
Why don't you take a stab at it, and let us know how your Chow-Chow turned out?
A Quicker but Still Pretty Savory Version of Chow-Chow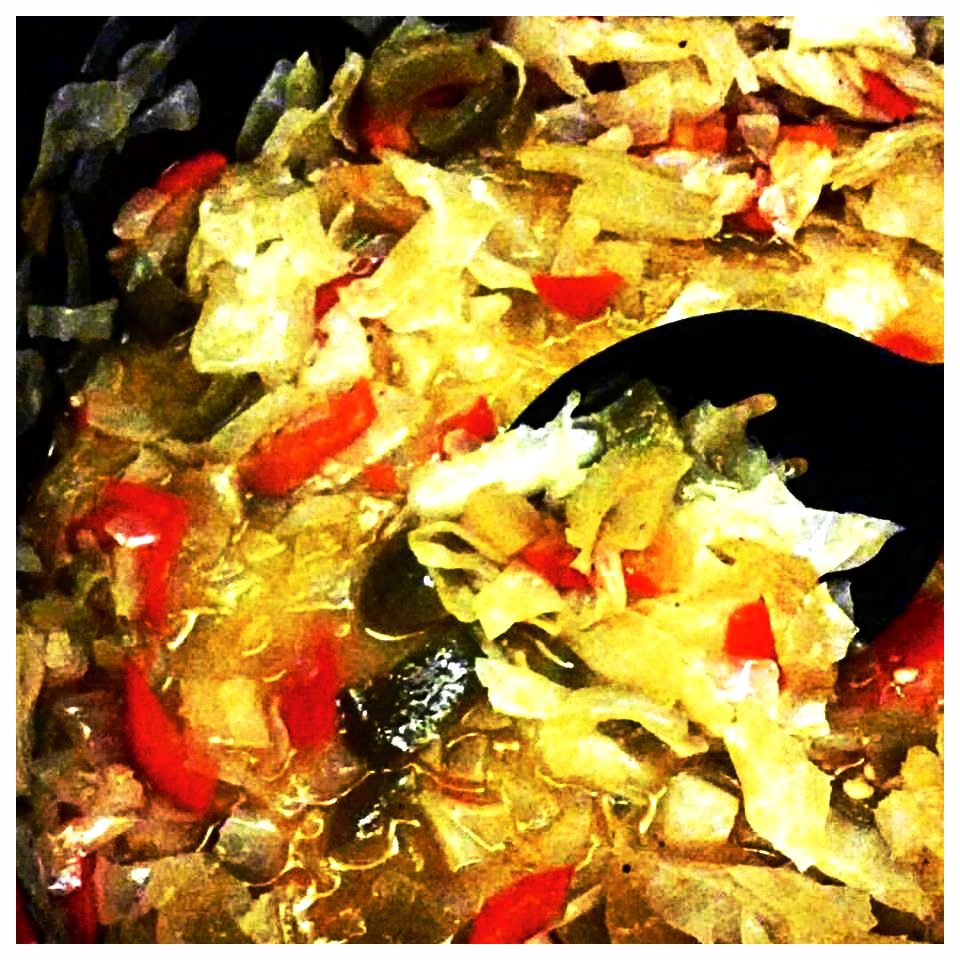 Prep Time: About 15 minutes, and an hour to cook
Serves 8
Ingredients:
·         1 large head green cabbage, chopped, about 6 cups
·         2 large red bell peppers, seeded and diced, about 4 cups
·         2 large green bell peppers, seeded and diced, about 4 cups
·         5 green tomatoes, diced, about 4 cups
·         1 large white onion, diced, about 2 cups
·         1 stick unsalted butter, cut into pats
·         1 teaspoon each, sugar, sea salt and freshly ground pepper
Instructions:
Place chopped vegetables into a Dutch Oven or large stock pot, and mix in pats of butter, sugar, salt and pepper. Adjust the stove to medium high heat. The butter will melt over the vegetables, and help mingle and marry their flavors. Stir often, so that none of the veggies stick to the pot. After the first 8 to 10 minutes, lower stove temperature to low, and let cook for 30 minutes and up to an hour. Serve as a garnish for meats, on top of any sandwich, or enjoy as a stand-alone dish.  
Isn't the aroma divine?