Growing season for tomatoes, June through September, finds this versatile fruit at its peak in some states, where temperatures remain hot, hot, hot well past Labor Day. Home cooks all over the country are getting ready to tailgate for the big game – that means lots of BBQ sauce and piping hot vats of chili – for that you're going to need tomatoes – lots of 'em! I found a brand of canned that has never let me down, never tasted bitter or chemically sweet; a brand that offers all the complex and savory flavors the classic tomato is supposed to have. I like this brand so much, I contacted them about sharing one of my recipes to their Tomato Vine Blog. But don't click on it yet! I'm not done talking tomato.
Every summer and early Fall, I stock up on my favorite kinds of fresh tomatoes, loving the multi colored (and multi-shaped!) variety at farmers markets on Saturdays. My home state of Florida is one of the two biggest producers of tomatoes in the USA; the other is California. Sorry Sunshine State, but I got addicted to Muir Glen Organic that comes from San Joaquin Valley, CA. In fact, I like this canned variety so much that if I run out of fresh, I turn to them for my spaghetti sauces and Real Deal ketchup.
Everyone who knows my cooking, also knows that I prefer fresh ingredients, and don't turn to canned ones as my first choice. I make an exception when it's Muir Glen because you can't tell the difference between their product, and cooking with a sack of fresh tomatoes from the store – that's actually a huge savings, when you think about it. Recently, I tested a recipe (to be featured in an upcoming cookbook) that called for LOTS of tomatoes. Using canned was far more economical than smashing up fruits from the farmers market. In my Vietnamese Eggplant Stew, I used a 28-ounce can of Muir Glen Organic Peeled Tomatoes, and was on Cloud 9 by dinner time. I also swapped out the butternut squash for acorn squash in this Bon Appetite recipe, and hit a home run using Muir Glen.
Tomatah, Tomato
Here's my eggplant-tomato stew; instructions and an inspirational note of where I learned to make it are included. Happy eating, my friends – I've modified the recipe, so there's enough to feed you, plus friends!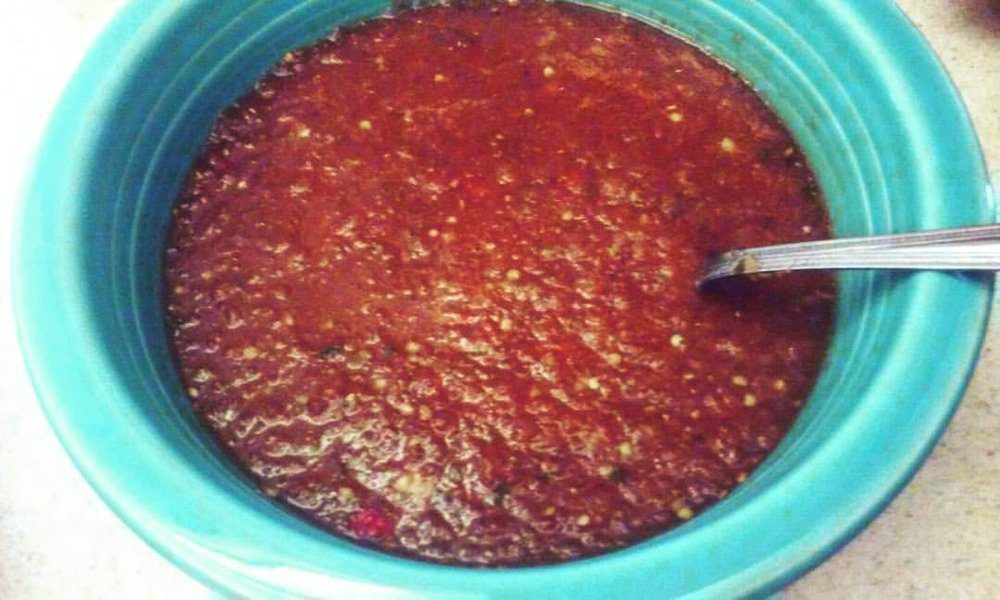 This stew, Vietnamese Eggplant, is tomato rich, and will appear in my next book!
Vietnamese Eggplant Stew
Serves 8
Prep time: about 40 minutes
The city of Hoi An in Vietnam has an amazing fresh market and a wonderful cooking school, Red Bridge. This is one of the signature dishes that the chef teaches his students. It's prepared it in individual clay pots, which adds a wonderful dimension and depth of flavor. This is my version of the dish we created in school. The eggplant is rich and velvety and delicious. Serve the stew as a side dish or add rice to make it a veggie main.
2 teaspoons peanut oil
1 garlic clove, peeled and minced
1 stalk lemongrass, outer layer discarded, sliced
1 (28 ounce) can Muir Glen Organic Ground Peeled Tomatoes
2 tablespoons fish sauce
1 teaspoon granulated sugar
1 large eggplant, cut into 2-inch pieces
1 small red chili, seeded, veins removed, cut into thin strips
¼ teaspoon turmeric
¼ teaspoon coarse black pepper
1 tablespoon chopped fresh basil
1 green onion, diagonally sliced
        Heat the peanut oil in a deep pot with lid over medium heat. Add the garlic and lemongrass to the pot and stir. Add the tomatoes to the pot. Stir in 2 tablespoons water. Simmer until the vegetables break down, about 2 minutes. Stir in half of the fish sauce and half of the sugar. Add the eggplant to the pot. Pour in 1 cup water. Add the remaining fish sauce and sugar. Stir in the chili, turmeric, and pepper. If you prefer a smoother stew, this recipe does fine, pulsed in a blender and returned to the stock pot in batches. Simmer until the eggplant is soft, about 5 to 10 minutes. Garnish with fresh basil and sliced green onions.
Farmers Market Tip
Prepare the tomatoes for this recipe by bringing a pot of water to boil. Cut an "x" into the bottom skin of the tomato. Plunge the tomatoes into the boiling water for 30 seconds to a minute. Test the skin by pulling up on the edge of the x. If the skin begins to lift easily, the tomatoes are ready. Transfer the tomatoes to an ice water bath to stop the cooking process. Peel and cut in half. Squeeze out the seeds and chop the tomatoes.