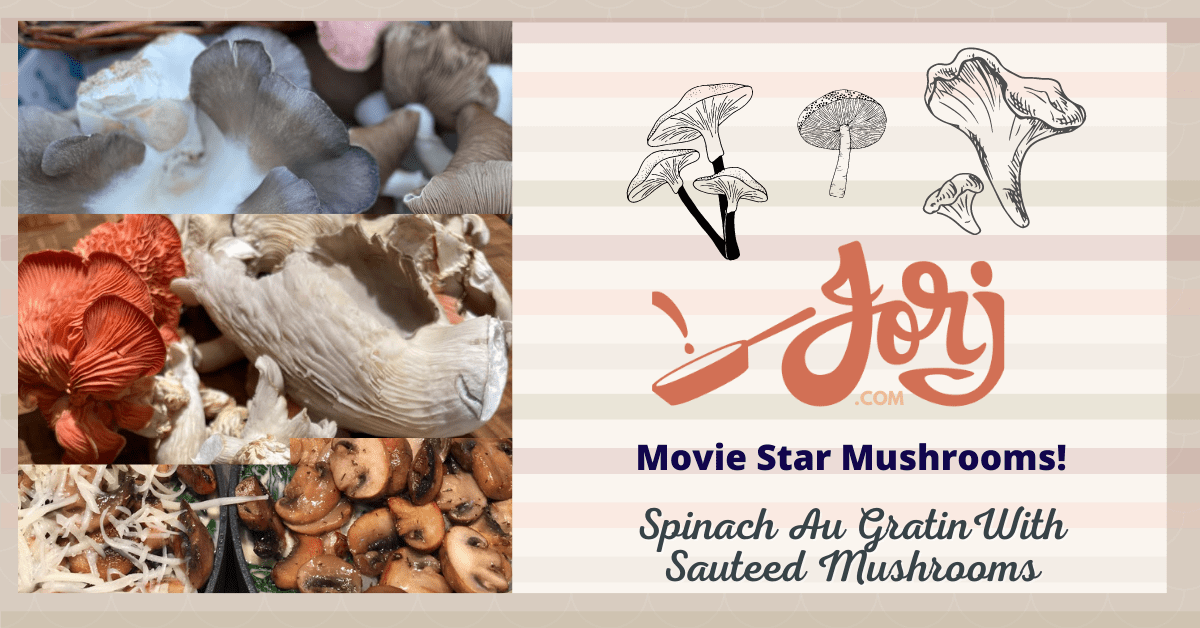 I LOVE cooking mushrooms. These edible fungi inspire my dishes with their complex flavors and many uses.
Spinach Au Gratin

With Sauteed Mushrooms is one of

my favorite recipes that is easy to make and will make you feel like a celebrity chef!
September is mushroom month. Who knew???

Mushrooms are all the rage right now. Netflix just aired a mushroom documentary that someone spent fifteen years filming…FIFTEEN YEARS!!
Although I have always loved mushrooms and at least one container jumps into my shopping basket each grocery store visit, my love affair entered new territory when I visited the farmer's market this season. 
There were not one, but two stands devoted to the most interesting varieties of mushrooms I have ever seen. I'm used to working with portobello and button 'shrooms. 
I even dabble with shitake and oyster. But the giant varieties at the stands are as amazing as they are beautiful.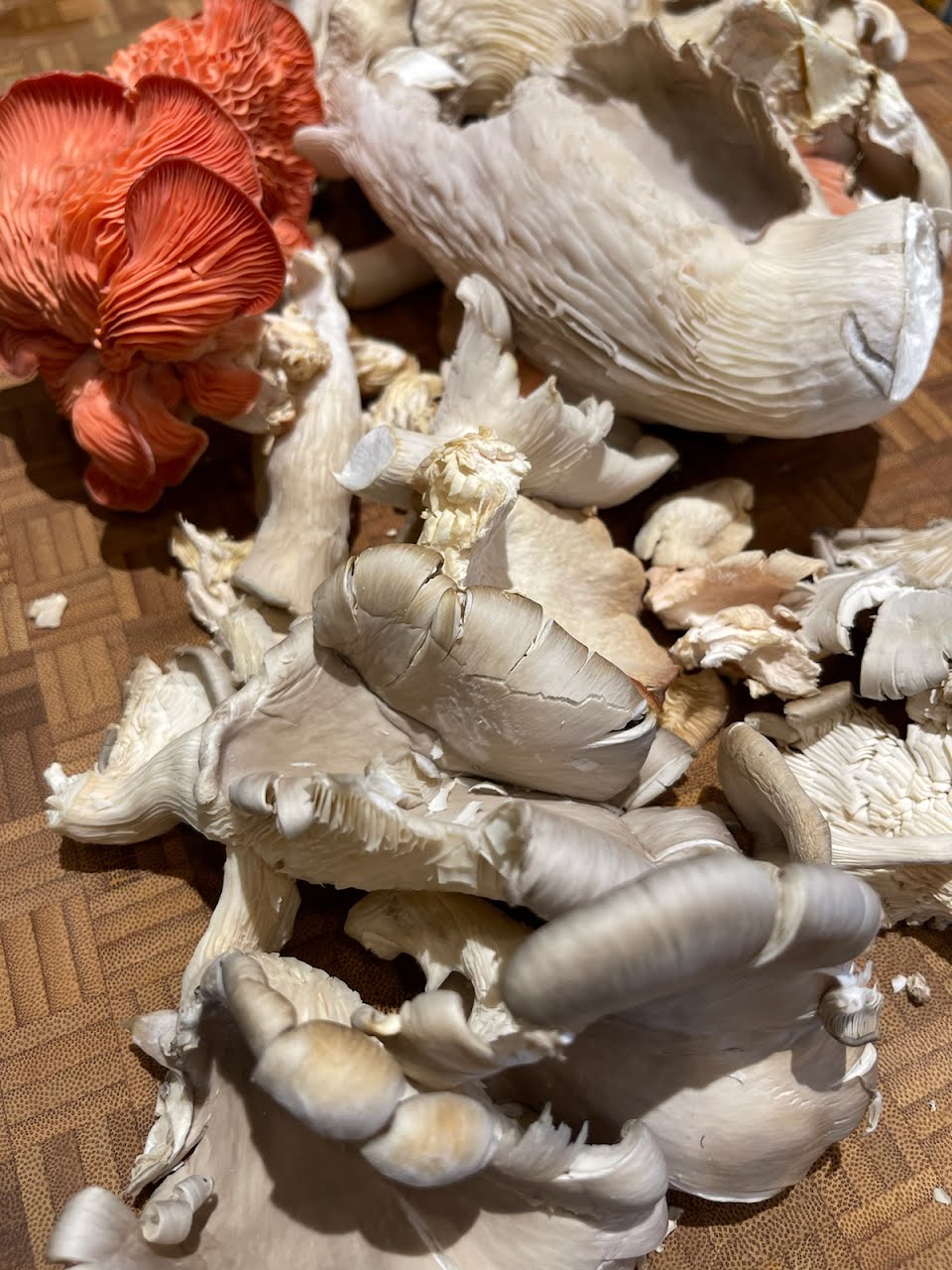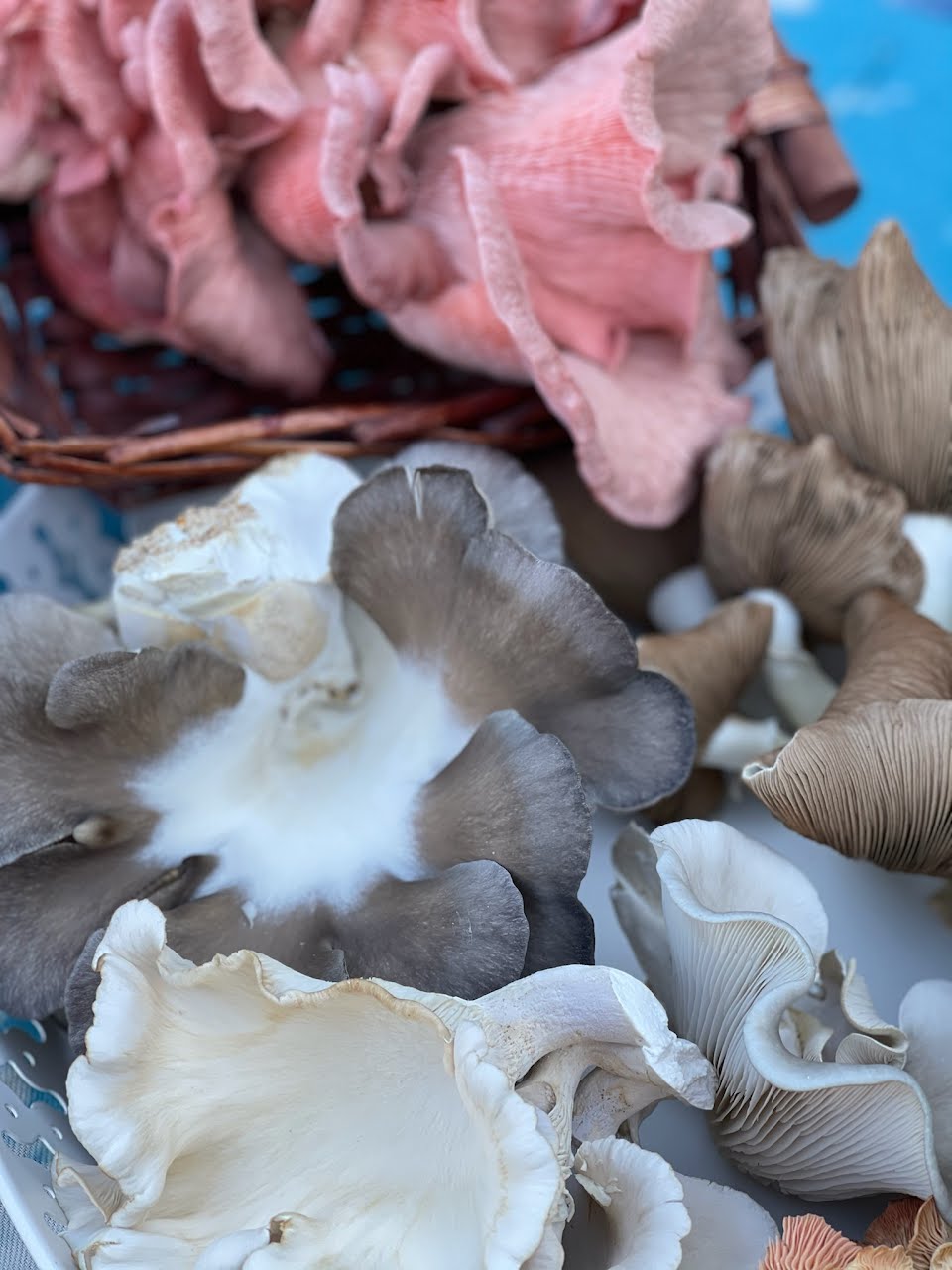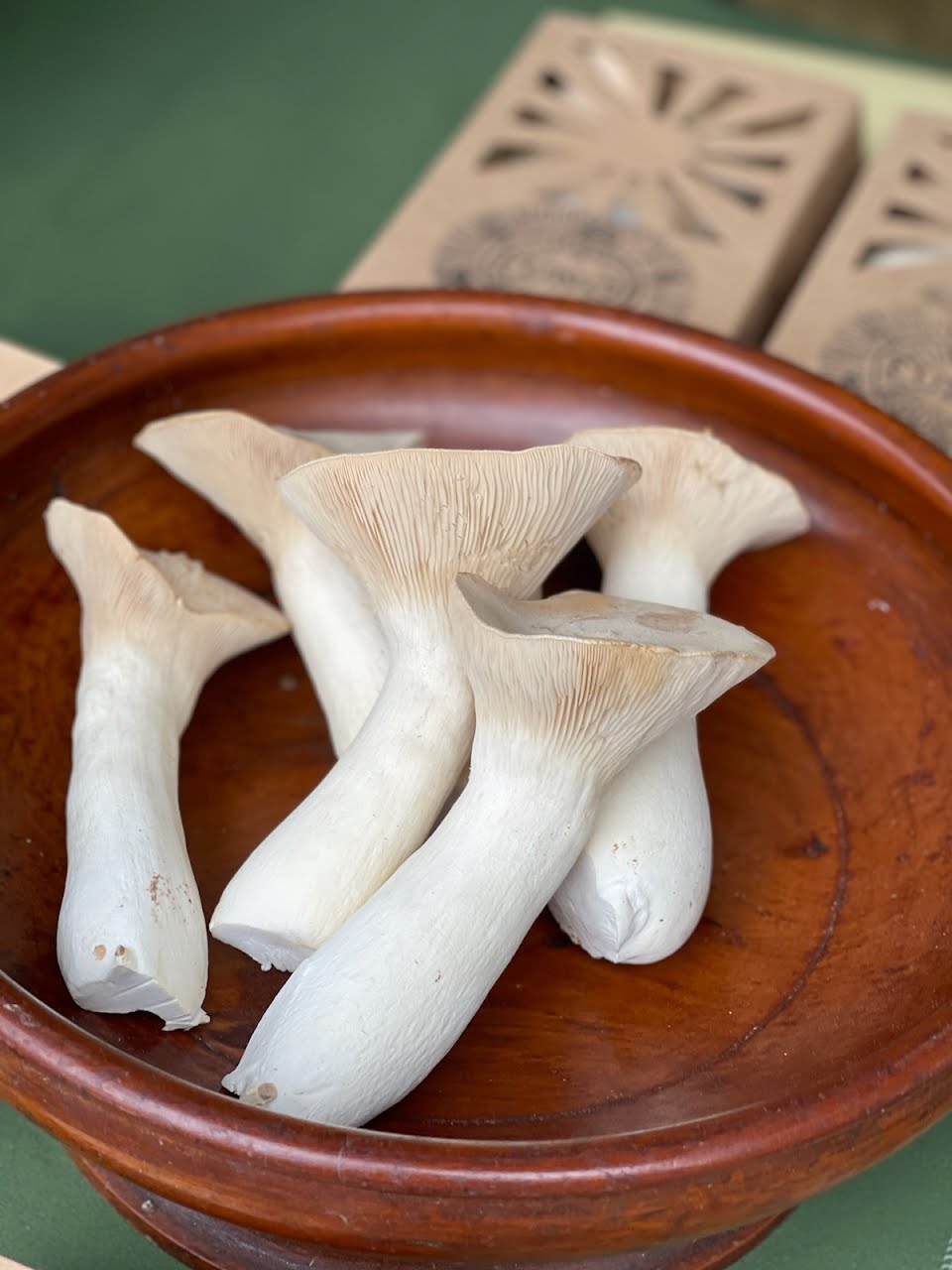 There were baskets of Black Pearl and Blue Oyster mushrooms. Turkey Tail, Lions Maine and Chicken of the Woods were names of even more exotic 'shrooms.

The Boone Fungi company offers a wild (yes, pun intended) arrangement of mushrooms and I bought a bag of assorted mushrooms and brought them home to experiment. 
The farmers suggested roasting the mushrooms, which I did. This did nothing more than dehydrate them. So, I tackled them the way I usually do which is to add fat and flavor, and this worked beautifully!
I do have a secret for getting the best flavor from the shroom. The secret is high heat and a butter bath. You can cook an entire mushroom steak this way or chop a giant mushroom into smaller pieces. Let the mushrooms or mushroom pieces crisp in the pan until you see a golden crust. Now they are ready for whatever comes next.
Serve them atop a juicy steak, or your favorite veggie casserole.
Use a mushroom broth to create a luscious soup or sauce.
Whatever your fancy, the fancy mushrooms will add flavor and FUN to your next meal!
Who knows? Maybe Netflix will come-a knockin'……..
Here's one of my favorite recipes that uses mushrooms just perfectly!
Spinach Au Gratin With Sauteed Mushrooms
Ready In:
40 Minutes Until You're Ready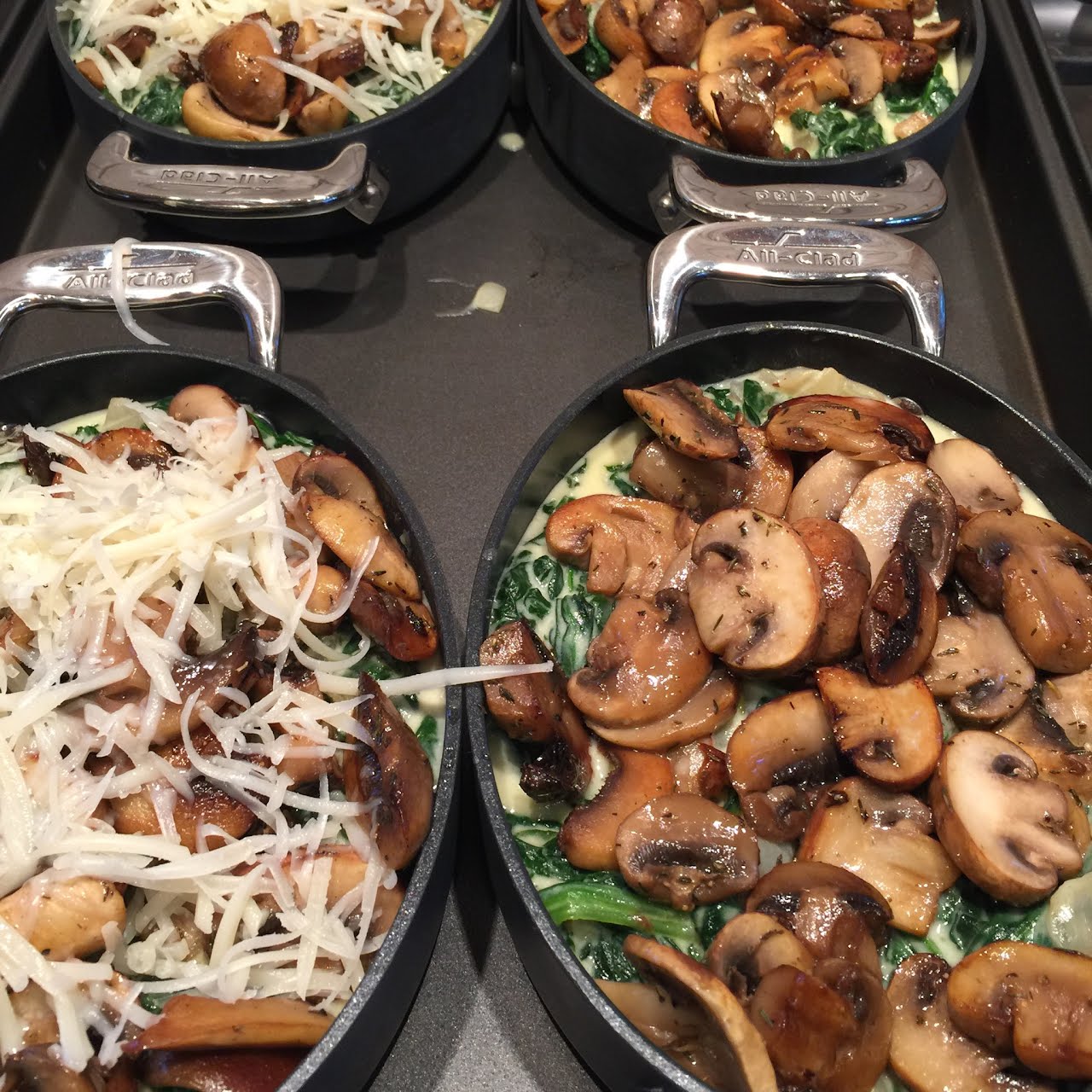 INGREDIENTS FOR SPINACH 
1 (20-ounce) package frozen chopped spinach, thawed and drained (you can substitute with fresh spinach leaves)
3 tablespoons butter, divided
2 tablespoons unbleached all-purpose flour
1 ½ cups milk
¼ teaspoon nutmeg
4 ounces Gruyere cheese, grated, about ½ cup
2 ounces Parmesan cheese, grated, about ¼ cup
Paprika
INGREDIENTS FOR MUSHROOMS
2 tablespoons olive oil
2 tablespoons butter
8 ounces of your choice of mushroom type, sliced or chopped to equal about 2 ½ cups
¼ cup sherry
1 teaspoon kosher salt
½ teaspoon coarse black pepper
Tried it? Tag it!
I would love to see what you did with this recipe.  Share your creation by tagging #inthekitchenwithjorj and with Scrumptious Possibilities With Jorj, my free private home cooking group.
Heat the olive oil and 2 tablespoons butter in a saucepan over medium high heat. Add the mushrooms. Don't mess with them! Let the mushrooms cook until they are golden brown on the bottom, about 4 to 5 minutes. Turn them to cook on the second side, about 2 more minutes. Reduce the heat to medium and pour in the sherry. Cook until the liquid disappears, about 3 minutes more. Season with some of the salt and pepper. Turn off the heat.
Preheat the oven to 375 degrees. Cook the spinach in the microwave.  Drain in a colander and use paper towels to press out excess moisture.  If you choose to use fresh spinach, 1 pound fresh spinach will cook down to about the same amount as 10 ounces cooked frozen spinach.  For this recipe, you will need 2 pounds of fresh spinach, chopped which will be about 8 cups. Steam the spinach in a microwave oven or in a steamer over boiling water. Drain as directed above.)
Heat 2 tablespoons of butter in a pot over medium heat until melted.  Stir in the flour and cook until the mixture begins to bubble.  Pour in the milk and stir until the sauce begins to thicken, about 5 minutes.  Season with salt, pepper, and nutmeg.  Stir in the Gruyere cheese and cook until melted.  Remove the sauce from the heat.
Place the spinach into a bowl.  Pour in half of the sauce and stir.  Pour in the remaining sauce and stir once more.  Pour the spinach mixture into a casserole dish (or several smaller individual casserole dishes).   
Top the spinach mixture with the mushrooms and sprinkle with Parmesan cheese.  Dot the top with the remaining 1 tablespoon butter and sprinkle with a bit of paprika.  Cook until the casserole is golden on the top and bubbling, about 10 to 12 minutes (depending on the size of the casserole dish).