Corny Corn Corn!  It's summertime and the livin' is easy. Try corn two ways with my corn salad and best corncake recipe.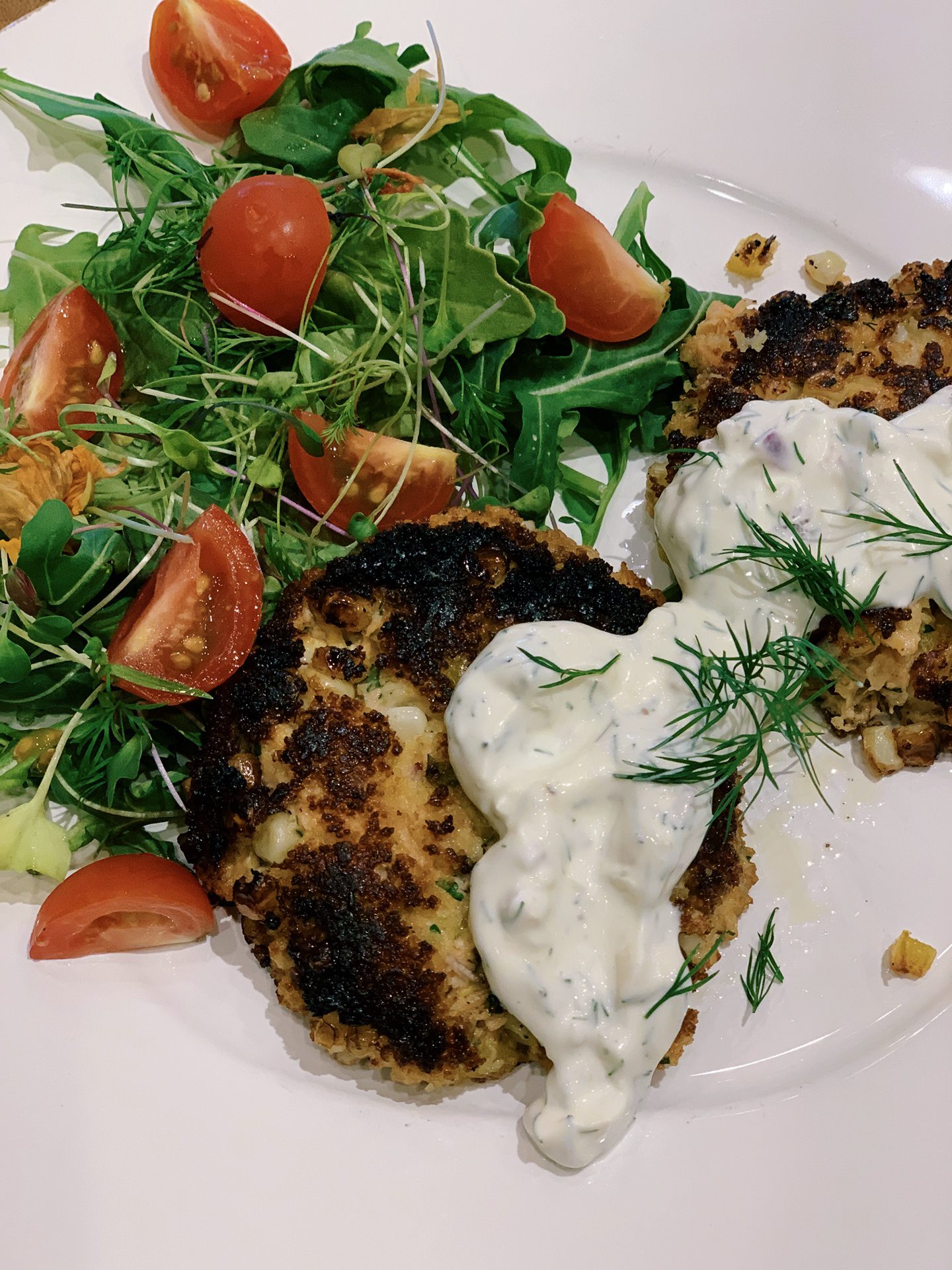 This is the time of year that you want simple, fresh suppers that are leisurely served on the veranda or back deck.
Picture a pitcher of frosty strawberry lemonade, a vase filled with flowers plucked from your garden, and a basket of cornbread swimming in honey butter.
The scene is set!
…and so is the supper.
This one features corn on the cob.
First, I grill it and blend it with sweet baby tomatoes, cucumbers, and green onions. Then it's tossed with a lemon balsamic vinaigrette. Shaved Parmesan cheese tops off this simple summer salad.
The second dish begins with salmon (I had some leftover) that turns into delicious salmon cakes. Corn kernels in the cakes, cornbread crumbs both for binding and for dredging and corn-spike tartar sauce take these cakes way, way over the top!
This easy summer supper is so good that even if your veranda is invaded by mosquitos or the flowers in your garden have wilted, or you feel the need to spike your lemonade, summertime will shine through!
Enjoy!
Grilled Corn Salad With Lemon Basil Vinaigrette

Ingredients
This simple salad comes together in minutes and is a perfect outdoor supper side dish.

For salad:
6 fresh ears of corn
1 English cucumbers, cut into ½-inch chunks
1 bunch green onions, diced, about ½ cup
1 pint cherry tomatoes, halved
For vinaigrette:
1 bunch basil leaves, about 1 cup
1 tablespoon Dijon-style mustard
Juice of 1 lemon, about ¼ cup
¼ cup white balsamic vinegar
1 tablespoon honey
½ cup olive oil
1 teaspoon kosher salt
½ teaspoon coarse black pepper
2 ounces Parmesan cheese, shaved, about ½ cup
Serves:   A crowd
Time:  20 minutes
Remove the husks from the corn and grill over medium heat, turning often, until the kernels are golden brown. Cool to room temperature. Cut the kernels from the cobs into a bowl. Add the cucumber, green onions, and cherry tomatoes.
Place the basil leaves into a blender or the bowl of a food processor. Add the mustard, lemon juice, balsamic vinegar, and honey. Pulse to combine. With the machine running, slowly pour in the olive oil. Season with salt and pepper.
Drizzle some of the dressing over the corn salad. Toss to just coat the veggies. You want just a bit of dressing; you don't want it to be soggy. Garnish with shaved Parmesan cheese.
Salmon and Corn Cakes With Fresh Corn Tartar Sauce

Ingredients
Adding fresh corn to the cakes and dredging in fresh cornbread crumbs adds a true Southern twist to this everyday staple. And then….. we put corn in the sauce. Now that's FUN!

For salmon cakes
2 cups cooked salmon, flaked
2 garlic scapes, chopped, about 2 tablespoons (you can substitute with 2 garlic cloves, minced)
¼ medium red onion, peeled and finely diced, about 2 tablespoons
½ yellow bell pepper, finely diced
2 tablespoons chopped fresh dill
2 tablespoons chopped fresh parsley
½ cup cooked corn kernels (you can use grilled corn)
2 cups fresh cornbread crumbs, divided 
¼ cup mayonnaise
1 large egg, beaten
1 tablespoon Dijon-style mustard
1 teaspoon kosher salt
½ teaspoon coarse black pepper
Olive oil for sautéing
For creamed corn tartar sauce:
½ cup mayonnaise
½ cup sour cream
Juice of 1 lemon, about 2 tablespoons
3 tablespoons, cooked corn kernels, chopped
2 tablespoons finely diced red onion
1 tablespoon chopped fresh dill
Yield:   18 bite size cakes and about 6 large cakes
Time:  45 minute cuisine
Place the salmon into a bowl. Add the garlic, 2 tablespoons diced red onion, yellow pepper, 2 tablespoons each of dill and parsley. Add the corn kernels and ½ cup of the cornbread crumbs. Season with salt and pepper. In a separate bowl, whisk together ¼ cup mayonnaise, egg, and mustard. Pour the wet ingredients into the bowl and toss everything together. 
Place the remaining corn breadcrumbs into a shallow plate. Use an ice cream scoop to scoop out balls of the salmon mixture onto a baking sheet lined with parchment paper. For bite-size cakes, use a 1-inch scoop. For main course cakes, use a 3-inch scoop. Flatten the balls into patties. Dredge each on in the corn breadcrumbs and return to the baking sheet. Place the cakes into the freezer to chill for 15 minutes.
For the tartar sauce, stir together ½ cup mayonnaise, sour cream, lemon juice, chopped corn kernels, 2 tablespoons red onion and 1 tablespoon dill. Season with salt and pepper.
Heat olive oil in a skillet. You want enough oil in the skillet to just coat the bottom of the pan. Remove the cakes from the freezer and carefully place into the hot oil. Cook until the bottom of the cake is golden brown. Use a spatula to turn the cakes and cook until golden on the other side. The amount of time will differ depending on the size of the cake. It will only be a few minutes for bite-size cakes and about 5 to 7 minutes total for larger cakes. 
Serve warm or at room temperature with a dollop of the sauce. Garnish with fresh dill.
Make-Ahead Tip:
You can make these ahead and freeze them until you are ready. Bring them to room temperature before you cook them.
Overboard Tip:
This recipe calls for leftover salmon. However, you can bake salmon in just a few minutes in the oven and then cool to room temperature. I sprinkle the salmon with lemon juice and olive oils and then coat in a rub of 2 tablespoons brown sugar, 1 tablespoon each of chili powder, onion powder, cumin, and garlic powder. Season with salt and pepper and bake at 400°for 20 minutes for every 1-inch of thickness.