Host a social distancing get-together this July 4th with tips to stay safe and recipes to make it delicious!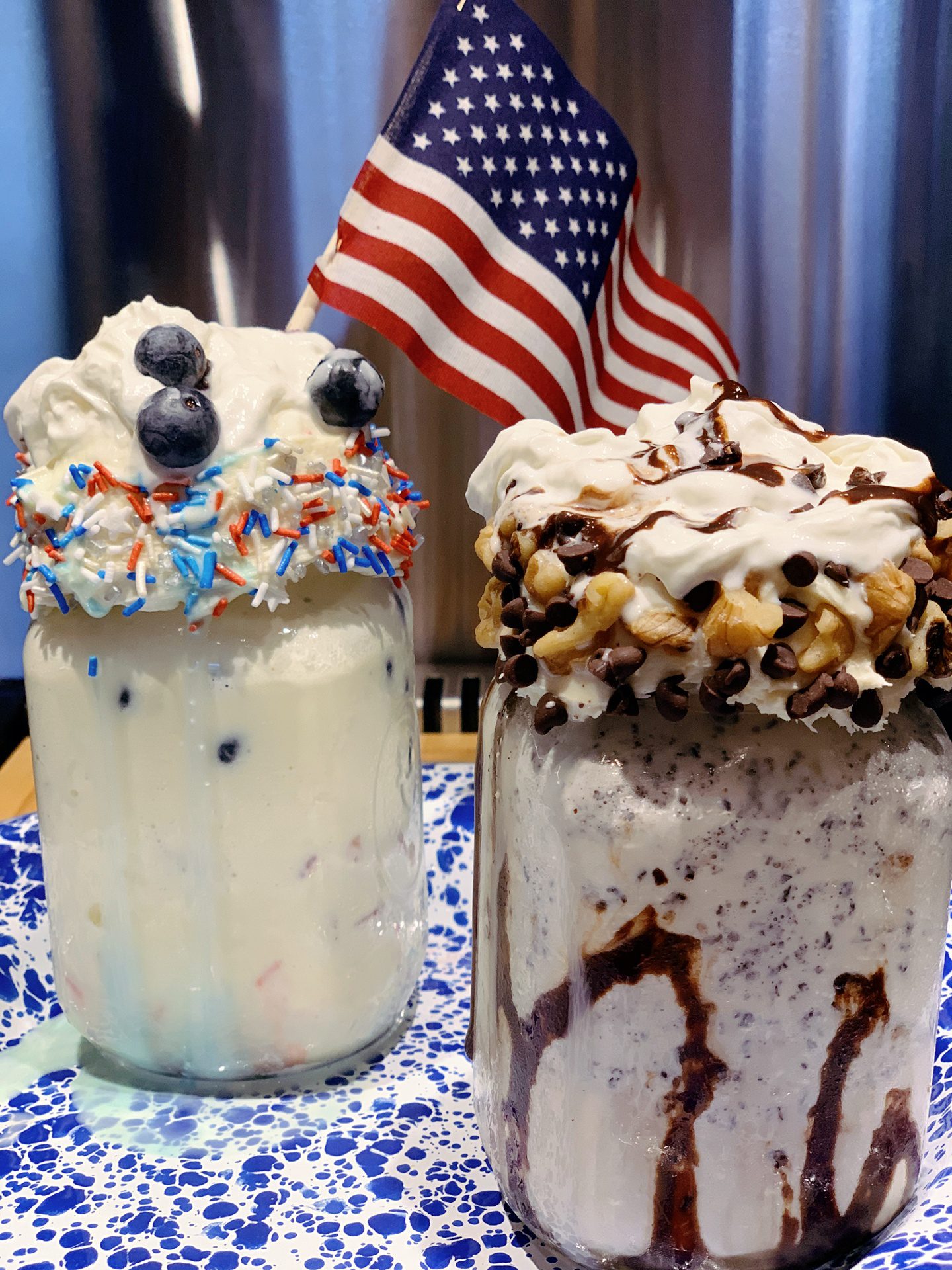 With so many large-scale activities canceled for the 4th of July holiday, small gatherings with appropriate social distancing are the sign of the times.

This year, my family barbecue is trimmed down to immediate family with only a few (very close) family friends. I will miss the annual get-together of friends and neighbors. Mostly, I will miss seeing the kids that grow from children to tweens to teens to young adults each year.

But, with my "glass is always half-full" vision, I appreciate the opportunity to spend more time with loved ones and less time preparing for a big bash. After all, those glow-in-the-dark bracelets will last 'til next year!
We are who we are, and we Americans will celebrate! Trying to plan for my slimmed-down annual party, I started by putting my caterer's hat on.


Back in the day, when my pals and I were planning a Memorable Occasion's (the name of my old catering company) party we would lay out the menu and then come up with some clever way to serve it. We were always short of staff, so serve-yourself food was a great solution when feeding a crowd.

This strategy works perfectly when you are planning an appropriate socially distanced backyard Fourth of July barbecue. Allowing your guests to choose their own items from individual containers is smarter in today's climate.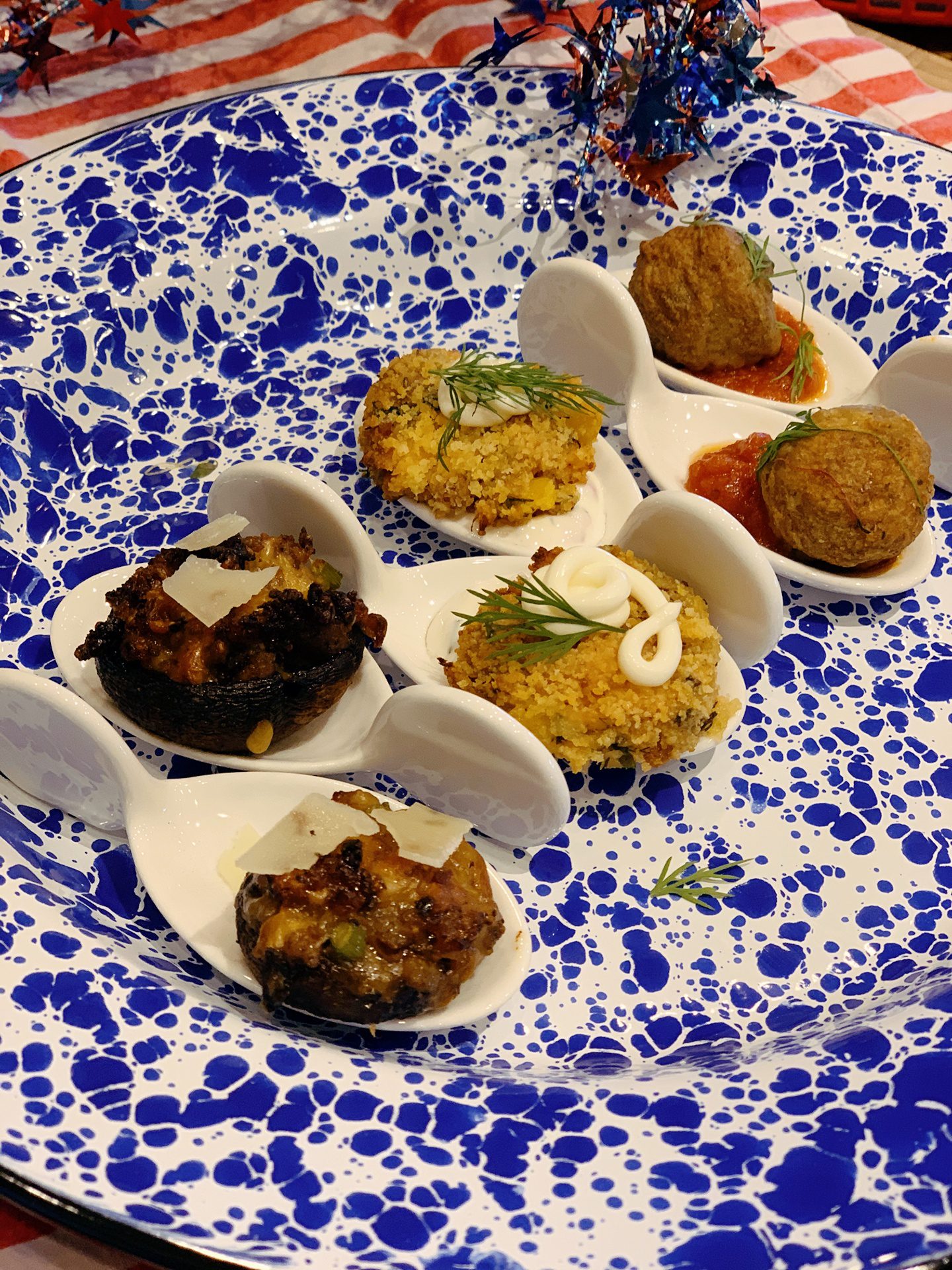 Here are some pointers for a safe and social distancing get-together:
Fresh air is best for this year's celebration.

If it's possible sit outside. Sit on your back porch, in your back yard, even in your driveway.  If you are rained out, or don't have enough space, open the windows to let the fresh air in. 

It's still okay to ask your guests to bring a dish. No one says you, the host, must do it all. But we're going to ask either that the dish is brought in individual portions, or that you dish it up in the kitchen before serving.

This is not the time for a buffet supper. 
Serve right from the grill.

For example, let guests bring their bun to you when grilling dogs and burgers! Condiment packs are key here for mustard and ketchup, but you can also be safe by providing several bowls of condiments and allowing each guest to use his or her own spoon for scooping diced onions and peppers.

As much as you can, serve everything individually.

Use whatever you have around the house as containers. My plan this year is to serve scoops of potato salad in metal cups, shrimp on skewers, and stuffed mushrooms on porcelain tasting spoons. A homemade milkshake served in a mason jar, dripping with chocolate and nuts, or doused in sprinkles is the best of the best when you're talking personal desserts. Get creative with what you have, but also take a look at all the clever paper goods that are available to hold sides and desserts. 

Don't forget to get the kids involved.

Kids can pass around trays of individual appys and help prepare those decorative shakes. The more people involved, in the safest way… the better!
There are lots of ways to celebrate what is a most important American holiday, but there's only one way to make it perfect. And that is by sharing it with your friends and family who you love and who love you back! 
Happy Fourth, everyone.

And here are a couple of my favorite recipes for you to try.
Spicy Potato Salad
Ingredients
Potato salad is a picnic and cold supper staple. When spiced up with a little hot sauce, it becomes a devilish addition to most everyday meals. Feel free to make this day a day in advance to allow the spicy flavors to marry with the potatoes.
5 pounds small red creamer potatoes, cut into ¼-inch pieces
1 bunch (6 to 8) green onions, chopped (about ½ cup)
½ cup mayonnaise
¼ cup sour cream
2 tablespoons Dijon mustard
1 teaspoon paprika
4 to 6 drops hot pepper sauce
2 tablespoons chopped fresh cilantro
Salt and freshly ground pepper
Servings:   6 – 8
Time:  30 minutes, plus chilling
Boil the potatoes in salted water until just tender, about 10 to 15 minutes.  Drain and place into a bowl.
Add the onions to the bowl. Stir together the mayonnaise, sour cream, mustard paprika and hot sauce.  Pour this mixture over the potatoes. Toss the potatoes with the dressing.
Season with salt and pepper and if you like with additional hot pepper sauce.
Chill the salad for 1 hour or overnight.  Sprinkle the salad with fresh cilantro.
Beer Basted Baby Back Ribs with Jack Daniels Barbecue Sauce
Ingredients
This is a foolproof way to prepare moist, tender, and never over-cooked ribs. By steaming the ribs in a slow oven, the meat cooks in advance of grilling; therefore, the time spent grilling is significantly reduced.

For ribs:
6 pounds baby back ribs
Salt and freshly ground pepper
Garlic powder
1 (12-ounce) can beer
For sauce:
1 (16-ounce) can diced tomatoes
1 cup cider vinegar
½ cup dark molasses
¼ cup canola oil
¼ cup Jack Daniels whiskey
2 tablespoons prepared mustard
1 tablespoon chili powder
1 teaspoon ground cinnamon
4 or more drops hot pepper sauce
Salt and freshly ground pepper
Servings:   4 – 6 
Time:  Several hours in the oven and about 20 minutes on the grill
Preheat oven to 300 degrees. Season the ribs with salt, pepper, and garlic powder.  Place them onto a rack in the bottom of a large roasting pan.  Pour the beer into the pan.  Cover the pan with aluminum foil.  Place the pan into the oven.  Cook until the ribs are quite tender, but not falling off the bone, about 2 to 3 hours.
For the sauce, bring the tomatoes, vinegar, molasses, canola oil, whiskey, mustard, chili powder, cinnamon, and as much hot pepper sauce as you like, to a boil in a saucepan over medium-high heat.  Reduce the heat and simmer for 20 minutes.  Season with salt and pepper.
Transfer the ribs to an outdoor grill over medium-high heat.  Cook, turning often until well browned, about 15 to 20 minutes.  Baste the ribs with sauce during the last 5 minutes of cooking. Transfer the ribs to a board and slice into individual servings.
Invite guests to bring their plates to you and serve with a drizzle of extra sauce on the side.