This is my favorite dressing for turkey day and every other time that I can bring it to the table. Yes, it is perfect for Thanksgiving, but it also works with roasted chicken, Cornish game hens or stuffed into baked bell pepper or zucchini boats. Try it, I bet you will love it!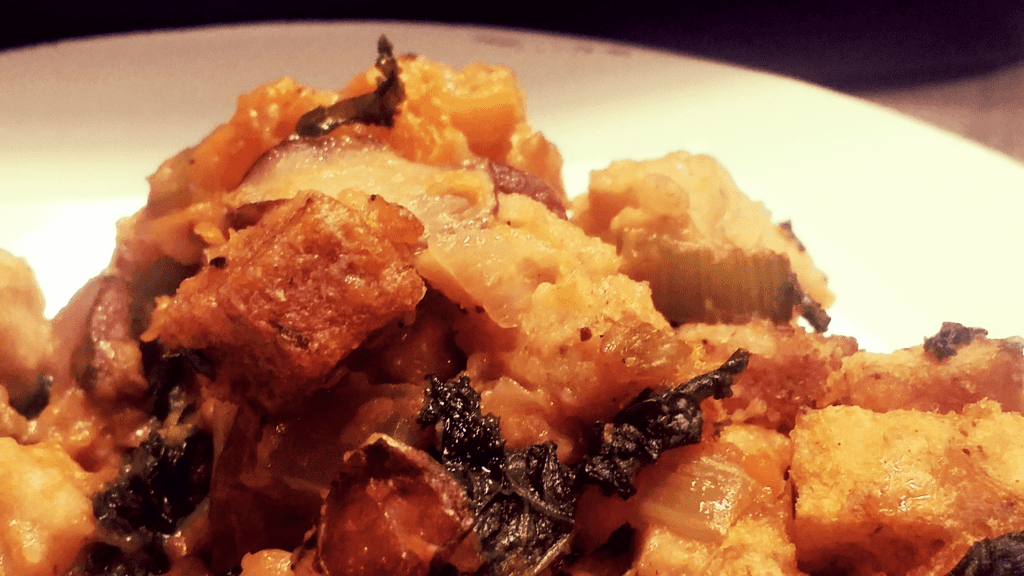 Servings: 8
Prep time: 40 minutes
Cook time: 20 minutes
Preheat oven to 400°
1 small butternut squash, peeled, seeded and diced into ¼ inch cubes
1 teaspoon ground cinnamon
1 teaspoon ground chili powder
1 teaspoon kosher salt, plus more for veggies
½ teaspoon coarse black pepper, plus more for veggies
2 tablespoons olive oil
½ cup butter, 1 stick, plus more to dot onto the top of the casserole
1 large onion, peeled and diced into ¼ inch cubes
1 celery head, 8 or more stalks, ends trimmed and diced into ¼ inch cubes
½ pound fresh assorted wild mushrooms, sliced, about 2 cups
2 tablespoons chopped fresh thyme
1 bunch kale, chopped, about 4 cups
6 cups day-old bread cubes, (substitute with 1 12-ounce package dressing cubes)
1 (10 ¼-ounce) can condensed cream of mushroom soup
1 cup or more homemade chicken broth, or prepared low sodium chicken broth
Preheat the oven to 400°. Place the butternut squash cubes onto a baking sheet and toss with cinnamon, chili powder, salt, pepper and olive oil. Roast until the cubes are soft and just beginning to brown, about 10 to 15 minutes.
Melt the butter in a large saute pan over medium high heat. Add the onion and celery. Cook until softened, about 10 minutes. Add the mushrooms and thyme. Cook until golden, about another 10 minutes. Stir in the kale until wilted, about 5 minutes more. Season with salt and pepper.
Place the bread cubes into a large bowl. Add the butternut squash and the rest of the vegetables. Stir in the canned soup. Add 1 cup chicken broth. Stir to combine the dressing ingredients. If it appears too dry, add more stock to get the consistency that you want. Transfer dressing to a casserole dish and dot with small pieces of butter. Bake at 400°until it is cooked through, about 20 to 25 minutes.