This Holiday Season Wrap Your Snacks with Bacon Bows
Then again, why limit a snack like this to the holidays?
HOLY APPY, Batman! This one is for the record (cook) book. I saw Food Network star, Ree Drummond prepare bacon appetizers on one of her Christmas specials and could not resist giving them a try. It is a simple idea of wrapping country club crackers with a thinly sliced piece of bacon and then oven baking the crackers at a low temperature of 250 degrees for 2 hours. Just layer the cracker with either Parmesan cheese or brown sugar. The cracker absorbs all of the rich bacon fat and the cheese or sugar melts right into the middle. This is such a great Christmas appy, which got me thinking, "Why do we have to wait until Christmas to eat things wrapped in bacon? This should be a year-round snack starter!"
That's what I thought when I realized you can freeze these bacon crackers and then warm them back up any time you need a quick snack. You could also ditch the crackers altogether and embrace the gorgeous deliciousness of bacon in a more natural state. Hello, Chipotle Spiced Candied Bacon! You could also do what I did below in 2 simple steps.
Spicy-Cheesy Bacon on Warm Pita Bread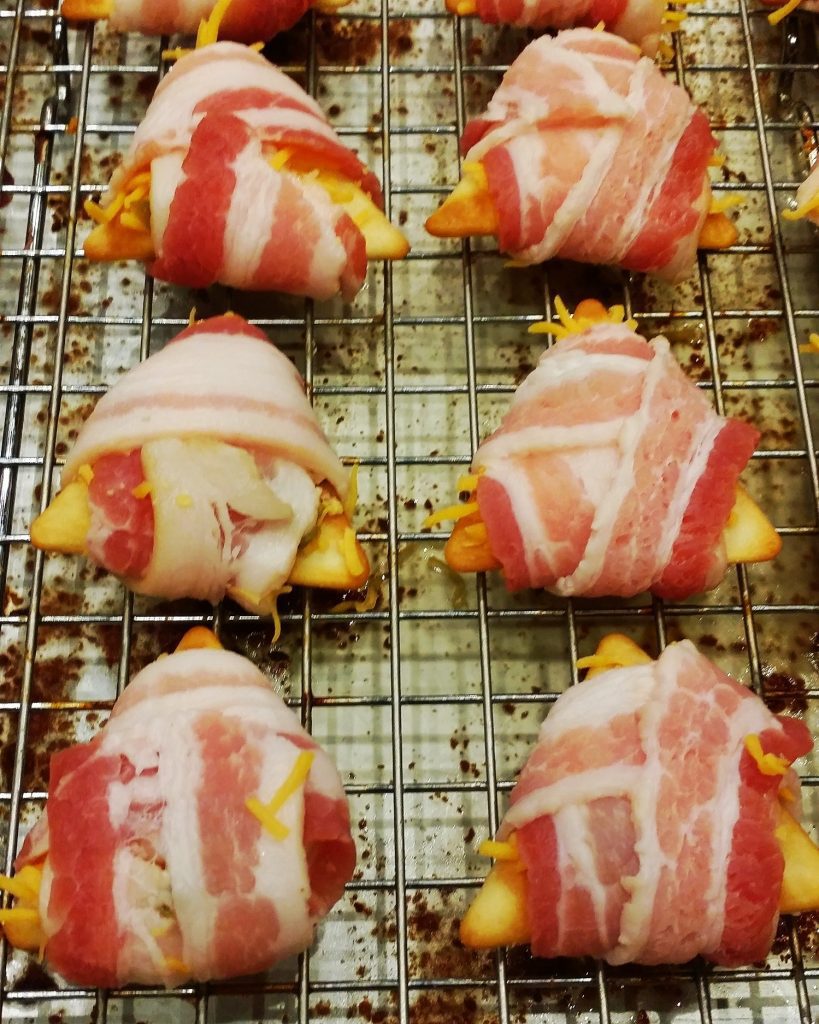 Step 1: Load pita chips with finely shredded cheddar cheese
Step 2: Sprinkled on a couple of diced pickled jalapenos and wrap the pita chip in bacon, baking the "bacon bites" on a rack in a baking pan at 250° for two hours.
The result was a cheesy, rich, and salty pita cracker that melted in my mouth and then surprised me with a pop of heat.
Call to Action for All Bacon Lovers!
Let's start a bacon-wrapped cracker movement. We could change the world! Let's see what combinations we come up with, and vote on which one is the most original! You post your combo and I will give it a try.
Meanwhile, we will have plenty of bacony treats hidden in the freezer to quell our next snack attack! Oh, and heads up: my blog is going to be doing a whole series of SNACK ATTACKS in anticipation of my lucky #7 book, out in 2015. I think I may have given away the book's content in this post. Oops! Oh well….commence your snacking – it is going to help me so much!!