There's nothing that says love than a big bowl of tomato soup. Why not share this recipe, brimming with Farmer's Market bounty, with your numero uno?!! Click to skip to the recipe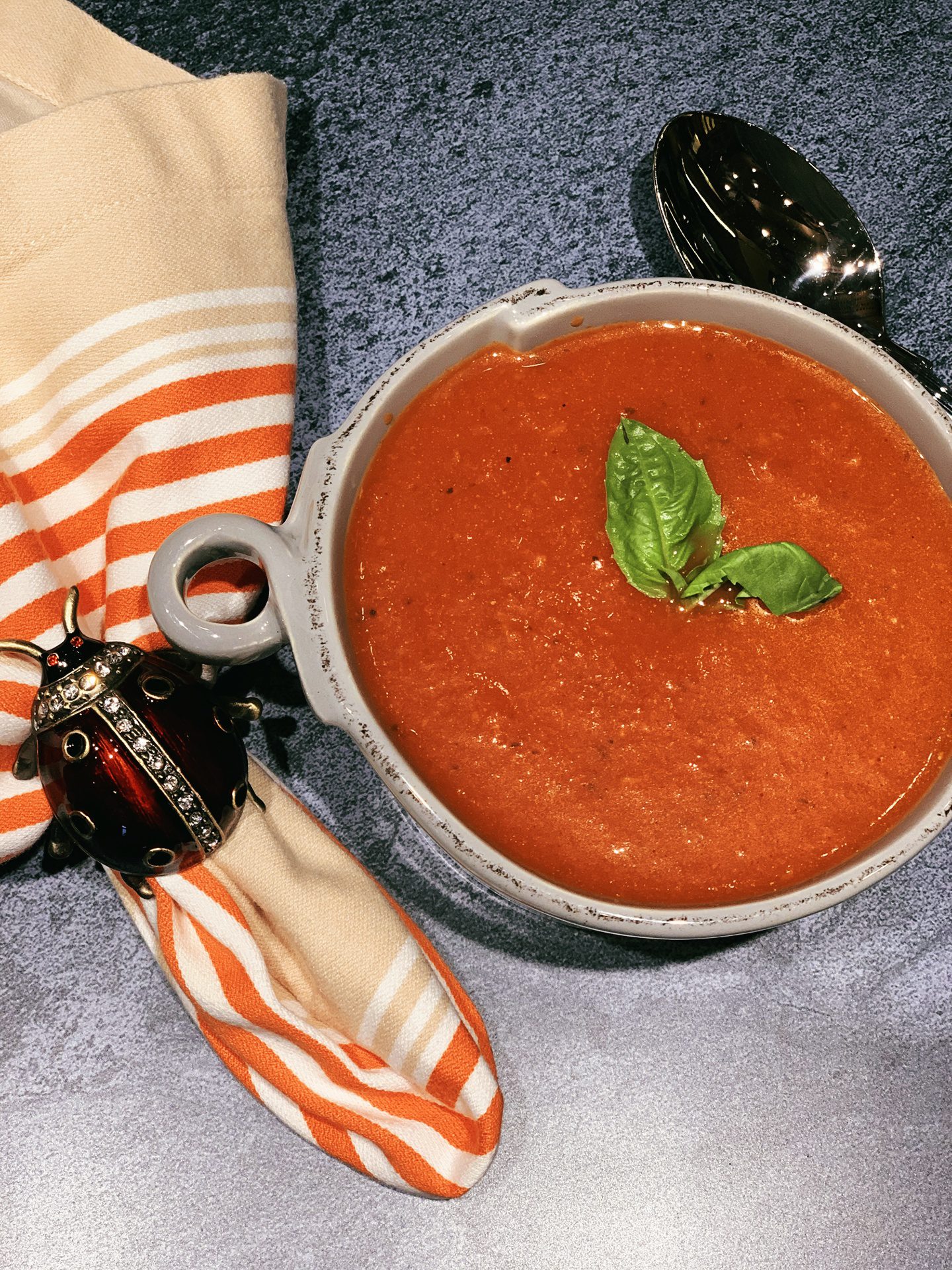 Facemask in hand, I was strolling the mark last week and found a few exceptional produce offerings.
It is TOMATO TIME.

The varieties of heirloom tomatoes are on full display at almost every farmer's stand.  If there were a TV show that centered on tomato hoarders, I would be featured on episode number one! I just can't help myself.

I fill my straw basket with these red, ripe beauties and then take them home and display them on my counter. 
Luckily, I am married to the numero uno tomato consumer and we eat them at every meal. But, when the numero uno consumer can't keep up with the number one hoarder, we have a problem. 
Enter my recipe for heirloom tomato soup. I think you are going to love this one.
One of the most interesting additions to my soup is elephant garlic. Remember those beautiful garlic scapes we found in the spring? Well, those scapes are on the top end of growing bulbs of garlic that are dug up right about now. 
The cloves from this garlic are huge and have more of the texture of a turnip than a potato. The taste is more delicate and doesn't overpower the flavor of this soup.
Last but not least, I found delicate zucchini squash blossoms still attached to their mini mates. These need to be dealt with quickly, as they don't have an awfully long life span in the fridge.
I stuffed the flowers with a combination of ricotta, Parmesan and mozzarella cheeses and roasted them alongside the mini-squash for a delightful bite of cheesy vegginess. 
It was an excellent side dish for the soup. A super YUM on the Yum-O-Meter.
I offer my soup recipe for you to try this week, whether your strolling the market or not. 
There's nothing that says love than a big bowl of tomato soup.

Why not share one with your numero uno?!!
Heirloom Tomato Soup
Elephant garlic gives this soup a unique flavor as well as an interesting texture.
Ingredients
2 pounds heirloom tomatoes, about 6 large
2 tablespoons olive oil
1 medium red onion, peeled and diced
3 cloves elephant garlic, thinly sliced, about ¼ cup (substitute with 3 cloves regular garlic)
1 cup sherry 
1 (28-ounce can) crushed tomatoes
1-quart vegetable stock
1 tablespoon kosher salt
1 teaspoon coarse black pepper
1 teaspoon dried thyme
½ cup half and half
Yields:   A crowd
Time:   60-minute cuisine
Peel the tomatoes by first slicing the skin crosswise at the stem and then placing them in boiling water for just a few seconds. Transfer the tomatoes to a colander and peel the skin. Cut the tomatoes into chunks.
Heat the olive oil in a soup pot over medium heat. Add the onions and cook until soft, about 5 minutes. Add the garlic and tomatoes and cook for 5 minutes more. Pour in the sherry and continue to cook until most of the liquid has evaporated. Pour in the crushed tomatoes and vegetable stock. Season with salt, pepper, and thyme. Reduce the heat to low and simmer the soup for 20 minutes.
Use an immersion blender to emulsify the soup. You can also use a stand-blender or food processor to accomplish this step but cool the soup first. You don't want hot soup in a blender!
Stir in the half and half. Taste the soup and adjust the seasoning. You can add more salt and pepper if you like, or any other herb or spice you want to flavor your soup. It's all good!!