A cast-iron skillet. Thick slices of eggplant.

A ladleful of marinara sauce and a double-topping of cheese.

Make eggplant parm magic tonight!

Click to skip to the recipe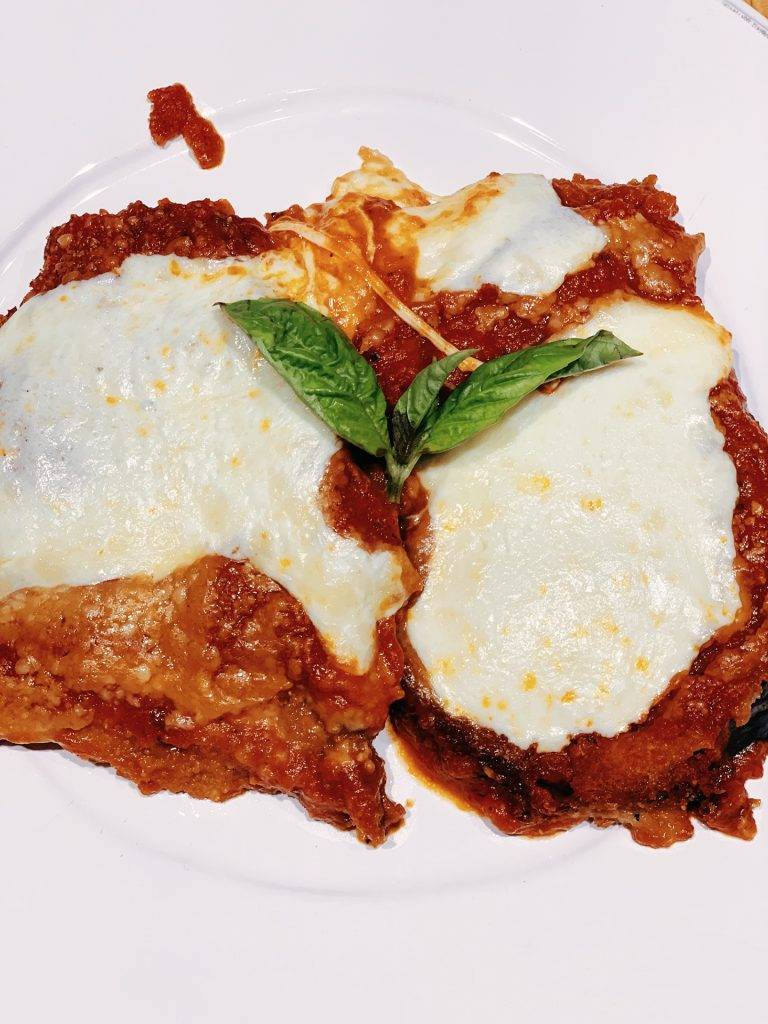 This week the eggplants drew me in! 
They drew me in in a BIG way. The varieties were amazing. So many colors: purple, green and white.

There were itty bitty ones and skinny ones and fat ones and then huge ones!

I chose a deep purple Japanese variety and stuffed it into my basket.
That night, I made eggplant parm….The old fashioned way. I did a triple-dip of flour, egg, and panko breadcrumbs and got a fabulously crunchy result.

My cast iron skillet was the perfect utensil to fry thick slices of eggplant.

A ladleful of marinara sauce and a double topping of cheese and dinner was ready in a minute.
It's my version of a triple-double! Watch out Russell Westbrook.
Eggplant Parmesan
Take advantage of your favorite variety of eggplant using this simple frying technique to create a super Italian inspired dish.

Ingredients
1 large eggplant, cut into ¾-inch slices
1 teaspoon kosher salt
1 teaspoon coarse black pepper
1 cup unbleached all-purpose flour
2 large eggs, beaten
2 cups seasoned Panko breadcrumbs
Vegetable oil for frying
2 cups marinara sauce 
16 ounces fresh Mozzarella cheese, thinly sliced
4 ounces Parmesan cheese, grated

Yields:   8
Time:   A Crowd
Season the eggplant with salt and pepper. Dredge a slice of eggplant first in the flour, then through the beaten egg (shaking off the excess), and finally into the breadcrumbs. Place the coated eggplant onto a baking rack or piece of parchment paper and continue with the remaining slices.
Heat about an inch of vegetable in a cast-iron skillet over medium-high heat. Place some of the eggplant slices into the hot oil. You don't want to overcrowd the pan. Cook until the eggplant is golden on one side, about 3 to 4 minutes. Carefully turn the eggplant and cook until golden on the second side, about 3 minutes more. Transfer the eggplant slices to a paper-towel-lined platter.
Preheat the oven to 375°. Pour enough marinara sauce into a baking dish to coat the bottom. Lay the eggplant slices into the dish. Top with the remaining marinara sauce. Distribute the Mozzarella cheese over the top of the eggplant and sprinkle Parmesan over everything.
Bake until the cheese is melted and gooey, about 20 minutes.