One of the things you figure out when you like to cook is that you usually make more than you need…and when you learn how to make leftover food recipes, the more meals, the merrier! Get my recipes for a hearty soup and a clever take on chicken ravioli, two ways.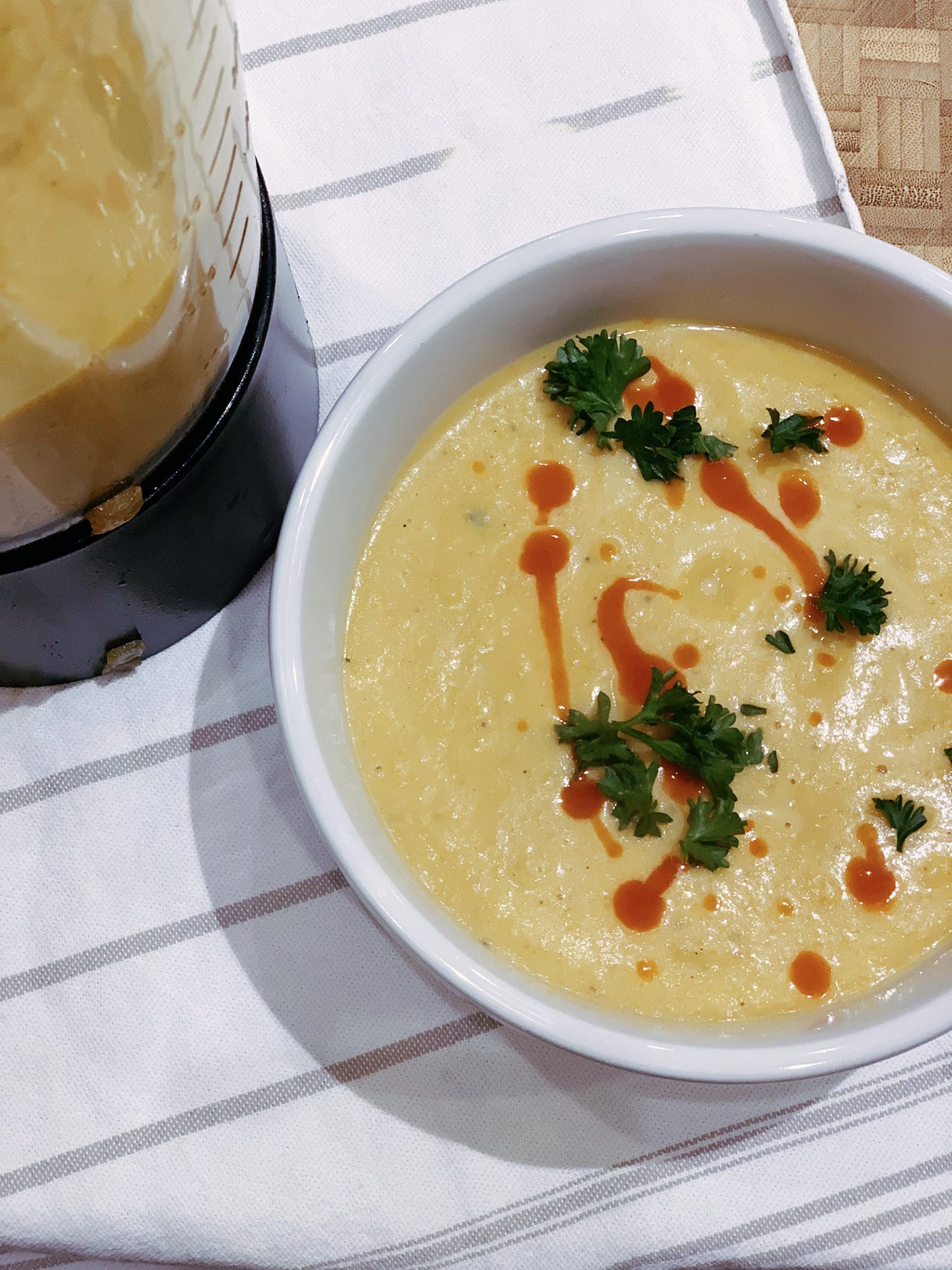 One of the things you figure out when you like to cook is that you usually cook more than you need. This is a by-product of not getting it totally right the first time or making sure you don't run out of food! 
On the one hand, say you are making soup and upon first taste, you discover that you were a little heavy-handed with the salt. No problem, you just add more liquid or starch, and the taste is repaired to delish status!
You now have not only yummy soup but enough for an extra meal down the road. Win! Win!
On the second hand, you've invited pals to dinner who notoriously travel in packs and bring along more pals at the last minute. Therefore, you cook two chickens instead of one.
Both of these happened to me during the past week.
The results were some great leftovers that I morphed into two really yummy dishes. The first was what started out as my butternut squash soup and ended up as a cheesy, thick butternut and potato soup.
It's hardly a recipe, but here's the lowdown.
Cook onion and butternut squash chunks in oil in a deep pot over medium-high heat until the veggies are soft.
At this point, I remove the pot from the heat and a splash of sherry or dry white wine. I return the pot to the heat and add chicken or vegetable stock. Season with salt and pepper. Cool the soup to room temperature and use a blender to pulse the veggies to make a smooth soup.
But then, I returned the soup to the pot to reheat and found that it was a tad too thin and a bit too salty. So, I added a couple of spoonfuls of leftover mashed potatoes as I warmed the soup over medium-high heat. I tasted the soup and it wasn't too bad.
So, I add more potatoes.
Then hubby came in and asked if I was making cheese soup. The butternut squash had given the soup a cheesy golden glow.
So, I nodded in the affirmative and added some grated cheddar cheese. I kept adding potatoes and cheese until the soup was rich, and velvety and hearty and really, really good.
I cooled it again, pulsed it again, reheated and poured it into bowls. Hot pepper sauce and parsley were the perfect garnish. Voila!
The second dish takes advantage of leftover chicken and wonton wrappers in place of pasta to make a yummy chicken ravioli that tastes as good as it looks. 
Leftovers are not an afterthought, they're the new way to cook smart and cook well!
Enjoy!!
Chicken Ravioli: Two Ways
Ingredients
Make these on a day when you have leftover chicken. You can store extra ravioli in a single layer in a resealable plastic bag in the freezer. To serve, bring them to room temperature before you drop them into boiling water.
For ravioli:
2 cups cooked chicken
1 cup ricotta cheese
1 cup fresh basil leaves, plus more for garnish
2 ounces Parmesan cheese, grated, about ½ cup
1 teaspoon kosher salt
½ teaspoon coarse black pepper
1 package Wonton wrappers, about 36
For brown butter sauce:
½ cup butter, 1 stick
4 to 6 sage leaves
For red sauce:
1 cup prepared marinara sauce
2 to 3 tablespoons half and half
Toasted pine nuts for garnish
Grated parmesan cheese for garnish
Servings
4 or more
Time
30-minute cuisine
Directions
Place the chicken into the bowl of a food processor. Pulse to mince the chicken. Place the ricotta cheese, basil leaves and Parmesan cheese into the bowl and pulse to combine. Season with salt and pepper and pulse a final time.
Spread four wonton wrappers onto your work surface. Place a spoon full of the chicken filling into the center of each square. Place a small basil leaf on top of the filling. Wet the border of the wonton square with water. Place another wonton wrapper on top. Gently press with your fingers to seal the ravioli. Use the tines of a fork to firmly seal the edges. Repeat with the remaining wonton wrappers and filling.
For the brown butter sauce, warm the butter over low heat until it begins to froth and turn golden, about 5 minutes. Toss in the sage leaves and continue cooking for two minutes more.
For the red sauce, heat the marinara sauce over low heat. Stir in the cream.
Fill a deep pot with water and bring to a boil. Season the water with a generous amount of salt. Lower the ravioli into the pot, one at a time. Do this in batches so that you don't overcrowd the pot and damage the ravioli. The ravioli will cook in just minutes. Use a slotted spoon to lift the ravioli from the pot. Transfer to the brown butter or red sauce. You pick! Garnish with grated Parmesan cheese and pine nuts.