From my book: SUNDAY BEST DISHES
For those of us who live on the East coast, summer has arrived! I love the heady smell of magnolias and gardenias when I'm out for a walk. Every morning in my kitchen is a new day for pulling farmers market finds out of the crisper, and whipping something up that goes straight back into the fridge, so I can have it chilled later on. This particular morning – Friday the 13th – I found it hard not to nibble on the freshly made trio, just as soon as the potatoes cooled down enough to spear with my mayo stained fork!
With Memorial Day here at the end of this month, I'm revisiting my best Sunday Best Dishes for outdoor BBQs and potlucks. I had forgotten how much fantastic food each of these recipes yield. I almost didn't make one (of the 3) because I was running out of room in my refrigerator! Not to worry, though. I simply ate the watermelon and freed up the space. God, I love summer!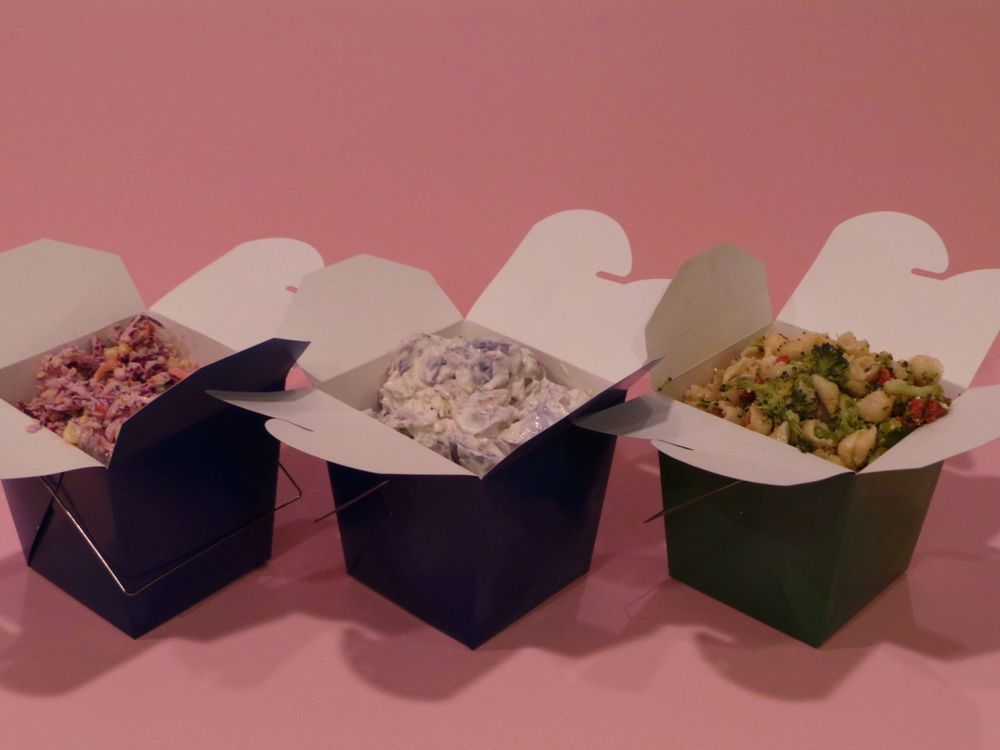 Here are my foolproof recipes, sure to make your next al fresco dining experience extra sunny and bright – you can pack these up in paper cartons, like these pictured above (available just about anywhere, including the dollar store), or simply serve it in your favorite bowl – the more colorful, the better!
Purple Potato Salad
I have a confession to make. When I made this favorite summer salad this week, I didn't have purple potatoes. I was also onion deprived, and forced to use a white one. On top of THAT, I had yellow mustard and no Dijon. But guess what? The salad was still delicious, and is already gone…gobbled up.
2 pounds baby purple potatoes
1 pound baby red potatoes
2 large celery stalks, trimmed and diced, about ½ cup
¼ red onion, diced, about ⅓ cup
4 large radishes, trimmed and diced, about ⅓ cup
2 tablespoons chopped fresh dill
1 cup good quality mayonnaise
½ cup sour cream
2 tablespoons Dijon-style mustard
1 teaspoon kosher salt
½ teaspoon coarse black pepper
            Bring a pot of salted water to boil over high heat. Add the potatoes and cook until soft, about 10 to 15 minutes. Drain the potatoes and cool slightly. Cut the potatoes into ½-inch pieces and place into a bowl. Add the celery, onion, radishes and dill. Whisk together mayonnaise, sour cream, mustard, salt and pepper. Pour the sauce into the bowl and toss to coat all of the veggies. Cover and chill until ready to serve.
Toasted Corn and Poblano Slaw
OMG – nothing on Earth need stop you from making this. This recipe produces enough salad to fill a truck bed, and is so full of complex tangy, zesty, spicy flavor, it's a go to every summer. No worries if you don't have a food processor. You can safely shred the veggies with your hands, or Ninja knife skills. It's fine to substitute frozen corn kernels for fresh off the ear, too.
½ head red cabbage
½ head Nappa cabbage
2 large carrots
1 large poblano pepper, seeded, and deveined
¼ red onion, peeled
1 tablespoon olive oil
2 ears of corn
1 cup good quality mayonnaise
2 tablespoons granulated sugar
2 tablespoons white wine vinegar
1 tablespoon sour cream
1 teaspoon kosher salt
½ teaspoon coarse black pepper
Use a food processor to shred the cabbages, pepper and red onion. Place all of the vegetables into a large bowl. Heat the olive oil in a skillet over medium high heat. Cut the kernels from the corn and place into the pan. Cook until the kernels are just golden, about 3 to 5 minutes. Pour the corn into the bowl with the veggies. Whisk together the mayonnaise, sugar, vinegar, sour cream, salt and pepper in a small bowl. Pour the dressing over the vegetables. Toss to coat. Cover and chill until ready to serve.
Pasta Primavera Salad
This Sunday Best Dish is unbelievably healthy, and works just as well with red wine vinegar if that's all you've got. I had to know if this was true, so I tested it both ways!
1 pound baby pasta shells
2 pounds fresh broccoli florets, about 4 cups
1 cup sun-dried tomatoes packed in oil
4 ounces Parmesan cheese, grated, about 1 cup
Juice of 1 large lemon, about ¼ cup
¼ cup white wine vinegar
1 tablespoon Dijon-style mustard
2 garlic cloves, peeled and minced
1 teaspoon kosher salt
½ teaspoon coarse black pepper
½ cup olive oil
Cook the pasta in salted, boiling water until al dente, about 10 minutes. Drain and rinse with cold water. Pour the pasta into a large bowl. Steam the broccoli florets until crisp-tender. Roughly chop and add to the bowl.  Chop the sun-dried tomatoes and add to the bowl. Pour the cheese into the bowl. Whisk together the lemon juice, white wine vinegar, mustard, garlic, salt and pepper. Slowly whisk in the olive oil. Pour the dressing over the salad and toss to coat. Cover and chill until ready to serve.
Happy Memorial Day, friends! Here's to you and the awesome picnics on your horizon
Okay, all – time to pack it in, and I mean literally. I'm gearing up to put this holy trinity of summer salads into cartons, and head for the beach. Let me know why you're a big dill this holiday weekend…sorry, always love a good pun!