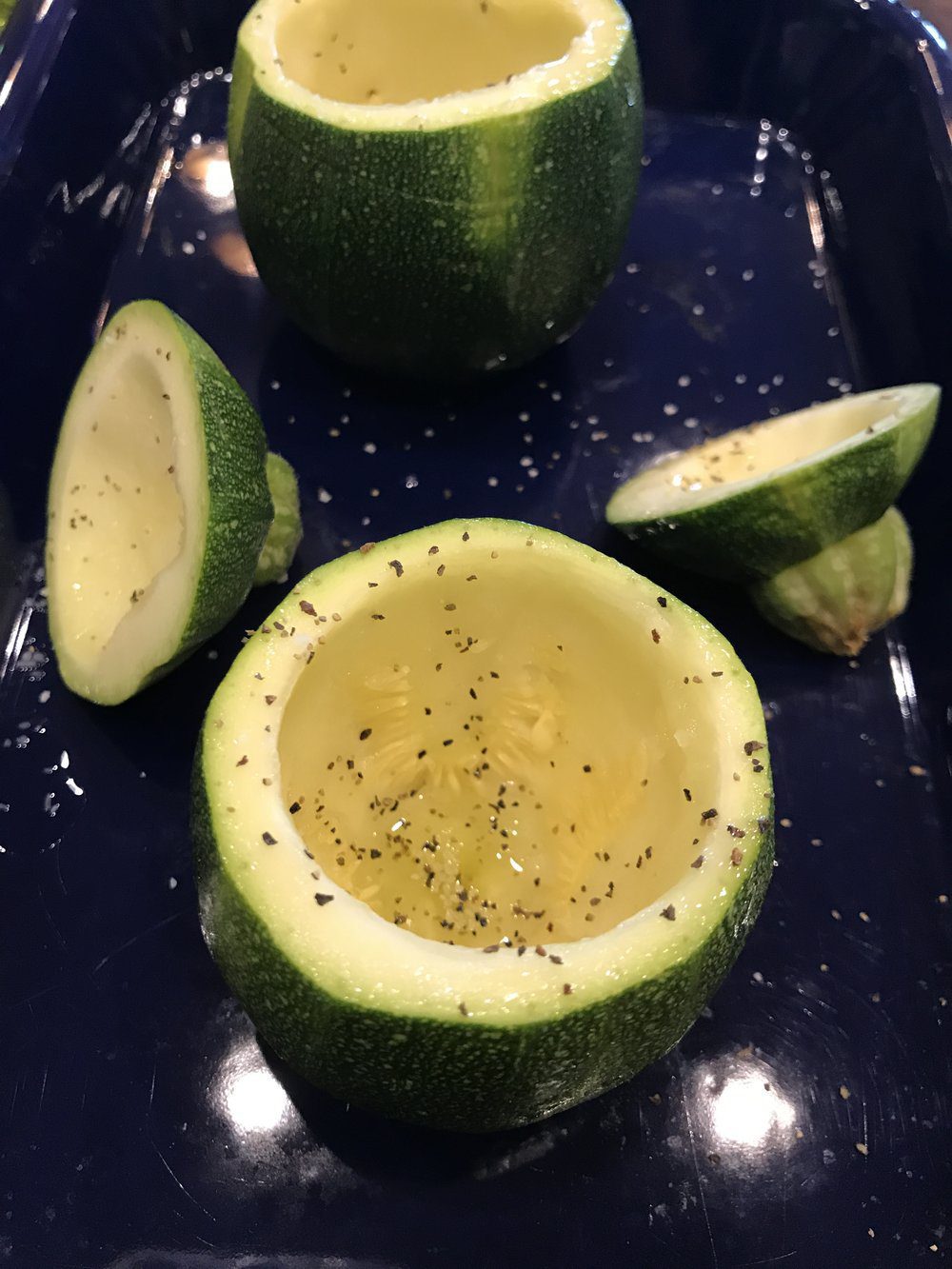 They say variety is the spice of life, and I found someone who can offer it to me in spades! One of my favorite farmers here in the North Carolina Mountains is Lee Carlton of Goldenrod Gardens. She epitomizes the country lifestyle with her high spirits, bohemian style and earth-friendly ways. Her flowers are a hit at the market; there's always a queue at her stall. This is what she looks like, with a link to her lovely farm: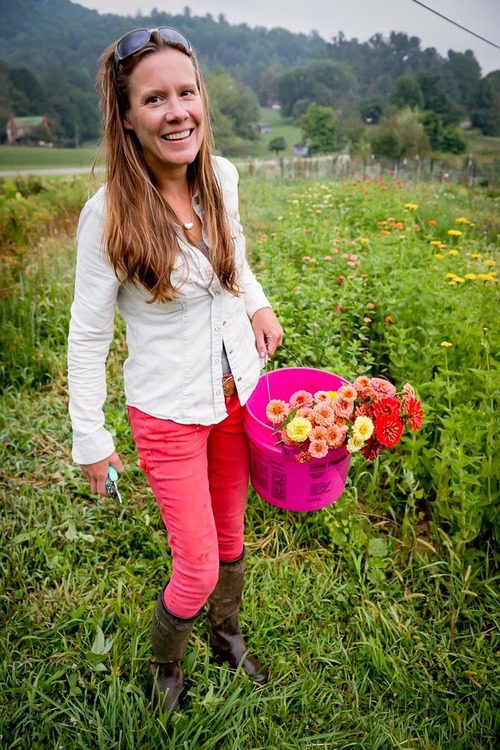 http://www.goldenrodgardens.net/
Anywho….I'm lucky enough to have her hand-select a few special items for me each week. Recently it was a variety of interesting squash and eggplant.  There were patty pan squash and baseball-shaped cousa, which are pale, speckled green squash – a bit like zucchini but rounder, more tender, sweeter and thinner skinned. These are often used in Middle Eastern cuisine, and are excellent for stuffing. Lee also offered several varieties of eggplant. Narrow and long, Japanese and Chinese eggplant are white, green or purple in color. There were also Indian or baby eggplants. These had thin skin and less seeds, so chopping became a breeze! Here's a shot of some of nature's bounty from that day: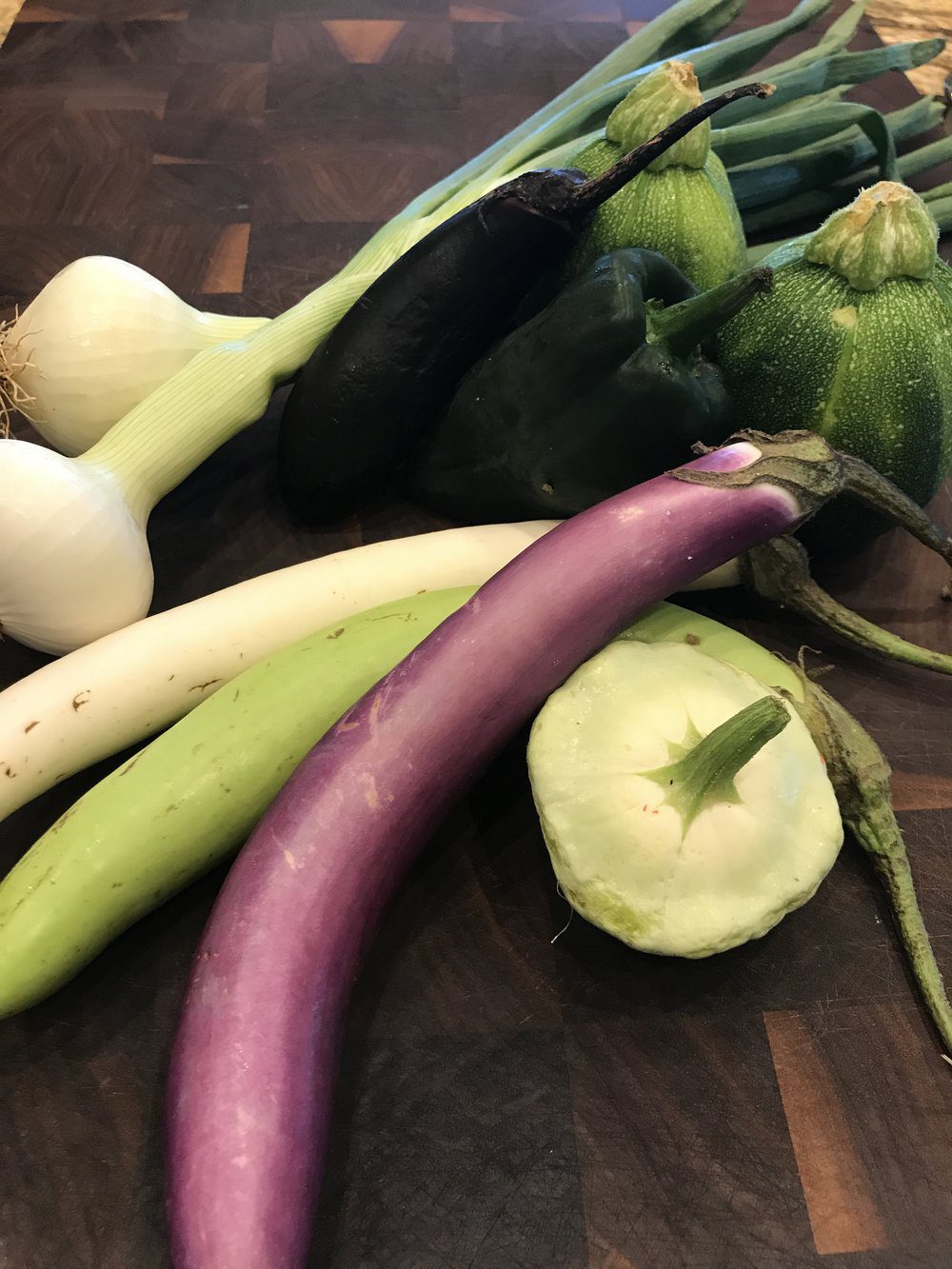 I laid out my gifts from Lee, and decided to create a stuffed cousa dish that contained all my favorite things; squash, eggplant, and onions of course; then I added chorizo sausage, white beans and a bit of grated cheddar cheese. Well, it was pretty yummy! Here's my recipe for you to use as a guideline, the next time you happen upon some new varieties of squash or eggplant.
Stuffed Cousa Squash With Chorizo, White Beans and Cheddar
Serves 4
30 Minute Cuisine
4 cousa squash
3 tablespoons olive oil
1 teaspoon kosher salt
½ teaspoon coarse black pepper
½ medium eggplant, peeled and chopped, about 1 cup, (substitute with Japanese, Chinese, Indian or baby eggplants)
1 small white or purple spring onion, green top removed, diced, about 1 cup
1 small poblano pepper, veins and seeds removed, diced, about ½ cup
4 ounces fresh chorizo sausage
½ cup canned white beans, drained and rinsed
2 ounces grated cheddar cheese, about ½ cup
Preheat the oven to 350°. Cut the tops off the squash. Use a spoon to remove the inside flesh. Dice the flesh into small pieces and set aside. Place the squash into a baking dish, and drizzle with 1 tablespoon of olive oil. Season with some of the salt and pepper. Bake until the squash is just tender, about 10 minutes.
Pour the remaining 2 tablespoons olive oil in to a skillet, over medium-high heat. Add the diced squash, eggplants, onion and pepper to the pan. Season with salt and pepper. Cook until the veggies are tender and begin to turn brown, about 5 to 8 minutes.
Add the chorizo sausage to the veggies. Stir and cook until the chorizo is browned and crumbly, about 3 to 5 minutes. Stir in the beans and cheese.
Spoon the filling into the cousa squash. If you have extra filling, just spoon it around the squash… it's all good! Reduce the heat to 300°. Bake until the squash is completely tender, about 10 to 15 minutes.