When I attended a Paris cooking class at the Alain Ducasse school, one of the items we dwelled on was a rich, au jus sauce to drizzle over our very delicate lamb chops. The sauce began with aromatics that we simmered for hours and then mashed through a fine sieve. The final step was swirling rich, creamy butter into the liquid to create a shiny, lush sauce. It was delish!
It's been a couple of years since that class and in that time, I have managed to create a couple of shortcuts to the very traditional French sauces that allow me to pump up an average weeknight dinner. Even the most boring piece of chicken can become a masterpiece with a flavorful sauce drizzled over the top.
Here's how I do it. First, I cook the chicken in a saucepan in a bit of olive oil and butter. Butter helps to brown the chicken and create those little brown bits of flavor in the bottom of the pan. I remove the chicken from the pan, and add the flavors I want in the sauce; you can try it yourself using the likes of onions, garlic, fennel, fresh herbs, and maybe some citrus, like lemon or orange. Check out how my combination of flavors looks in this C'est Magnifique photo!
It's all so simple you don't need a formal recipe – just let your imagination run wild!
Then I add some wine to the pan, and we're talkin' lovely coq au vin. I simmer the wine until it mostly disappears. The ingredients in the pan absorb the wine flavors. Next, I pour in chicken or vegetable broth. I simmer this until the liquid reduces a bit. I use a slotted spoon to remove all the aromatics from the liquid. Now it's time to thicken the sauce. For chicken, I like to use mustard as a thickener. Just a tablespoon or so thickens the sauce and adds a bold, spicy note. For beef, I like to thicken with tomato paste; for others, I thicken with a bit of flour and butter mixed together. I place the chicken into the sauce and simmer until it is cooked through. A bit of fresh herb on top and voila…. we have a midweek meal fit for a Parisian!!
This is how my chicken turned out that night. See what I mean?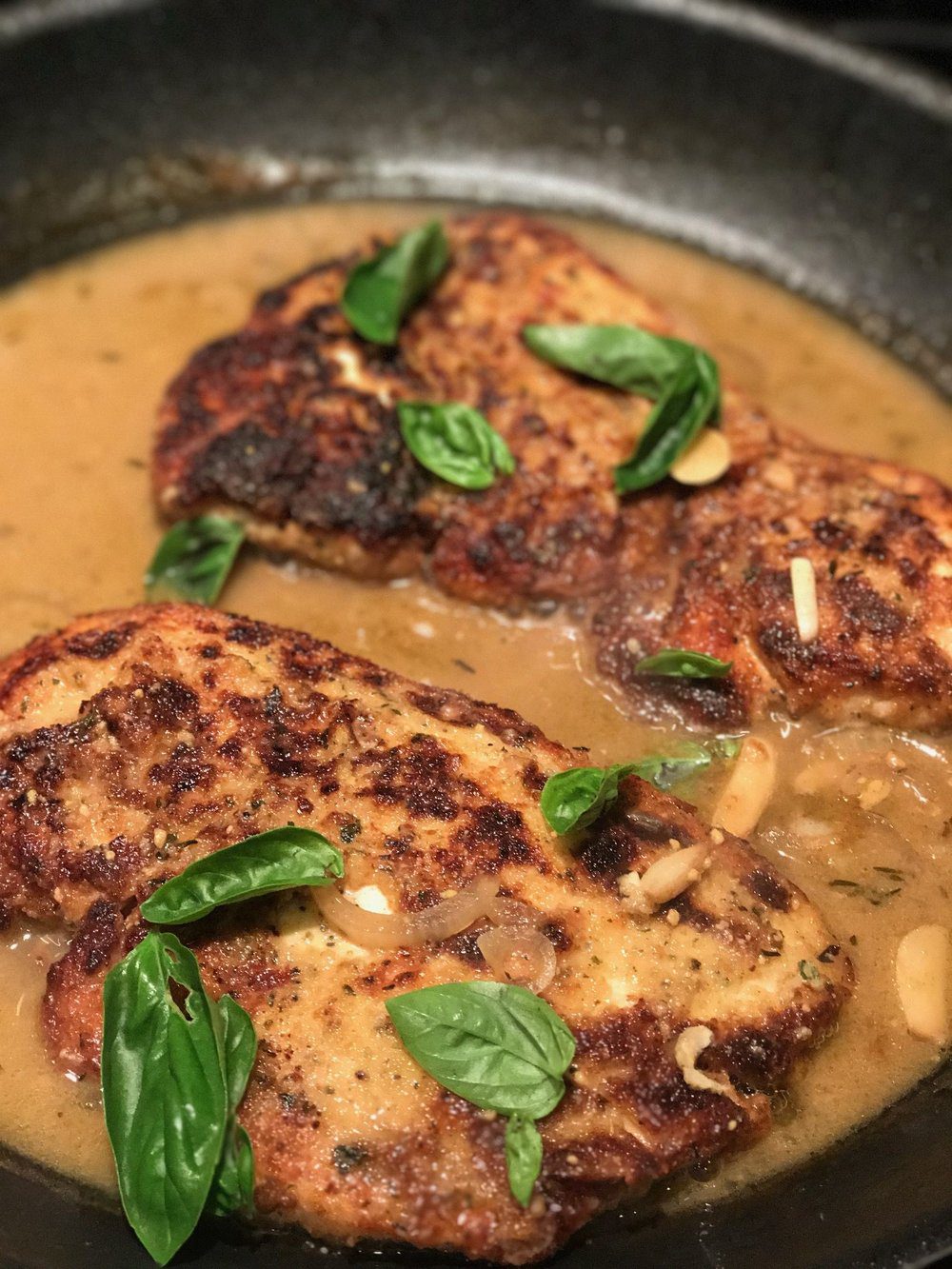 Try some herbal and wine infusions, and let me know how they turned out with that delectable chicken dinner – I'll post your pictures ;)!