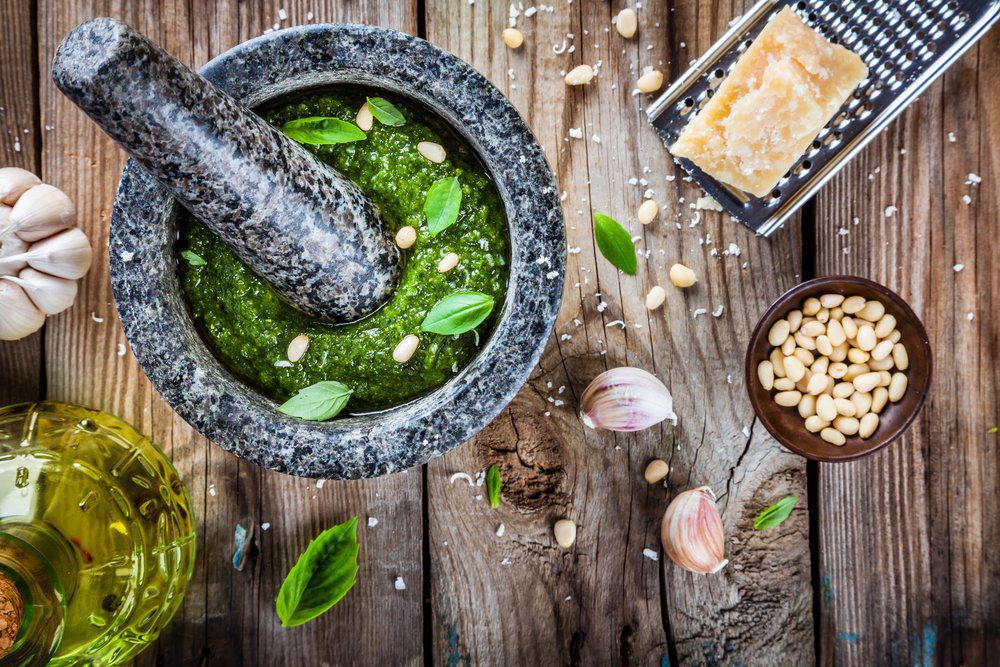 For traditional pesto, you'll need handfuls of basil, several cloves of garlic, another handful of grated cheese and pine nuts…
It's summertime and nothing screams summer like fresh pesto. But, what the heck is pesto, and how do I use it? Well, my fine foodie friends, pesto is basically a full-flavored paste. It originated in Italy and combines, essentially, basil, garlic, grated hard cheese (think Parmigiano Reggiano), toasted pine nuts and olive oil. You can smush these ingredients all together using a mortar and pestle, or you can march into the twenty-first century and use your trusty food processor.
For traditional pesto, place a couple of handfuls of basil, several cloves of garlic, another handful of grated cheese, and pine nuts into the bowl of a food processor. Pulse until the mixture looks like bread crumbs. Then, with the machine running, slowly drizzle in about ½ cup of olive oil. Stop the machine, season with salt and pepper, taste and see if you need a little extra oil. Now you've done it! Store your pesto in an airtight container in the fridge. It will last for several weeks.
Now, how do you use it! I add a couple of spoonfuls to cooked pasta for a simple midweek supper. Add a dollop to sautéed zucchini, roasted Brussels sprouts, or butter-boiled potatoes. Spread some on your roasted turkey panini, your garlicky garlic bread and your breakfast burrito. And then there is my favorite use, corn on the cobb with pesto and fluffy cheese!
But wait! Let's laugh in the face of fate, and change things up a bit. What if we create our own version of pesto with the summer's fresh bounty of greens? Well, heck yeah, that'll work!
I purchased garlic scapes and a bag of fresh spinach leaves last week at the market, and inspiration was born. Combining fresh greens, with macadamia nuts, scapes, Parmesan cheese and olive oil yielded one stunning pesto! I rolled my warm corn in the pesto, dusted it with more finely ground cheese, and served it for our Alfresco summer dinner with home-made sloppy joes. Getting hungry yet?
If summer has a super savory taste, this is it!
Corn on the Cobb with Garlic Scape and Macadamia Nut Pesto
Serves 4
20 Minute Cuisine
In the early summer market, you can find long, green, circles of thin stalks that are garlic scapes. These are the flower bud of garlic plants. They are cut off the plant so that the bulb grows fatter and fatter. These strands of garlicky goodness can be used in the same way as garlic cloves with no peeling of course! I use them to make pesto and then I spread that pesto on everything. Melting, fragrant, nutty pesto is delicious on summer sweet corn. Give it a try to see what I mean!
3 to 4 garlic scapes, chopped, about ½ cup
½ pound spinach leaves, about 2 cups
1 bunch fresh basil, about ½ cup
¼ cup macadamia nuts
2 ounces Parmesan cheese, grated, about ½ cup
1 teaspoon kosher salt
½ teaspoon coarse black pepper
½ cup olive oil
4 large ears of corn, shucked
Place the garlic scapes, spinach leaves, basil leaves (no need to chop any of these, just dump them right in), macadamia nuts and Parmesan cheese into the bowl of a food processor. Pulse several times until all the ingredients are ground together. Open the lid and season with salt and pepper. Replace the lid and with the machine running, slowly pour in the olive oil to make a paste. Store the pesto in an airtight container in the fridge for up to 1 week.
Place the corn into a pan and cover with water. Bring the water to a boil over high heat and cook until the corn is tender, about 8 to 10 minutes. Drain the water from the pan. Place several spoonfuls of the pesto into the pan with the corn. Cover with the lid and swirl the pan so that the hot corn melts the pesto and all the kernels are generously coated. Serve the corn with additional salt and pepper and another sprinkle of Parmesan cheese!
AFTER MARKET LEFTOVERS
Remove the kernels from the cobbs and place into a bowl. Drain a can of black beans and pour into the same bowl. Add chopped tomatoes, onion and a bit of fresh jalapeno pepper. Sprinkle with fresh cilantro, kosher salt and pepper. Drizzle with a bit of olive oil. Stir this all together and chill for a corn and black bean salsa that is perfect with warm tortilla chips and fresh guac!