Ready for a sizzling summer romance?
Her heart pounds as she rounds the corner. She knows that, in just a few short minutes, she'll be there. She knows that its's wrong… knows that if she continues this illicit romance, she'll be shunned by those around her. Yet, it's that same sense of wickedness that makes this affair even more appetizing. Like a moth to a flame, she continues to her rendezvous. Her nerves are on fire. She can feel… can taste. The anticipation is deliciously unbearable. And then she's there….
Perhaps this just a tad exaggerated, but let's face it, the American affair with the French Fry is a pretty salacious one. In honor of French Fries Day on July 13th, it's a pleasure to share my recipe for The Real Deal Fries with Rustic Ketchup from my book, Sunday Best Dishes (due late this summer in print edition).
I love this recipe because I use good, healthy oil. My love affair is a guiltless one; I can't speak for those who court fast food restaurant chain fries ; )!! Another plus? This recipe utilizes the authentic French technique of cooking the fry twice to create that crunch on the outside, and pillowy softness on the inside. Add to these fresh fries your own make-at-home ketchup and well, you have ….. an affair to remember!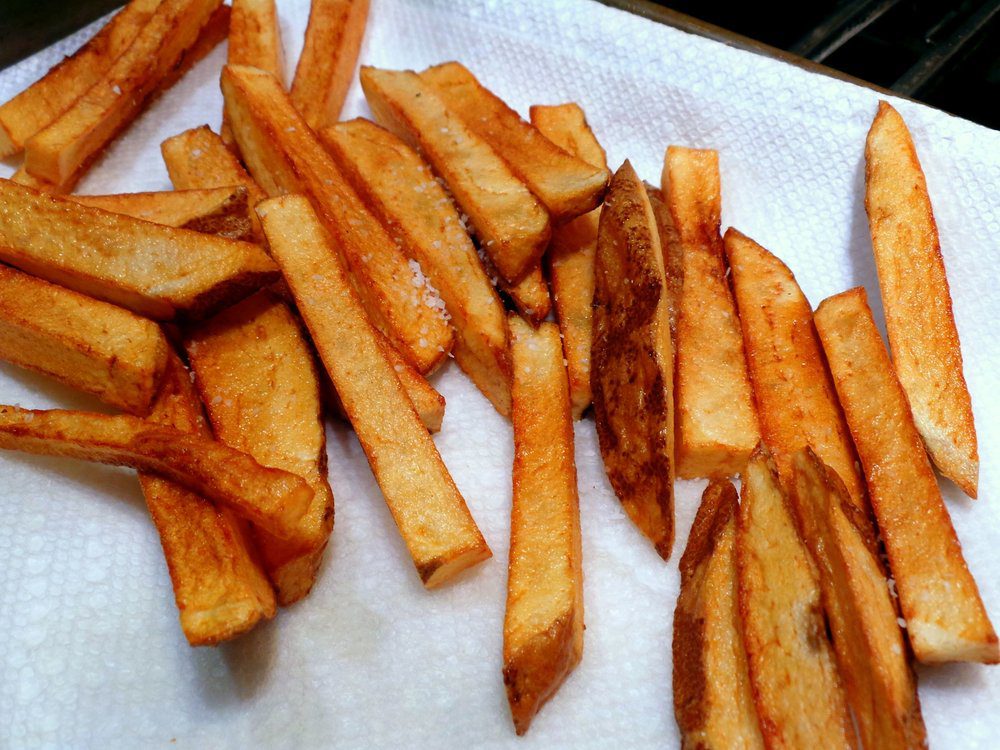 It's like starch and sea salt are coming together as one…I feel faint!
The Real Deal Fries and Home Made Ketchup
If you're gonna have French fries, you might as well have the best… and these are! The ketchup is full of robust flavors and there is enough for dipping the last morsel of fry. My Sunday Best version of this all-American favorite is just what you're craving – right now!
MAKES 4 SERVINGS AND 2 CUPS KETCHUP
For ketchup
1 (12-ounce) can tomato paste
½ cup brown sugar
¼ cup red wine vinegar
½ teaspoon hot ground mustard
½ teaspoon cinnamon
½ teaspoon coarse salt, plus more for fries
½ teaspoon coarse black pepper
¼ teaspoon ground cloves
¼ teaspoon ground allspice
Put the tomato paste, brown sugar, vinegar, mustard, cinnamon, salt, pepper, cloves and allspice into a small pan over low heat. Pour in ¼ cup water. Whisk until smooth. Cook until the sugar melts and the ketchup is warmed through. Set aside and let the flavors blend at room temperature for 1 hour or in the refrigerator overnight.
————————————————————————————————————
For fries
2 large Idaho potatoes, scrubbed
Canola oil for frying
Peel the potatoes.  Cut each potato lengthwise into 4 long slices. Cut each slice into 4 strips. Place the strips into a bowl of cold water for at least 30 minutes or overnight in the fridge. Drain the potatoes through a colander and slide onto a paper towels. Use more towels to blot the potatoes dry. The drier the potatoes, the more they will crisp.
Heat a skillet over medium heat. Pour enough oil to come 1-inch up the side of the skillet. Use a candy thermometer to gauge the oil to 325° Place the fries into the oil and cook for 5 minutes. This step cooks the inside of the potatoes. Transfer the fries to a baking sheet lined with paper towels. These pre-cooked fries will keep in the fridge for several hours until you are ready to serve.
Raise the temperature of the oil to 375°. Place the partially cooked fries in the oil. Cook until golden, about 5 minutes more. Transfer to a baking sheet lined with paper towels. Season with salt and pepper and serve with ketchup.