Take a tried and true biscotti recipe and switch things around to create a tantalizing summer treat, perfect for lazy Summer days that call for lemonade and lounging.  Click to skip to the recipe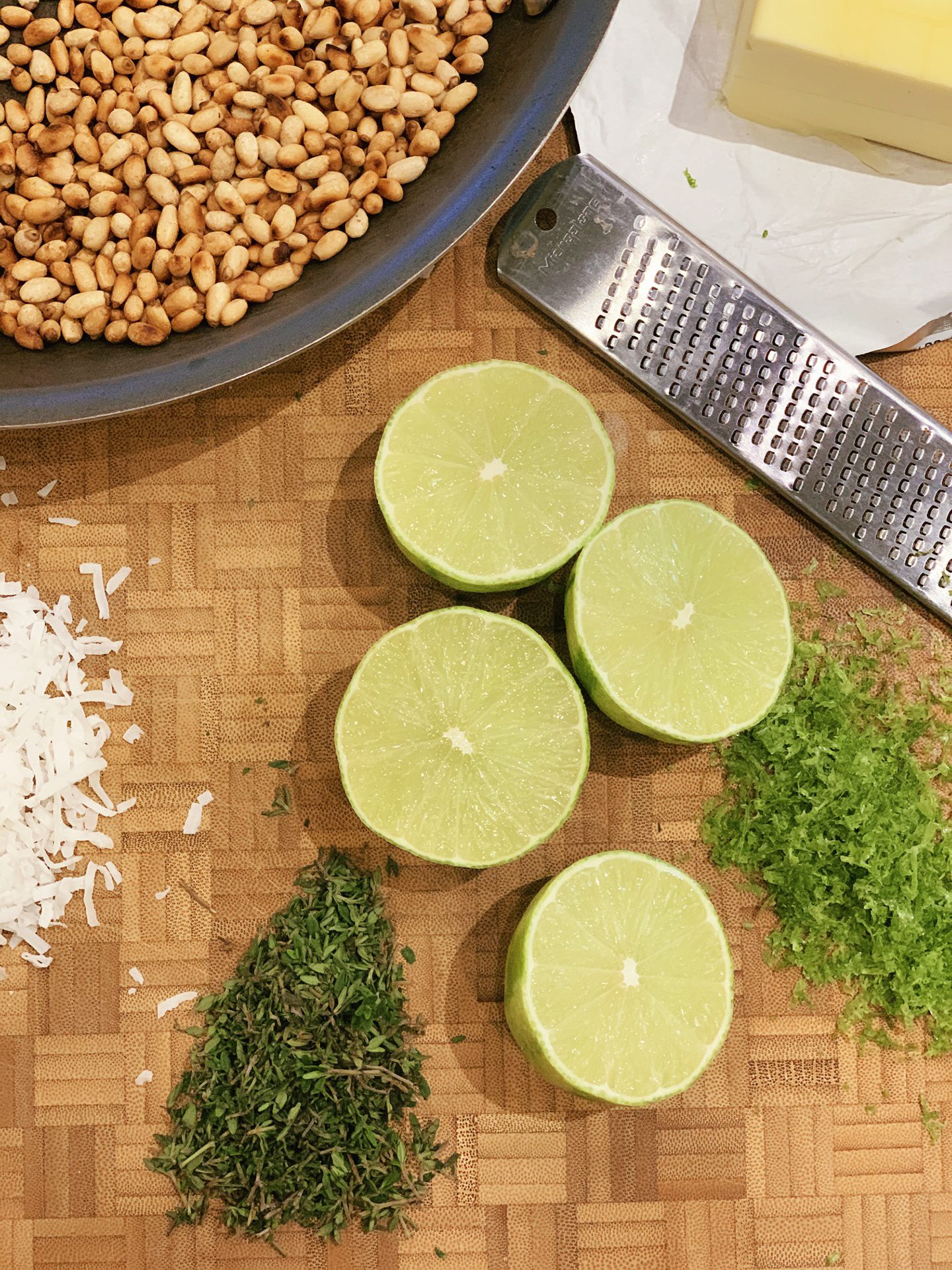 Do you remember that song by Harry Nilsson?
"Brother bought a coconut, he bought it for a dime
His sister had another one she paid it for the lime
She put the lime in the coconut, she drank 'em bot' up…."
Well, in these lazy days of summer, that song started whirling around in my head and hello….. a cookie was born. Now, you might think this a bit strange, but if you've been around me long enough, you'll know that strange is the inspiration for much of my food!
I love biscotti as a mid-afternoon snack. I make myself a latte and dip the cookie right in the cup. But, on a warm summer day, sometimes a latte can be a bit much. So, I settle for an ice coffee or lemonade.

These drinks do not lend themselves to appropriate dipping.
So, I decided to summer-up my traditional biscotti.

I added a bit of cornmeal to the flour to give it an earthier flavor. Fresh lime juice, zest, and thyme bring in the Italian flavors that I associate with summer.

And then….Well, coconut is so tropical that I just had to throw some into the mix. Toasted pine nuts complement all the other flavors while adding richness and voila…a crisp, fully-flavored biscotti was born.
This is just another example of how you can take a tried and true recipe and switch things around to fit your mood. Give these biscotti a try and let's see what you think.
"Put the lime in the coconut and call me in the morning…. woo…."
Lime Coconut Biscotti
These biscuit-like cookies are crisp, crunchy, and full of Italian flavors. They are the perfect afternoon snack with a glass of chilled lemonade or even better…. how about as a late-night snack with a flute of limoncello!
Ingredients
For cookies:
3 ounces pine nuts, about ½ cup
1 cup granulated sugar
1 cup unsweetened coconut flakes
Zest of 2 limes, about 2 tablespoons
2 tablespoons chopped fresh thyme
2 cups unbleached all-purpose flour
½ cup cornmeal
1 ½ teaspoon baking powder
¼ teaspoon salt
½ cup unsalted butter, room temperature, 1 stick
2 large eggs
1 teaspoon vanilla
Juice of 2 limes, about 3 tablespoons, divided

For glaze:
1 cup confectioners' sugar
1 tablespoon half and half
1 teaspoon vanilla
Yields:   3 dozen biscuit cookies
Time:   60-minute cuisine
Toast the pine nuts in a shallow skillet over medium heat until just golden, about 3 to 4 minutes. Keep your eye on the pine nuts as once they are fragrant, they go from perfect to burnt in a nanosecond.
Place the granulated sugar, coconut flakes, lime zest, and thyme into the bowl of a food processor. Pulse to combine. Whisk together the flour, cornmeal, baking powder, and salt in a small bowl.
Use an electric mixer to combine the butter with the flavored sugar. Mix in the eggs, vanilla, and two tablespoons of the lime juice. Stir in the flour. Add the pine nuts. Divide the dough into two halves, cover with plastic wrap and place in the freezer for 15 minutes.
Preheat the oven to 350°. Form each portion of dough into a log about 3-inches wide and 10 to 12-inches long. Place these onto a parchment paper-lined baking sheet. Bake until the logs are golden brown, about 20 minutes. Remove the dough from the oven and cool for at least 15 minutes. Reduce the oven temperature to 300°. When cooled, use a serrated knife to cut each log into ½-inch slices and lay cut-side-up on the baking sheet. Place the baking sheet back into the oven and bake until the cookies are dry and just crisp, about another 30 minutes.
Whisk together the confectioner's sugar, remaining 1 tablespoon lime juice, half-and-half, and vanilla until smooth. When the cookies have cooled, drizzle each one with the glaze.