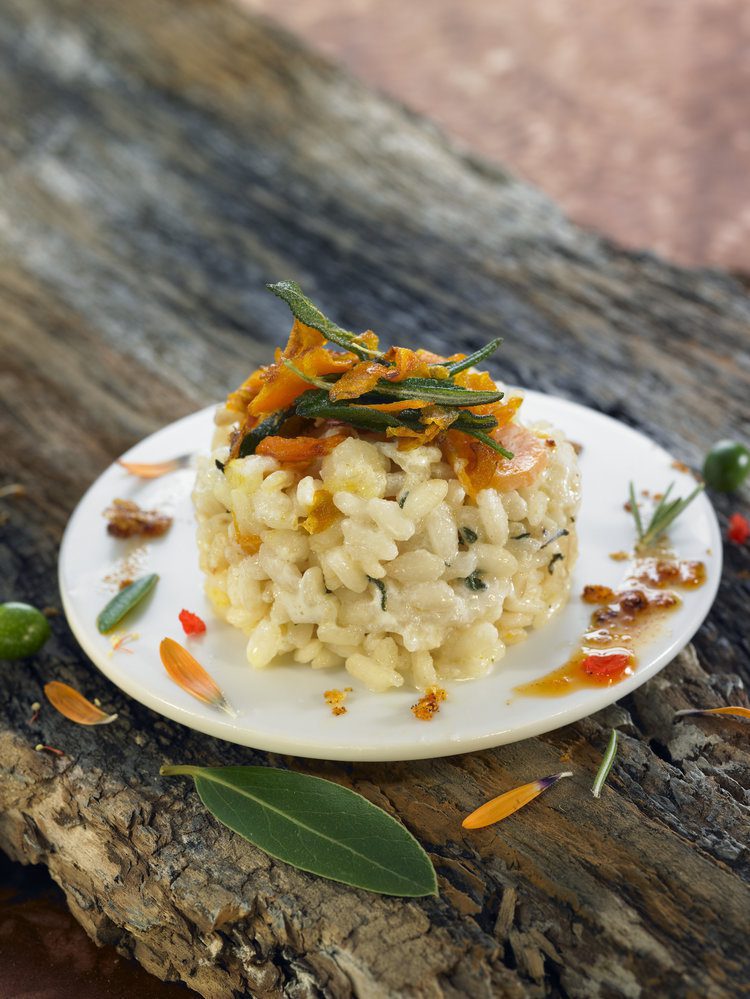 I love creamy, cheesy, richly flavored risotto. I love everything about it. I also love tapioca pudding and rich, runny cream of wheat. It's a thing……. But, my new favorite craving is cauliflower risotto. The dish gives you all the feel of those creamy dishes, and adds just a bit of "it's good for you" by substituting starch with veg. I must admit, I make this dish about once a week., and in the coming weeks of Autumn am going to ramp things up by using a wide variety of squash at mealtime.
Now that Fall's in the air, we can't get away from it: pumpkins, delicatas, acorn squash, and of course, butternut. My favorite way to elevate a squash's flavor, is to roast it with chili and cinnamon. Squash is simply the perfect canvas for these spices. Combining the two, cauliflower and roasted, spiced squash creates a company-worthy dish that you can make in minutes, and even freeze for later use.
Yes, you heard me right: FREEZE for later use. I never would have thought of this, but ran across a great article on GroomandStyle.com on 10 Awesome Recipes That Freeze Well.
One of the dishes they claim freezes well, is their bacon risotto. While it's on my to-do list to try that particular recipe, Groom & Style's freezing technique worked wonders for my healthy risotto recipe, given below. If you visit GroomandStyle, be sure to look at the recipe for Freezer-Friendly Bagel Bombs, too. I may have to get to that one immediately!
Cauliflower Risotto
With Cinnamon Roasted Butternut Squash
Serves 6
30 Minute Cuisine
Roasting butternut squash, with chili and cinnamon, flavors this entire risotto dish. The creamy texture of the cauliflower is developed by slowly simmering the ingredients in a rich chicken stock.  
For squash
1 medium butternut squash, peeled and diced into ½-inch squares (about 3 cups)
2 tablespoons olive oil
1 tablespoon chili powder
2 teaspoons ground cinnamon
1 teaspoon garlic powder
1 teaspoon onion powder
1 teaspoon kosher salt
½ teaspoon coarse ground pepper
For risotto
2 tablespoons olive oil
½ yellow onion, peeled and chopped
1 head cauliflower, chopped into coarse crumbs, about 6 cups
3 cups homemade chicken stock or prepared low sodium broth
½ cup half and half
2 tablespoons butter
2 ounces Parmesan cheese, grated, about ½ cup
Preheat the oven to 400°. Place the butternut squash chunks onto a baking sheet. Drizzle with olive oil and sprinkle with chili powder, cinnamon, garlic and onion powders, and season with salt and pepper. Use your hands to toss the squash with the seasonings to coat every piece. Bake until the squash is soft and golden brown, about 20 minutes. You can use a spatula to move the squash pieces around about halfway through baking.
Heat 2 tablespoons olive oil in a skillet over medium high heat. Add the onion and cook until soft, about 5 minutes. Add the cauliflower and cook for 5 minutes more, stirring so that the cauliflower does not burn. Add one cup of chicken stock and stir. When the liquid is absorbed, add another cup. Reduce the heat to medium and simmer the cauliflower for 5 minutes. Add the remaining cup of chicken stock, and cook until most of the liquid is absorbed. Scrape the squash into the cauliflower. Stir in the half and half, and butter. Season with salt and pepper. Swirl in the Parmesan cheese.
Cook's Tip
You can purchase cauliflower that has already been chopped into rice-size pieces. Or, you can use a food processor to chop a whole head of cauliflower. Remove the leaves, stem and core. Cut into large chunks, and place into the bowl of your machine. Pulse until the pieces resemble crumbs.
After Market Leftovers
If you have leftovers (and I really doubt that you will), you can freeze cauliflower risotto. Bring to room temperature before you gently reheat.