One of my favorite appys on the menu at my local Cuban restaurant is the lightly breaded, fried béchamel fritter platter; it's studded with salty, smoked ham called Croquetas de jamón. Unlike their Southern cousin the hush puppy, these little delicacies are way too delicious to give to the dog. These croquettes are terrific with a glass of dry white wine or with a beer during the big game!
They are easier to make than you think and, better yet, you can prepare them all the way to the frying stage, then freeze them for later use. In my catering days, we used to have whole days dedicated to making ahead and freezable appys, so that we could "grab and go" on the way to client parties.
Start by making a rich white custardy béchamel sauce. Add some smoked ham, and then chill the mixture in the fridge. Mold the chilled mixture into small cylinders and then bread them. Before serving, heat up the oil and fry them to a golden brown. It only takes a minute or two. The crunchy outside leads to a melty inside. Add a spicy sauce, and you have an appy everyone will enjoy.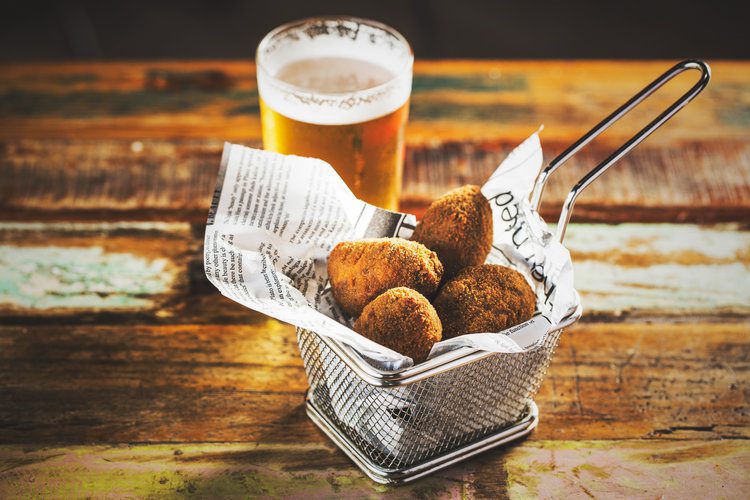 Croquetas de Jamón
Serves a crowd
45 Minute Cuisine plus chilling
If you are looking for a make-ahead appy that freezes well, you have come to the right place! These creamy croquettes are simple to make and delicious to eat.
8 ounces smoked ham
1 cup unbleached all-purpose flour
1 teaspoon dried parsley
1 teaspoon ground cumin
½ teaspoon ground oregano
½ teaspoon garlic powder
½ teaspoon ground nutmeg
3 tablespoons butter
½ small yellow onion, peeled and chopped
1 cup milk, room temperature
1 tablespoon dry sherry
4 ounces manchego cheese
Spicy aioli sauce
Place the ham in the bowl of a food processor. Pulse to finely dice.
Whisk together the flour, parsley, cumin, oregano, garlic powder, and nutmeg.
Cook the onion in the butter, in a deep saucepot over medium-high heat until soft, about 2 minutes. Whisk the flour into the butter and onions and cook until bubbly, about 3 to 5 minutes. Whisk in the milk and sherry. Continue to whisk until the sauce thickens, about 5 minutes more. Remove the pan from the heat and whisk in the cheese until thoroughly melted. Stir in the diced ham. Pour this béchamel into a baking dish and chill for at least four hours.
To form the croquettes, use a 1-inch ice cream scoop to form a ball of béchamel. Form this ball into a small cylinder and place it onto a parchment-lined baking sheet. Continue until all the béchamel is used. Transfer the cylinders to the refrigerator. Make a dipping station by whisking together two large eggs in a shallow bowl. Pour bread crumbs into a second bowl. Use a spoon to gently roll 1 cylinder in the beaten egg. Then roll in bread crumbs and place them back onto the baking sheet. Chill (or freeze) until you are ready to fry the croquettes.
Heat vegetable oil in a fryer, or deep pot to 375°degrees. Make sure that you use only enough oil to come ⅓ up the side of the pot, as the oil will bubble up when you fry the croquettes. Place several croquettes into the hot oil. Use a slotted spoon to gently turn the croquettes in the oil. Cook until golden, about 3 to 4 minutes. Transfer the croquettes to a paper towel-lined baking dish. Serve with a spicy aioli sauce.
Cook's Tip
You can make a spicy aioli sauce by combining mayonnaise with a drizzle of hot adobo sauce. Simpler still, try some of the new Marzetti Simply Dressed salad dressings in the refrigerated section of the produce department. Their Siracha Ranch is perfect for these croquettes.