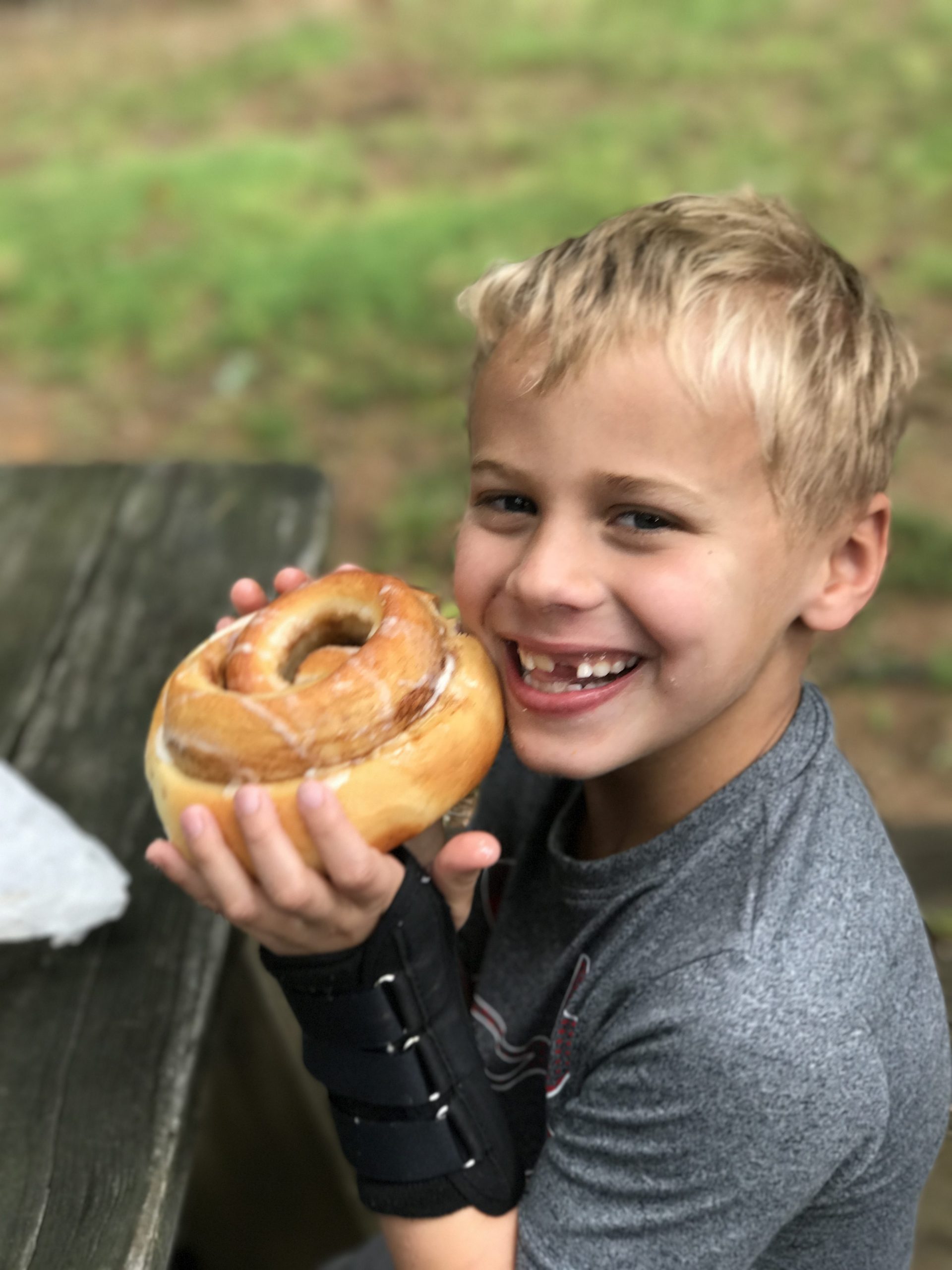 That's my grandson. livin' it up in his Happy Place!
One of my grandson's favorite things to do with his Papa is to visit the doughnut factory! This, if you haven't guessed yet, is Krispy Crème. There's something about watching the dough fry in the hot oil, and then travel through that sugar shower that no six-year-old can possibly resist!
With the addition of my new fryer, I'm experimenting with all sorts of fried delicacies. I've come to grips with the fact that I can't match Papa's doughnut factory experience, but I've come up with my own… guaranteed to catch the delight of my grandson and my adult pals as well.
Welcome to my Churro Shop. With just a bit of effort, you can set up your churro shop at home too! Give it a try!!
Churros with Cinnamon Sugar & Chocolate Dipping Sauce
Serves a crowd
30 Minute Cuisine
You cannot eat your way through Spain without finding your way into a Churro shop. Kinda like Krispy Crème, these doughnut-like wedges are served warm, right out of the fryer. They differ in that they are doused in cinnamon sugar, and served with a pot of warm chocolate for dipping. It's pretty darn delicious.
For Churros:
3 tablespoons unsalted butter
2 tablespoons granulated sugar
1 teaspoon vanilla extract
½ teaspoon Kosher salt
2 cups unbleached all-purpose flour
2 large eggs, beaten
Vegetable oil for frying
For coating:
½ cup granulated sugar
2 teaspoons ground cinnamon
For Chocolate Sauce:
½ cup heavy cream
12-ounces semi-sweet chocolate chips
Heat 2 cups water, butter, sugar, vanilla, and salt in a deep saucepot over medium-high heat until the butter is melted about 3 to 4 minutes. Remove the pot from the heat and add the flour. Use a wooden spoon to mix the flour into the wet ingredients until it forms a dough ball. You want everything mixed together well. Let the dough cool to room temperature, about 5 to 10 minutes. Use an electric mixer to combine the dough with the eggs.
Transfer the dough (in batches) to a pastry bag fitted with a large star tip. Pipe the dough onto parchment-lined baking sheets. Chill until you are ready to fry.
Mix together ½ cup granulated sugar with ground cinnamon in a bowl. Transfer this mixture to a sugar shaker if you own one.
Heat heavy cream with chocolate chips in a bowl in the microwave, cooking 1 minute at a time. Stir in between cooking, until all the chocolate is melted.
Heat the oil in a fryer or deep pot to 375°. Remember to make sure that the oil only comes ⅓ up the side of the pot. The oil will bubble up when you add the churros. Cut the piped dough into 4 to 6-inch long pieces. (Basically, churros can be as long as you like, if they fit into your fryer). Place the dough lengths into the hot oil. Use a slotted spoon to gently move the churros in the oil. Cook until just golden brown. Transfer the churros to a paper towel-lined baking sheet. Generously sprinkle the hot churros with cinnamon sugar. Serve with hot chocolate for dipping.