One of my favorite parenting things was sneaking veggies into food my kids like to eat. I hid chopped spinach in homemade pizza and carrots and celery in marinara sauce. It was a FUN game. I'm providing healthy meals, and the kids pretend not to notice.
What I came away with was an appreciation for experimentation. I love to stuff veggies into places where no man has gone before. Well, at least none of the men in my family. One of my favorites is filling meatloaf and meatballs with eggplant. I peel and dice the eggplant into tiny bits and sauté them in olive oil with diced onion. Once the veggies cool, I add them to my ground meat and season with milk-soaked bread, parsley, and seasonings. To take my meatballs over the top, I place them in marinara sauce and cover them in melting Munster. It's a doozy of a deception… one I'm sure your family will enjoy!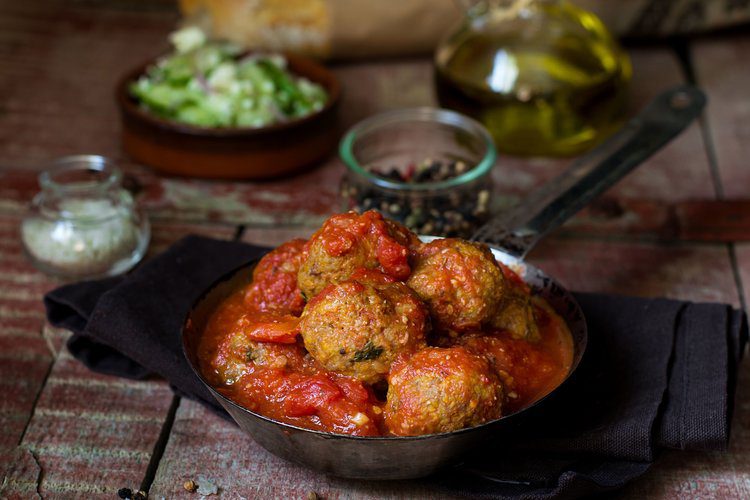 Sneaky Eggplant Stuffed Meatballs
Topped with Munster Cheese
Serves 4 to 6
45 Minute Cuisine
Not only is this dish fabulous for the first taste in your Italian-inspired menu, but it's also a great recipe to use for a midweek meal; it's also a sneaky but loving thing to do if you're trying to improve your child's diet.
4 (1-inch thick slices whole-grain bread), torn into small pieces, about 2 cups
¼ cup milk
2 tablespoons olive oil
1 (1-pound) eggplant, peeled and diced into ¼-inch cubes, about 3 ½ cups
½ medium white onion, peeled and chopped, about ½ cup
1 teaspoon kosher salt
½ teaspoon coarse black pepper
1 ½ pounds lean ground beef, veal or pork, or a combination of all 3
1 medium garlic clove, peeled and minced, about 1 teaspoon
2 large organic eggs
1 teaspoon dried oregano
2 tablespoons chopped fresh parsley
1 cup marinara sauce (homemade is the best!)
6 to 8 ounces Munster cheese, sliced
Place the bread crumbs into a bowl.  Pour the milk over top and push the bread into the liquid to absorb.
Heat the olive oil in a skillet over medium heat.  Add the eggplant and onion. Season with salt and pepper.  Cook until the eggplant is quite soft.  Cool to room temperature.
Preheat the oven to 350°.  Place the ground meat into a large bowl.  Add the garlic.  Add the eggs and soaked bread crumbs.  Season with additional salt and pepper, and the dried oregano.  Add the cooked veggies and fresh parsley.  Use your hands to loosely combine all the ingredients.  Form into 2 ½ to 3-inch diameter-sized balls. Place into a baking sheet with a lip. Bake until the meatballs are just cooked through, about 20 minutes.
Pour the marinara sauce into a baking pan.  Place the cooked meatballs into the pan.  Cover each with a thin slice of Munster cheese.  Place the baking sheet back into the oven and cook until the cheese melts, about 5 to 8 minutes more.
Cook's Tip
In place of eggplant, you can substitute with any veggie you have on hand.  Mushrooms and zucchini work just fine if you finely dice the veggie. If you do not have a container of your homemade marinara sauce in the fridge, use one with a low amount of added salt and sugar. I like Newman's Own Tomato and Basil. Ask your butcher for beef, veal, and pork from a source that produces humanely raised animals, not raised with hormones or unnecessary steroids.