I have a recipe in my book Canvas and Cuisine for Fried Peach Hand Pies. It's good… really good. However, I came across a recipe for peach preserves that included a vanilla bean and smidge of bourbon in place of my cinnamon-spiced version. So, I gave it a try and I'll tell you what…. good went to gooder, it was so darn good.
Then I saw another recipe for fried pies that uses prepared pie dough in place of my puff pastry dough. And, guess what? This too is knock your grammar socks off-gooder! Then we top these dainty fried pies with a peachy glaze made from the peels and pits of the ripe peach. Well, I'll tell you what, it doesn't get much better than this.
Now, you will say to me, I'm not going to spend all this time makin' peach preserves and fryin' pies. And, I'm going to say to you, why the heck not!
I mean, there's bourbon involved for God's sake!
You can make the preserves in minutes and allow them to cook themselves over the next hour or so. You can put together the pies well in advance of frying, and let them hang out in the fridge until your craving ramps up to speed. You can fry those pies in minutes… literally minutes. There's not even a lot of cleanup. Let the oil cool, pour it into a container and use it again down the road…when you want to go from good to gooder 😉
Peach Preserves
Made into Peach Empanadas
Yields about 2 cups Preserves
About 20 to 24 hand pies
Ingredients For Preserves
10 to 12 ripe peaches, peeled and chopped into ½-inch pieces
1 cup granulated sugar
1 vanilla bean, split lengthwise and halved
⅓ cup bourbon
½ teaspoon kosher salt
For Fried Pies
Peach peels and pits from 10 to 12 ripe peaches
½ cup granulated sugar
1 ½ to 2 cups confectioners' sugar
1 (14-ounce) box of refrigerated pie dough (2 crusts)
1 large egg mixed with 1 teaspoon of water
Vegetable oil for frying
For Peach Glaze
Juice from peach peels and pits, about ½ cup
1 ½ to 2 cups confectioner's sugar
Directions
Peel the peaches by placing them in boiling water for several minutes and then transferring to a bowl filled with ice water. Reserve the peels by placing them in a large bowl. Chop the peaches into small chunks. Transfer the pits to the bowl with the peels. Stir ½ cup sugar into the bowl with the peach pits and peels and let sit for 20 minutes.
Place the diced peaches, 1 cup sugar, vanilla bean, and bourbon into a deep pot, like so:
Sprinkle with salt. Stir together and bring to a boil over medium-high heat. Reduce the heat to low and simmer until the peaches break down and the consistency of the preserves is syrupy. (I used a potato masher to break down the peaches after about 30 minutes and then continued to cook for another 30 minutes or until most of the liquid is reduced into the peaches). Cool the preserves and store in an airtight container.
Strain the peach peels and pits into a bowl to get about ½ cup juice. Whisk some of this juice into 1 ½ to 2 cups of confectioner's sugar. Continue adding juice until you get a peach glaze that is pourable and looks like the photo below: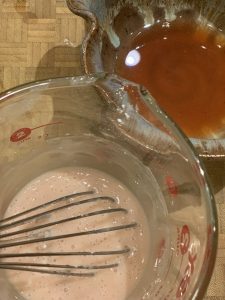 Roll out the pie crusts on a well-flour surface. Use a round cookie cutter (about 3 or 4-inches in diameter) to cut circles from the dough. Place a teaspoon of peach preserves in the center of one dough circle. Brush the egg wash (beaten egg with water) around the edge of the circle. Fold the circle in half and use the tines of the fork to seal in the filling. Place the pie onto a rack and refrigerate until ready to fry.
Heat vegetable oil in a deep pot to 375. Gently drop the pies into the oil and cook until golden, about 2 to 3 minutes. Use a wire spider or slotted spoon to transfer the pies to a rack over paper towels to catch the drips. Continue until all the pies have been fried. Drizzle the warm pies with peach glaze.
More Scrumptious Possibilities