Comfort food is just what we need, whether we are in self-isolation, quarantine, or shelter-in-place. My Tomato Soup recipe hits the spot and offers a savory solution to navigating "the new normal".  Click to skip to the recipe!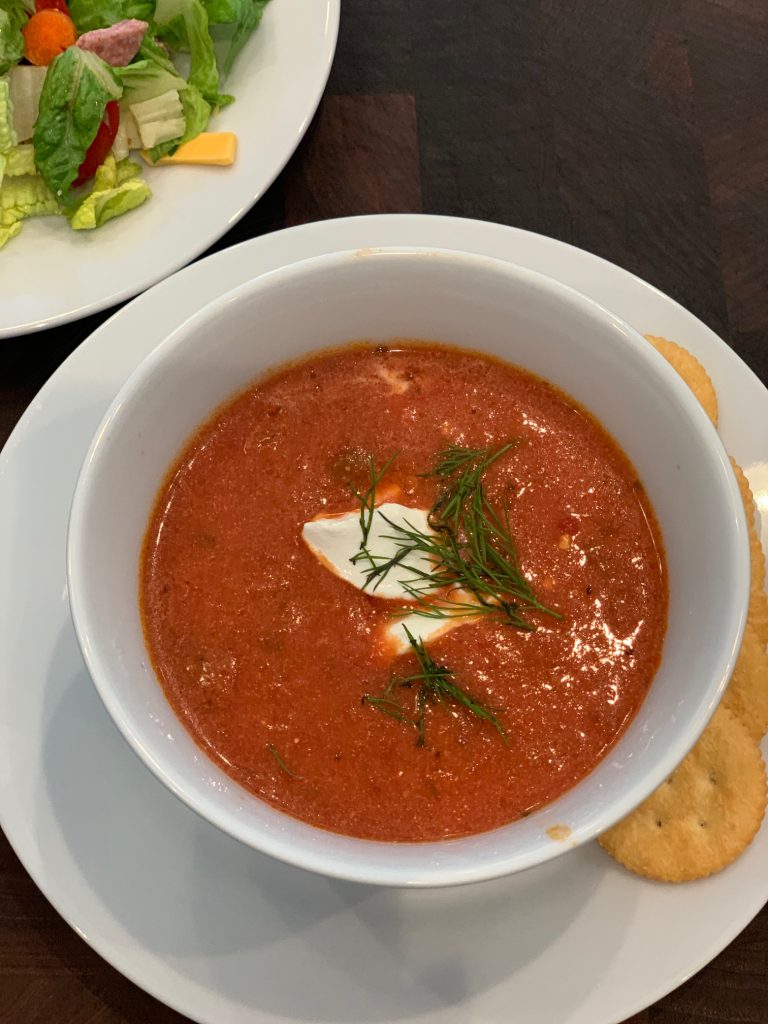 We're about to start the process of opening our county after eight weeks of social distancing. In a way, we've grown accustomed to staying at home.
Shelter-in-place has been weird. But what is even weirder is how quickly we've become used to it.
Waking up alone or with your kids or with your significant other and your kids and your significant other and maybe your mother…. and having nowhere to go. No plans on the horizon. No reason to get spiffed-up. No goals, no pat on the back for a job well done. It's been lonely, challenging, and life-changing.
And now, just like that we're supposed to go back to a new norm.
When I canvas my friends, I hear apprehension. While we're home and quarantined, we're safe from the silent enemy. But now, venturing out, facemasks in place, we fight a new challenge: how to exist in a society where the virus hides around every corner.
It is a crazy, insecure feeling; one that we must overcome in order to go on.
Personally, I am going to rely on my comforts as I dip my toe in the new norm. My hand sanitizer is stashed in my glove box. I've ordered designer face masks (of course I did….). I wash my hands constantly and stay six feet away from people that I encounter. I even follow the arrows in the grocery store!
But when it comes time to enter the phase that allows us to gather in small groups, my plan is to gather. I plan to gather just a few friends for a glass of wine to start and then maybe a shared snack or lunch and then maybe a social-distance approved supper outdoors with a couple of pals.
Yes, there is some apprehension, but it is time!
Perhaps it's time to make your plan. There's a lot to think about, whether you're going back to work or considering shopping at the corner boutique.
Is it time to get your nails done, or does anxiety put the plan off for another week? Is it time to invite your baby best bud for a playdate? Is it time to let him go to his friend's house? No matter how or when you plan to embrace the new norm, it's time to make a plan.
What I always do when I face the road ahead is to take some time to think and strategize.
And while I fashion a plan, I like to surround myself with comfort food.
It kinda makes things less scary. The whole activity of cooking that food relaxes me. So, while you're mulling over your plan for your new norm, why not take a tip from my playbook and whip up a pot of comforting soup. Tomato Basil Bisque is my go-to soup because it pushes all the comfort buttons. It is creamy, flavorful, tummy-filling and the perfect bowl to sneak in a fistful of crumbled crackers. Just the dish needed before you walk out the door for the first time.
Swallow your anxiety, take your time and step forward….Safely!
God Bless!
Tomato Soup
With Jalapeno, and a Hint of Fennel
Serves:
Time:
4-6 
40-Minute Cuisine
Ingredients
Adding just a bit of jalapeno adds a little heat to tomato soup. But the addition of fennel takes this soup to a spiced-up, licoricey lip-smackin' treat!
2 tablespoons olive oil
1 medium red onion, diced into small cubes
1 medium jalapeno pepper, seeded and diced
4 garlic cloves, peeled and crushed
1 teaspoon dried basil
½ cup dry sherry
1 (28-ounce) can crushed tomatoes
4 ounces tomato paste, about ½ cup
1 quart homemade chicken stock, or prepared low sodium broth 
1 teaspoon kosher salt
1 teaspoon coarse black pepper
1 teaspoon granulated sugar
½ large fennel bulb, optional
½ cup half and half
¼ cup sour cream
Pour olive oil into the bottom of your soup pot over medium-high heat.  Place the onions and pepper into the pot and cook until soft and fragrant, about 2 to 3 minutes.  Stir in the garlic and cook for 1 minute more.
Pour in the sherry and simmer until most of the liquid disappears, about 3 to 5 minutes.
Pour in the tomatoes, tomato paste, and chicken broth.  Season with salt, pepper, and sugar.  Place the fennel bulb into the soup.  Reduce the heat to low, cover the pot with a lid and simmer the soup for 20 minutes allowing the flavors to blend.
Remove the pot from the heat.  Remove and discard the fennel bulb.  Stir in the half and half and sour cream.
Serve the soup with crushed crackers, another dollop of sour cream, and the tops from the fennel.