Italian flavors run so much deeper than Olive Garden might lead you to believe. I know because I was lucky enough to travel to the Mediterranean, and breathe deep the fresh herbs growing wild beside the sea. One of my favorite things to eat – whether I'm under a Tuscan sun or an American one – are artichokes. Me and the quintessential Italian veggie go way back – as in 40 years back when I met my husband (we celebrate our anniversary this weekend!), and he lovingly prepared braised artichokes; it may have been a long time ago, but I still remember dipping those tender leaves in a rich, mayo-lemon sauce.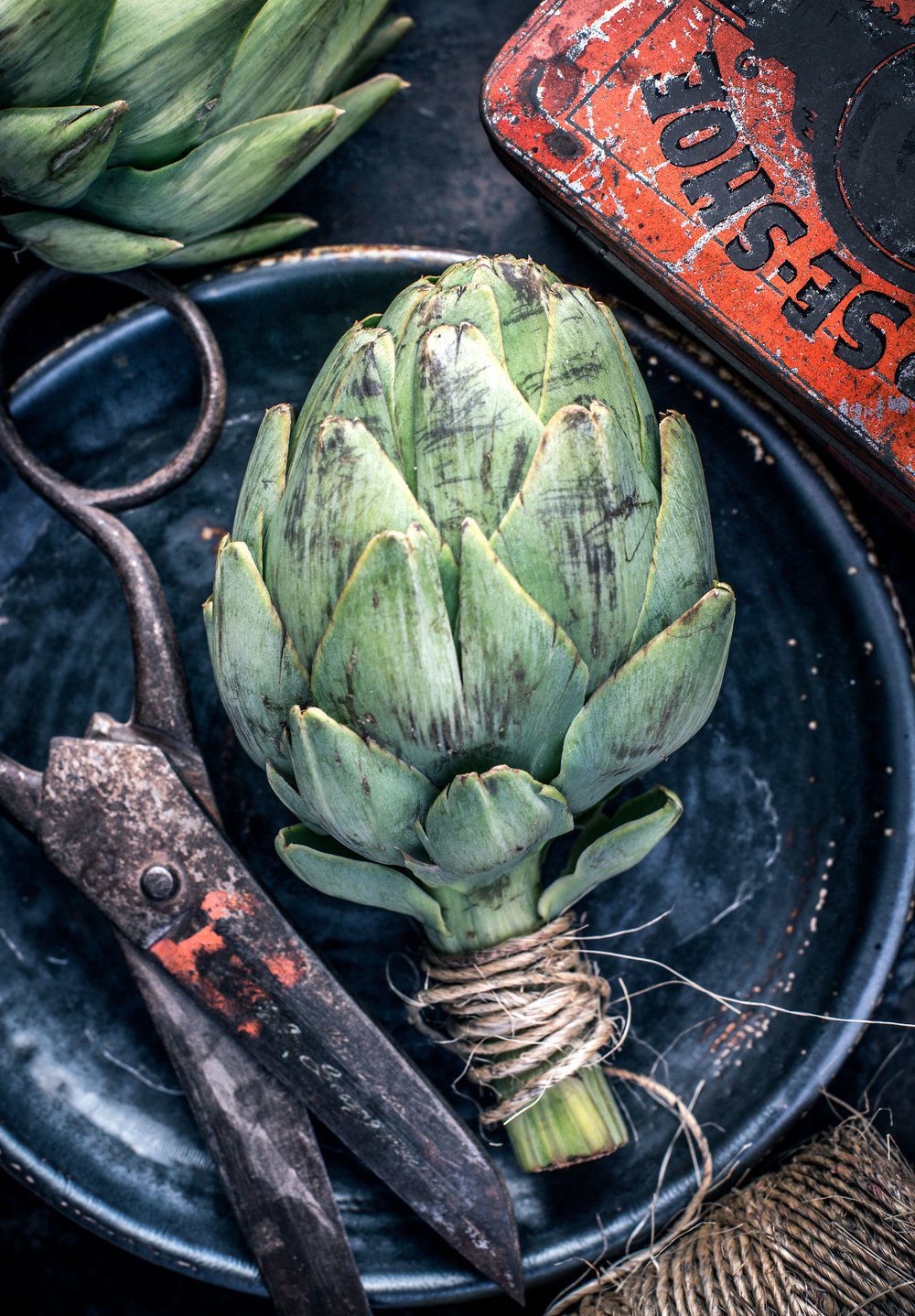 Peak season for artichokes is right about now, by the way – they're something special to love in the springtime!
I've been trimming and eating the prickly things ever since – maybe it's what attracted me to my hubby in the first place. If you're new in artichoke town, I caution you to wear gloves, and be especially careful as you trim your way down to the heart of the artichoke; this gets scooped out, and replaced with whatever yummy fillings and seasonings you see fit. For a delicious-as it is- informative-photo gallery, that illustrates how to get your desired results without…choking up…here's a link from Serious Eats.
Once you learn how to trim and prep artichokes, it's like riding a bike. You'll find yourself craving fresh artichokes, and throwing them into your basket at every grocery run. They're a pretty good deal, I think – usually around $1.50 each at the farmer's market – almost $3 if you need to get your artichoke on at Whole Foods.
My recipe for an artichoke appetizer comes right out of my new book. This appy is braised, and covered in a zesty, white wine and tomato sauce. Get 3 of your nearest and dearest friends and treat them (and you!) to one artichoke each. This recipe calls for 4 of the yummy little guys. When I serve them to people, my guests tend to remark that they can "really taste the olive oil". Actually, I think artichoke dishes bring out the best in all the essential Italian flavorings, like basil, pesto, anchovies and lemon for good measure.
This recipe yields enough savory sauce to throw into your Vitamix for a creamy soup later on. Here it is in all its Italian glory! Oh, and P.S. It's a sneak peek at Chapter One of the new book I'm working on! Enjoy! BRAVO!!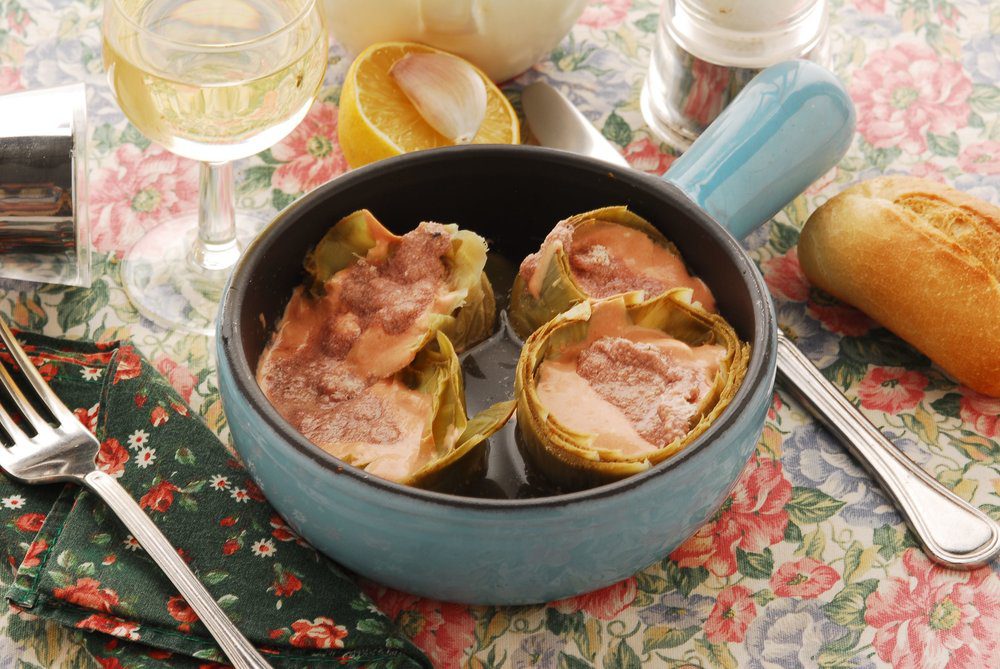 Not the recipe, but close! To see finished product check out my Canvas & Cuisine Photo Album on Facebook
Tomato Braised Artichokes
with Pesto Rub
Serves 4 as an appy
60 to 90 Minute Cuisine
For sauce
1 (28-ounce) can diced tomatoes
2 cups dry white wine
2 cups homemade vegetable stock, or prepared low sodium vegetable broth
½ cup olive oil
2 teaspoons kosher salt
½ teaspoon crushed red pepper flakes
For pesto
1 (7-ounce) tin flat fillet anchovies, packed in oil
1 whole garlic bulb, cloves peeled
1 bunch fresh basil leaves
½ cup olive oil
For artichokes
4 large artichokes
2 lemons, halved
Pour the tomatoes, wine, chicken broth and ½ cup olive oil into a large roasting pan. Season with salt and crushed red pepper. Set the pan on your stovetop, without turning on the heat, and move on to make the rub.
Place the anchovies, garlic and basil into the bowl of a food processor. Pulse to combine. With the bowl running, slowly pour in ½ cup olive oil to make a thick paste.
Trim the artichokes by first pulling the thick, dark green outer leaves, leaving the tender green leaves in place. You'll lose about half of the leaves. Use a vegetable peeler to remove the tough, partial leaves from the bottom of the artichoke and the stem. Cut off the tough end of the stem, leaving about 3 to 4 inches. Cut off the top third of the artichoke. With every cut or peel that you make, rub lemon over the cut ends. Slice the artichokes in half. Use a spoon to remove the spiny choke from the center. Pull out the spiky inner leaves. Place the trimmed artichoke into a bowl of cold water with lemon slices. Repeat with the remaining artichokes.
Remove the artichokes from the lemony water, one at a time. Spoon anchovy paste all over the artichokes and place, cut-side down into the pan of tomato sauce. Bring the sauce to a simmer over medium low heat. Cover the pan with a lid (or aluminum foil). Turn the artichokes in the sauce several times to coat. You want the artichokes to cook low and slow (over low heat and for a long time). Continue cooking until a fork easily pierces the artichoke hearts, about 45 to 60 minutes. If the sauce evaporates too quickly, pour in more stock.
Serve the artichokes on a platter, and spoon the sauce over the top.