It's that time of year when we Floridians host our "Up North" friends, as they ditch their wintery blusters and head south for a weekend visit. Friday is usually "entry night", when we stay in for a feet-on-the table kinda comfort food night. But, this past weekend was a bit different. Turns out the visit was planned around a girlfriend's birthday, and, well, that just spells P A R T Y!!
One invite led to another, and before you know it my stay-in entry night included a crowd coming for dinner. Being the party girl that I am (wink wink), my plan was to make the meal ahead, so that I could enjoy visiting with my pals. Default to steakhouse fare: salad starter, shared sides, and a hot-off-the grill perfectly cooked steak. My menu was simple: Antipasti appys, my famous Caesar salad, au gratin potatoes with cheese and bacon, creamed spinach topped with sautéed mushrooms, grilled steak and really, really chocolatey cake. Is your mouth watering yet??? The secret to my stress-free evening is that EVERYTHING can be prepared in advance…except the steaks, but I had lots and lots of grillers in attendance!
In order to guarantee a perfect meal, I chose "spinalis" as my steakhouse star. If spinalis sounds unfamiliar, you may have seen it on restaurant menus in its other form "butter steak" or "cap steak". So, what is this fabulous find, and how do you get your hands on it?
P.S. Here's a visual to help you out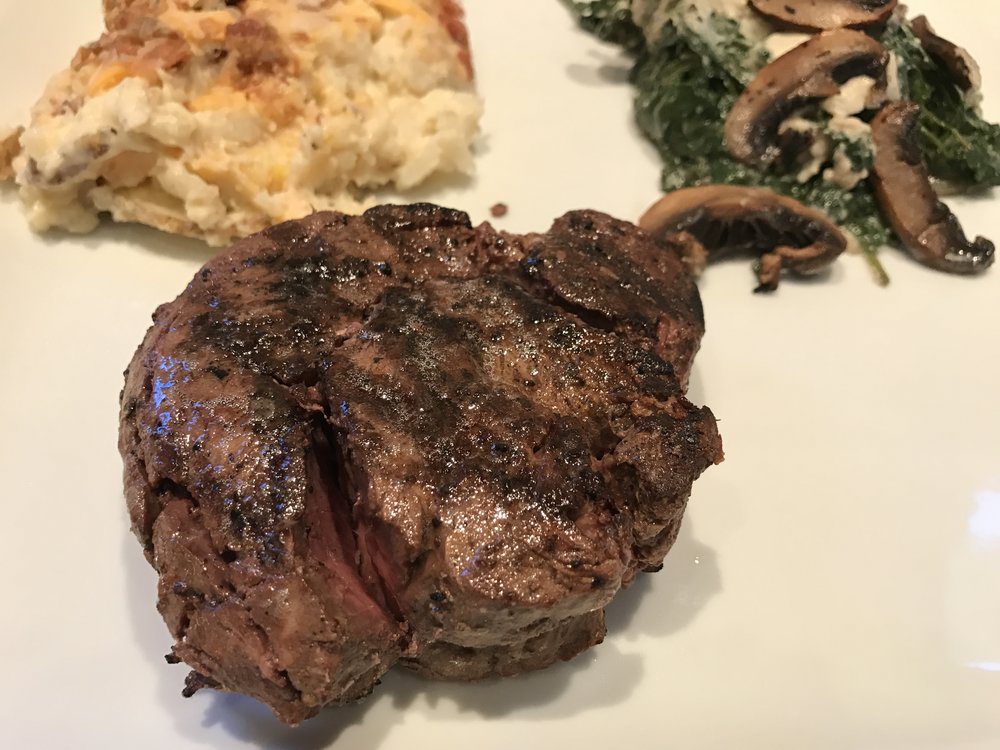 Spinalis is the marbled cap of a bone-in Ribeye. Visualize a thick slice of prime rib roast. The cap piece has a little more fat than the center piece, and is much more flavorful. In order to prepare the spinalis as a cap steak, the butcher purchases a whole ribeye, then removes the spinalis from the top. The remaining beef is cut into the bone-in ribeye steaks. The butcher then rolls the spinalis into what looks like a long log. He ties it at intervals with butcher twine, and then slices it into rounds. Voila – you have a beautiful cap steak.
Let's take the process one step further. If the spinalis comes from a Prime Rib Roast, then it is a prime cut of cap steak. Only about 3% of the beef in America is graded USDA prime, carried by only the finest butchers and restaurants. Often rib roasts masquerade as prime rib in supermarkets, which typically carry USDA Choice, but not USDA Prime meats.
Where do you find this well-marbled, tender, favorable steak?? Run, don't walk to your local COSTCO. Yes, COSTCO. Go to the very back of the store where they offer USDA Prime cuts of beef, like sirloin, fillet and ribeye steaks and look carefully. There they are, rolled and tied, trimmed and inviting! Because the steaks are round they look like filet mignon, but they cook quicker and more evenly, making those guest grillers the star chefs of the evening.
You don't have to entertain weekend guests to host your next steakhouse party. And you certainly don't have to have it on your back deck in balmy breezes. A steakhouse menu is just as ideal served indoors, next to a toasty fire. As long as there are good friends involved, a party is a party wherever you have it!
Grilled Cap Steak
With Creamed Spinach and Sautéed Mushrooms
Serves 4
30 Minute Cuisine
Here's an update on your favorite steakhouse meal. Choose the perfect steak and combine two side dishes to create one special meal.
For spinach
1 tablespoon olive oil
1 medium onion, peeled, cut in half and thinly sliced
2 pounds fresh spinach leaves, about 8 cups
1 teaspoon kosher salt
1 teaspoon coarse black pepper
2 tablespoons butter
2 tablespoons unbleached all-purpose flour
2 cups whole milk
2 ounces Gruyere cheese, grated, about ½ cup
½ teaspoon ground nutmeg
For mushrooms
2 tablespoons butter
½ pound fresh assorted wild mushrooms, sliced, about 2 cups
2 ounces Parmesan cheese, grated, about ½ cup
For Steak
4 (6 to 8-ounce) prime cap steaks
2 tablespoons Worcestershire sauce
2 tablespoons Soy sauce
1 tablespoon garlic powder
1 tablespoon onion powder
Preheat the oven to 350°. Heat the olive oil in a large pan over medium heat. Add the onion and cook until soft. Add the spinach leaves and cook until they just begin to wilt. Season with salt and pepper. Transfer the sautéed spinach to a baking dish. (For a fun twist, divide the spinach into individual casserole dishes.)
Melt the butter in a saucepan over medium heat. Whisk in the flour and cook until bubbling, about 2 minutes. Slowly pour in the milk. Continue whisking until the sauce begins to thicken, about 4 to 5 minutes. Season with nutmeg, salt and pepper. Remove the sauce from the heat and stir in the Gruyere cheese. Pour the cream sauce over the spinach and toss to combine.
Use the same skillet that you used for the spinach to melt 2 tablespoons butter over medium high heat. Add the mushrooms to the pan. DO NOT TOUCH THEM until they are deeply golden brown, about 4 to 5 minutes. Flip the mushrooms over and sauté on the second side until golden, about another 3 to 4 minutes. Season with salt and pepper. Spoon the mushrooms over the spinach. Top with grated Parmesan cheese. Bake the spinach until the cheese is melted and the spinach is bubbling, about 20 minutes.
Marinate the steaks in a large bowl or dish by seasoning with Worcestershire, Soy, garlic and onion powders. Prepare an outdoor grill, or grill pan on top of the stove to medium high heat. Just before grilling, season the steaks with salt and pepper. Cap steaks will cook more quickly than their look alike filets. Grill for about 3 to 4 minutes per side, and then check for doneness. Let the steaks rest for 5 minutes before serving.