I chose a veggie-forward menu for this Super Supper Book Club, Social-Distance Edition.
Safely supp over a good read and prepare for what will be a roller coaster discussion and meal!  
Click to skip to the recipe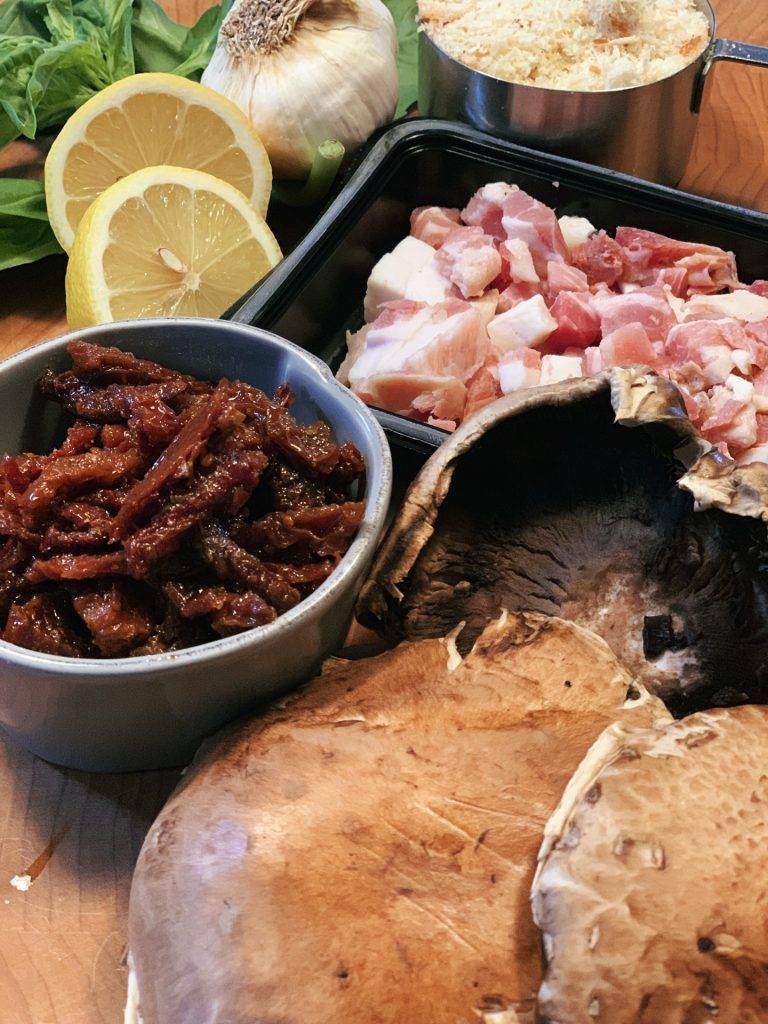 In the months before COVID, we started posting a once a month book club guide for you to follow with your group. 
I stopped posting because we couldn't gather.

But, in today's environment, with some of the restrictions eased and our ability to safely gather in a socially distance approved way, I thought I would bring it back! My book club has gathered over the summer and we will convene again this week.
For those of you who are still staying home, you might consider starting a virtual book club.

A few of my besties did this over the summer as well, and we found that we gathered (virtually) more often than our in-person club.
I have included the full supper club menu here, but if you wish, just a sampling of one or two dishes works just as well.
Either way, if you are looking for a good read to share with friends (or just on your own), this one's for you!
"The Family Upstairs" by Lisa Jewel
As I read, I had the same feelings that I had when I read The Goldfinch. The abuse of children is never an easy subject.

However, I loved this read because of the development of the characters from childhood to adulthood, the paths their lives eventually take, and The Baby that brings them together.

There are several twists and turns, many of which I didn't see coming (which to me is the measure of a good suspense novel).
This is my next pick for our Super Supper Book Club.

Gather your readers, give them the title, and dole out the recipes for what will be a roller coaster discussion and meal.
There are three stories woven into the narrative. On Libby's 25th birthday, she finds out she's inherited a Chelsea mansion that's been held in trust.

She soon discovers the house has a dark history based on scant decades-old news coverage. Lucy is living hand-to-mouth in France when her phone reminds her that The Baby is 25.

Without the means or identity, she must resort to some pretty desperate acts in order to get back to England after 24 years. Henry knows everything that happened in the house in the last several years when his family lived there.

He knew why there were so many extra people living there, what happened to the once-opulent residence and its contents, and how and why people were found dead in black robes on the kitchen floor.
I already cooked up some questions for your Super Supper Book Club gathering…
Do you think Henry's lies and violent acts were born out of his need to survive an unimaginable situation, or do you think there is, as Clemency states, "a streak of pure evil" in him?

In your opinion, who is the most tragic figure in this novel? 

What do you imagine happens to the characters after the book ends?
I chose a veggie-forward menu for this Super Supper Book Club. In contrast to the spartan food the children were given while they lived at 16 Cheyne Walk, this menu celebrates the abundance of the garden with dishes woven into a delicious menu that all your members will enjoy.
Super Supper Book Club Menu
"The Family Upstairs"

Fresh Corn, Green Bean and Arugula Salad with Lemon Balsamic Vinaigrette • Canvas and Cuisine,  page 150
Cauliflower Risotto with Cinnamon-Roasted Butternut Squash • Canvas and Cuisine, page 36
Grilled Portobello Mushrooms with Sun-Dried Tomatoes, Pancetta and Toasted Breadcrumbs (Recipe below) • Canvas and Cuisine, page 96
Fresh Fish of the Day in Puttanesca Sauce • Canvas and Cuisine, page 262
Meyer Lemon Olive Oil Cake with Thyme • Canvas and Cuisine, page 341
Grilled Portobello Mushrooms
With Sun-Dried Tomatoes, Pancetta & Toasted Breadcrumbs

Spending quality time in the Farmer's market naturally leads to veggie-forward main meals. This is one of these. There's nothing better than meaty mushrooms, with a tangy, crunchy filling! You can serve these mushrooms as a first course, or as a late-night snack. Or you can stuff smaller mushrooms and serve these to your book club! The flavors are fantastic – everyone is a mushroom lover after tasting this dish!

Ingredients
1 cup Panko Breadcrumbs
2 tablespoons butter, melted, plus 2 more for sauce
1 (3.5-ounce) julienned sun-dried tomatoes packed in oil, drained but save 2 tablespoons of the oil 
4 ounces pancetta, finely diced
4 large garlic cloves, minced, about 2 tablespoons
¼ cup Marsala wine
Juice of ½ medium lemon, about 2 tablespoons
1 teaspoon kosher salt
¼ teaspoon crushed red pepper flakes
2 tablespoons chopped fresh parsley
8 Portobello mushrooms, stem and gills removed
2 tablespoons olive oil
Yields: Serves 4 for a Veggie Main or 8 as an Appy
Time:   30 Minutes
Preheat the oven to 350°. Mix the breadcrumbs with 2 tablespoons of melted butter in a small bowl. Spread the crumbs onto a baking sheet. Toast the buttered crumbs until they begin to crisp, about 5 to 7 minutes. Remove and set aside.
Pour 2 tablespoons of the oil from the sun-dried tomatoes into a skillet over medium-high heat. And the pancetta and cook until crisp. Use a slotted spoon to remove the pancetta to a platter lined with paper towels. 
Add the sun-dried tomatoes to the skillet. Add the garlic and cook for 1 minute. Pour in the wine and simmer until most of the wine has disappeared, about 3 to 5 minutes. Pour in the lemon juice. Season with some of the salt and crushed red pepper. Turn off the heat and swirl in 2 tablespoons of butter. Stir in the parsley.
Heat a grill pan on high heat. Brush the mushrooms with olive oil on both sides. Season with salt and pepper. Grill the mushrooms, turning once, until they are just beginning to soften, about 5 minutes total. Transfer the mushrooms to a platter. Spoon the sun-dried tomatoes into the mushroom caps. Top with pancetta and toasted breadcrumbs.