Mix and match your guests' favorite meats, treats, and cheeses and never be bored with your charcuterie board! Start with these Tuna Nachos, perfect for tailgating at home.

Click to skip to the recipe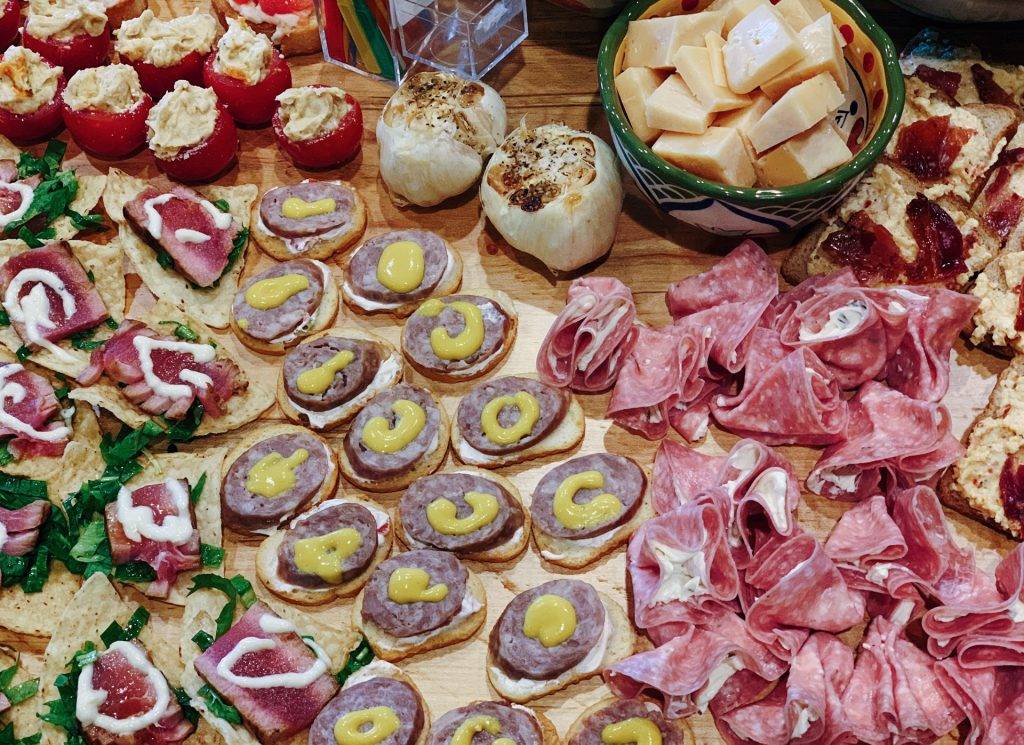 There are lots of reasons to entertain family and friends these days, as long as your family and friends have maintained their social distance while trying to live their lives amid craziness!

We're all living in our reduced social circles these days, but that still leaves us room to gather safely. And gather, we do!
One of my favorite ways to entertain is to set out individual bites onto a lovely charcuterie board.

Now, by its very definition, a charcuterie board is made up of prepared, cured meats (usually pork) and varieties of cheeses.

The very word charcuterie comes from the French words chair (flesh) and cuit (cooked).
But meat and cheese can be boring, so I veer towards combining charcuterie with an antipasti platter. Olives and pickled veggies are so yum.

But then I have a couple of crudité tray ideas and well, before you no it, I create a board full of appetizers that is unlike any other.

Just like I like it!
My recent board was created for my fellow book club pals. It was packed full of individual appys that by themselves would be perfect for a first-course nibble, but when combined could serve a crowd for a cocktail party or game day (stay-at-home) tailgate party.
The appys assembled on my board included roasted shrimp on a stick, chunks of Parmesan cheese, whole roasted garlic, salami and cream cheese "flowers", margarita sausage on baguettes with lime mustard, gouda and sun-dried tomato "pimento" cheese with candied bacon, hummus and Parmesan stuffed tomatoes and the fan-favorite, seared tuna nachos with roasted garlic cream.
Whew! Sounds like a lot and it was…..but it was also FUN to prepare and wonderful to watch as they were devoured in no time.
Whether you prepare your own fan-favorite appys or arrange store-bought (and there are tons of them) items on your board, the secret is to be surprising. Mix and match your favorites and be creative with your choices. After all, you never want to be bored with your board!!
Seared Tuna Nachos with Roasted Garlic Cream
These nachos are a big hit. You can easily make them in advance, and they look divine on your appy board.

Ingredients
For tuna:
1 (8-ounce) tuna steak:
½ cup rice wine vinegar
4 tablespoons soy sauce
2 tablespoons granulated sugar
1 tablespoon sesame oil
2 medium cloves garlic, minced (about 1 teaspoon)
4 green onions, thinly sliced (about ¼ cup)
1 (1-inch piece) ginger, grated
1 tablespoon olive oil
For roasted garlic cream:
Cloves from 2 whole heads roasted garlic, about ¼ cup, mashed
½ cup sour cream
¼ cup heavy cream
Juice of 1 medium lemon (about 2 tablespoons)
1 teaspoon salt
½ teaspoon coarse black pepper
For nachos:
Large, sturdy tortilla chips
2 cups tender green leave, washed, dried and thinly julienned (I used frisee, baby kale and butter lettuce leaves)
Serves:   A Crowd
Time:   60-Minute Cuisine
Place the tuna steaks into a shallow dish. Whisk together the rice wine vinegar, soy sauce, sugar, sesame oil, garlic, onion, and ginger.  Reserve 2 tablespoons of the marinade.  Pour the rest over the tuna steak.  Marinate for at least 30 minutes and up to 2 hours in the fridge.
Heat 1 tablespoon olive oil in a skillet over medium-high heat.  Remove the tuna from the marinade.  Shake off the excess.  Sear the tuna in the skillet turning once, about 2 to 3 minutes per side for very rare.  Remove the tuna to the freezer and chill for 5 to 10 minutes.
Place the roasted garlic cloves, sour cream, heavy cream, and lemon juice in the bowl of a food processor. Pulse to combine into a smooth thick cream. Season with salt and pepper. The cream should be thin enough to drizzle.  Pour into a squeeze bottle and set aside.
Place the tortilla chips on a platter. Toss the greens with the reserved marinade.  Place several shreds of lettuce over the tortilla chips.
Remove the tuna from the freezer.  Use a very sharp knife to cut very thin slices (across the grain) of seared tuna.  Place 1 to 2 slices (depending on how thin you can cut) onto each chip.  Drizzle with garlic cream.