Donna Fox is happy in her garden, and why not? She's grown a literal wardrobe of tomatoes!
If you are like me and my friend, Donna Fox pictured above, you have a love of fresh produce, and might be of the mind to grow your own! I love the thought of strolling to my backyard garden (in my fifties-style yellow sundress and matching straw hat) with my basket on my arm, and my garden snippers in my gloved hand. In this fantasy, I carefully snip the ripest tomatoes from the vine, and gracefully place them into my basket. I then pluck delicate greens and fragrant herbs, and head back inside my (now fifties-style) kitchen to assemble my stunning green salad. June Cleaver episodes aside, my on and off attempts at gardening have NEVER yielded anything like my fantasy. Until now!!
Enter the modern miracle of the Tower Garden. No fuss, no muss gardening with a simple turn of a switch. The garden assembly is a cinch. You simply "plant" the seedlings into their pockets, fill up the tank, and turn it on. Weeks and sometimes months later, you are plucking fresh lettuce, herbs tomatoes, cucumbers, zucchini and so much more from your back porch garden. It's called hydroponics, which means the veggies grow without soil and instead use the minerals you place into the water.
Gal pal, Donna decided to plant nothing but tomatoes in her water tower this year, and has been rewarded with tons and tons of all sorts of varieties. She asked for a couple of my favorite tomato recipes, and I gave her this one. It conveniently uses the zucchini I have from my own tower garden. Share and share alike!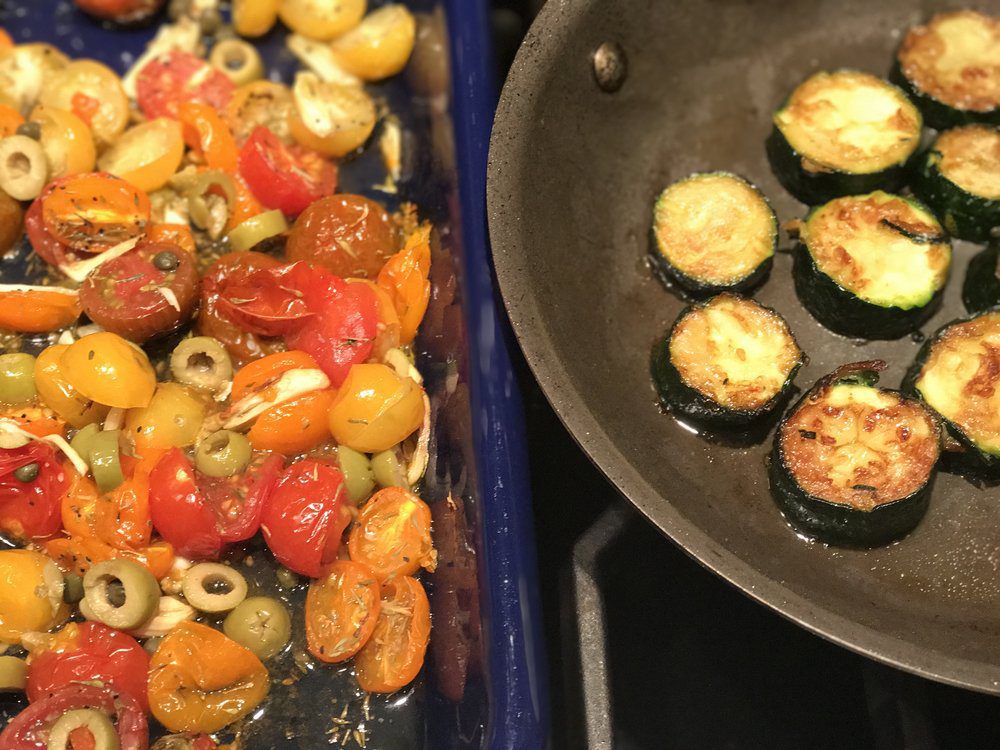 This dish proves you don't have to be fancy when you cook. It's so simple, but SO GOOD!
Zucchini Topped with Roasted Tomatoes
and Pine Nuts
Poaching zucchini in a bit of water with a touch of baking soda turns it into puffy squash pillows. Sprinkling the tomatoes with just a bit of sugar brings out flavors of peak ripeness.
MAKES 6 TO 8 SERVINGS
2 pints grape tomatoes, halved
8 large garlic cloves, peeled and thinly sliced, about 3 tablespoons
Fresh thyme sprigs
1 teaspoon granulated sugar
1 teaspoon kosher salt
½ teaspoon coarse black pepper
2 tablespoons olive oil, plus 2 more for zucchini
1/3 cup Kalamata olives, pitted and chopped
2 tablespoons capers, rinsed
2 large zucchini, cut into 1-inch pieces, about 4 cups
¼ cup water
1/8 teaspoon baking soda
1 (2-ounce) package pine nuts, about 1/2 cup, toasted
Zest of 1 medium lemon, about 1 to 2 teaspoons
Preheat the oven to 400°.  Place the tomatoes onto a baking sheet.  Toss the garlic and thyme sprigs around the tomatoes. Drizzle with sugar, salt, pepper and 2 tablespoons olive oil.  Toss gently. Roast until the tomatoes begin to burst, and the garlic is soft and golden, about 20 minutes. Remove from the oven, and toss with the olives and capers.  Set aside.
Heat the remaining 2 tablespoons olive oil in a skillet over medium heat. Place the zucchini into the skillet in a single layer.  Season with salt. Add ¼ cup water and a pinch of baking soda. Cook, turning often until the water evaporates and the zucchini is just soft and golden, about 15 to 20 minutes.  Be patient, this step is worth the effort.
Transfer the zucchini to a baking pan.  Cover each piece with a spoonful of the tomato mixture.  Sprinkle with pine nuts.  Bake until the dish is warmed through, about 10 minutes.  Grate the lemon zest over top and serve warm.