Summer wouldn't be summer without bursting berries…
Love a pastry with a delicate, tender crumb? Then it's time I shared my recipe for Very Berry Muffins. These are from my book, Sunday Best Dishes (print edition coming soon). The recipe is a delightful mix of blueberries, raspberries or just about any other berry you have on hand – and you probably have a few this summer. I use a combination of pastry flour with all-purpose flour, which gives these muffins just enough texture to remind you of blueberry cobbler. If you don't have pastry flour, you can use equal portions of cake flour and all-purpose flour.
You might have noticed the huge array of flours that are taking up more and more space in the grocery and specialty markets. You can find coconut flour, almond flour, gluten-free flours, whole grain flours… the list goes on and on. It's an excellent idea for you to experiment with different flours when you are baking to get the best possible combination for your taste buds.
Join the celebration and surprise your family with these easy-to-bake muffins on Blueberry Muffin Day on July 11th…. or any day you want to celebrate the muffin!
Very Berry Muffins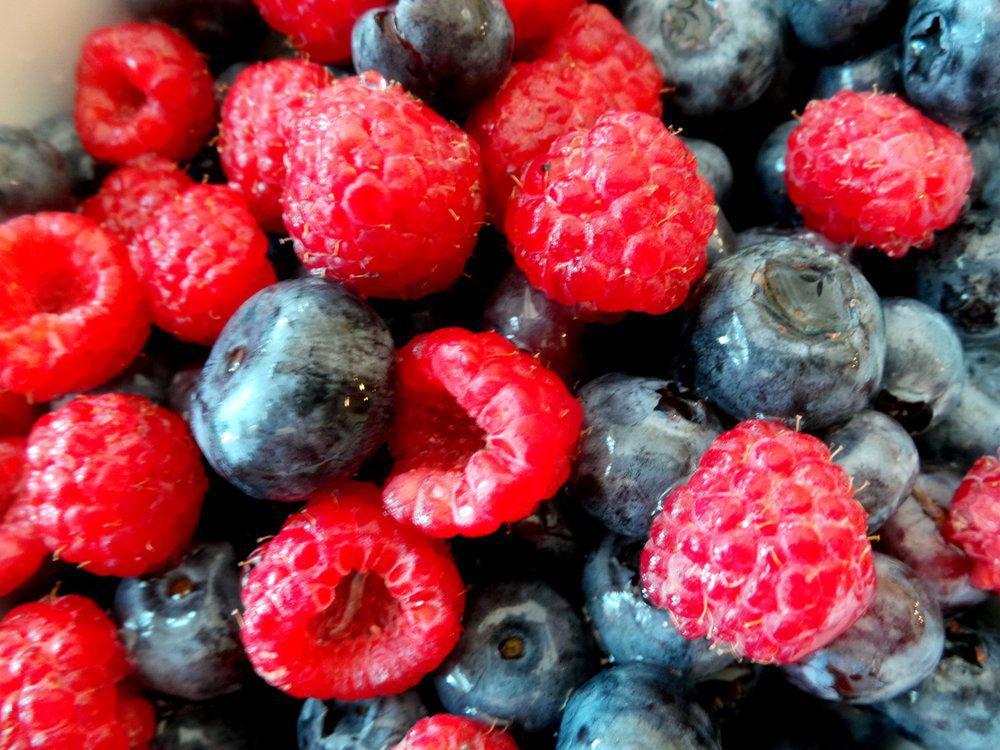 Got berries? These should do just fine in your muffins 🙂
MAKES 12 MUFFINS
When you open the oven door, the aroma of berry cobbler wafts through the kitchen. Served warm at breakfast, these muffins are a bona fide dessert! You may want to serve them with a slather of protein rich almond butter for a long-lasting energy boost!
2 cups unbleached all-purpose flour
1 cup pastry flour
2 teaspoons baking powder
1 teaspoon ground cinnamon
½ teaspoon salt
½ cup unsalted butter (1 stick), melted
1 cup granulated sugar, plus more for sprinkling
3 large eggs
¾ cup milk
½ orange, juiced, about 3 tablespoons
Zest of ½ orange, about 2 teaspoons
1 cup fresh blueberries
1 cup fresh raspberries
Granulated sugar
Preheat the oven to 375 °.  Line a 12-cup muffin pan with paper liners.
Whisk together both flours, the baking powder, cinnamon and salt in a large bowl.  In a separate bowl, whisk together the melted butter, sugar, eggs, milk, orange juice and zest.
Coarsely chop the berries using a knife or by briefly pulsing in a food processor. Stir the berries into the wet mixture. Fold the wet ingredients into the dry ingredients until just combined. The batter will be thick.
Drop the batter into the muffin tins using a 3-inch ice cream scoop.  Sprinkle the tops of the muffins with sugar. Bake until the muffins are golden and a tester inserted into the center comes out clean, about 25 to 30 minutes.  Cool in the pan for 5 minutes and remove the muffins to a rack.
Sunday Swaps
This basic muffin recipe screams for your inventiveness.  You can use any fresh fruit that you like; all berries, chopped peaches, apples and bananas are perfect.  You can incorporate oats, nuts or chocolate chips; add flavorings like vanilla, instant coffee, peanut butter – it all works.