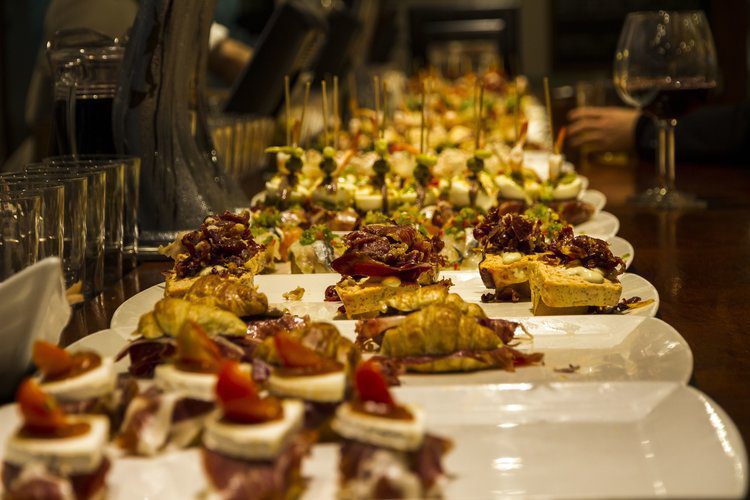 One of the coolest outings we arranged was on a family trip to Madrid; it was a tapas crawl! Our guide met us at our hotel and then took us on a walking tour of the local bars and pubs. We sampled small plates of paella, shellfish, specialty croquettes, and rich tomato soups, both hot and cold. We ended the evening at a coffee shop that served warmed churros directly from the fryer to the middle of your table, sprinkled with cinnamon sugar and accompanied by a rich, deep chocolate sauce for dipping. To say the evening was yummy would be one of the biggest underestimates of the century!
For a recent dinner party, I decided to incorporate the tapas theme into the evening. My BIG plan is to think SMALL! Small plates that is. Rather than a soup to the nuts four-course menu, think small plates all the way through the meal.
I started the meal with an antipasti plate that included plums wrapped with prosciutto. The specialty drink was Sangria, which blended a bottle of dry red wine with brandy, triple sec, lemon and orange juices, and ginger ale.
The secret to a successful small plate dinner party, is to have the plates stacked for each item, and the food prepped and ready to go. The rest of the meal went like this: Croquets de Jamon, which is a fried ham and béchamel croquette, served with a dipping sauce of spicy aioli. Chilled gazpacho shooters served in juice glasses came next. A small dish of garlicky shrimp and shishito peppers followed the soup. In place of traditional paella, my Americanized version was made with shredded chili roasted short ribs, peas, and Portobello mushrooms. The final small plate presented warm churros with individual small bowls of chocolate sauce for dipping. Hungry yet?! If any of these tapas ring your bell, let me know. I have the recipes!
I canvassed my guests, and by far the favorite dish of the evening was the shrimp. It's not only terrific as a small plate, but it's also an easy, one-pan meal that is perfect for a busy weeknight dinner. Shishito peppers are only in season for a short time, so feel free to substitute with slices of poblano peppers, snow pea pods, green beans or asparagus. They all work well, with the garlicky olive oil and shrimp.
Garlicky Shrimp and Shishito Peppers
Serves 4 as main 6 to 8 as appy
30 Minute Cuisine
Slow cooking garlic in olive oil does double duty. The oil becomes fragrant, while the garlic becomes soft and sweet. Add the bite of whole shishito peppers and delicate shrimp, and you have a simple one-pan meal that come together in minutes!
1 whole head garlic, cloves peeled and thinly sliced, about ½ cup
½ cup olive oil
1 tablespoon paprika
10 to 12 shishito peppers
1 bunch green onions, tops removed, halved, and cut into 3-inch pieces
1 pound fresh extra-large shrimp, peeled and deveined, about 26 to 30
1 teaspoon Kosher salt
½ teaspoon coarse black pepper
2 tablespoons chopped fresh parsley
Heat the olive oil in a cast-iron skillet over medium heat. Add the garlic and paprika and cook until soft, and just beginning to turn golden on the edges. Be careful not to burn the garlic! Add peppers, green onions, and shrimp to the pan. Turn up the heat to medium-high. Toss the veggies and shrimp in the garlicky oil, until the shrimp turn pink and are cooked for about 3 to 5 minutes. Season with salt and pepper. Sprinkle with parsley and serve.