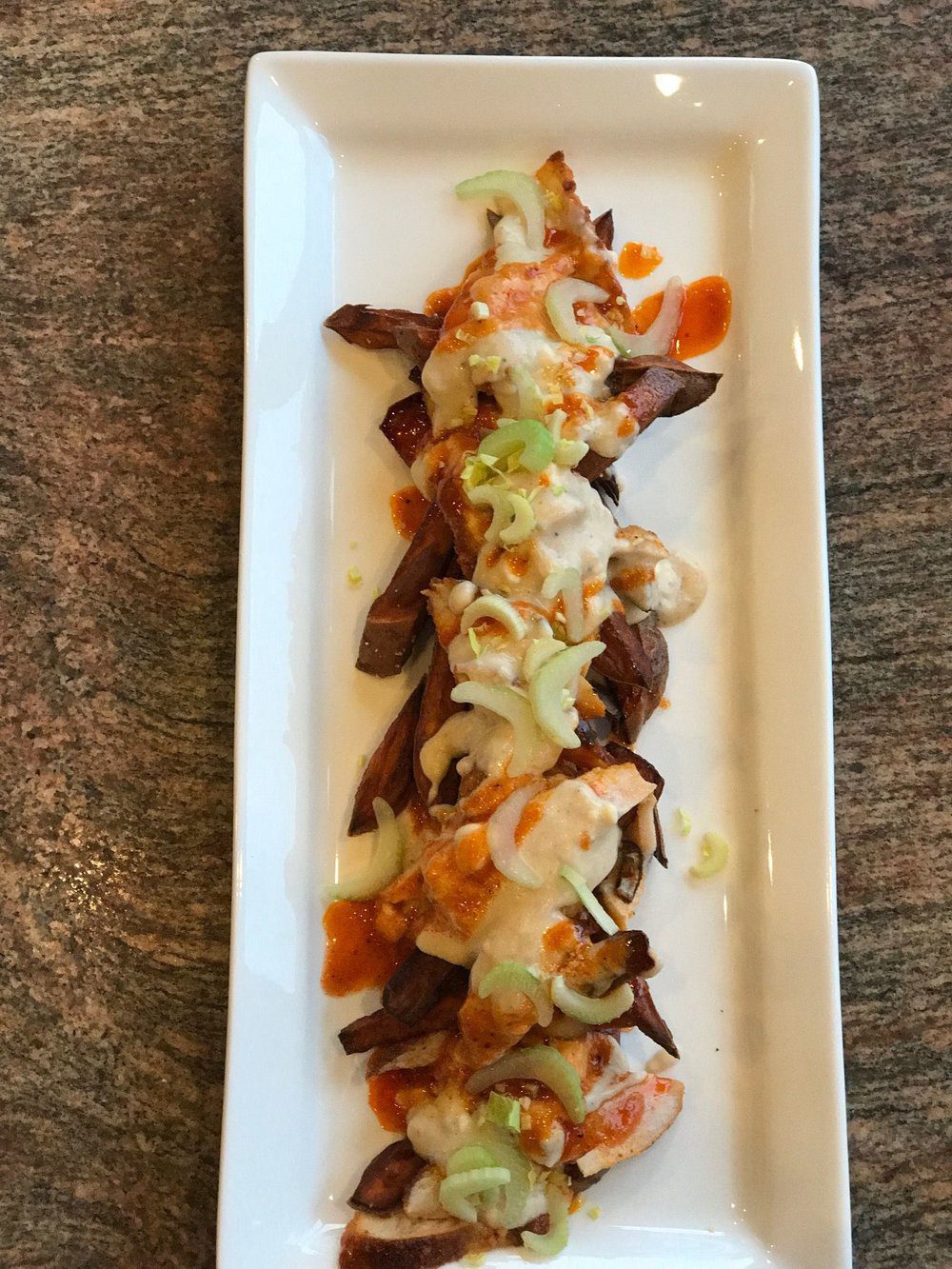 Sweet Potato Fries with Crispy Buffalo Chicken, topped with Blue Cheese Gravy.
Perusing the menu at my favorite North Carolina pub, I saw a dish called "Elevation Fries". Elevation – because we're sitting atop an Appalachian mountain. But, when I started thinking about it, the name really speaks to elevating an American staple … the fry!
There's a story here! There is a school of thought that claims the origin of the fried potato was from Belgium, where poor fishermen served pieces of sautéed potato alongside small portions of fresh caught fish.
The French, most haughtily claim the fry as their invention, noting that their potato spears were served from vendors for street fare, pre-dating the French Revolution. Pommes frites anyone?
I munched on traditional potatas bravas in Spain. These are diced bits of potato, flash fried and tossed in a hot, spicy sauce that needs some taming. This is where the tapas inspired cocktails come into play!
Whether they originate from Belgium, France, or Spain, the western fry has evolved from a spear for dipping in ketchup, to a dish all its own.
You may have heard of a dish called "poutine". It involves fries, gravy and cheese curds. Don't laugh, Canadians live for this. If you are in North Jersey, you take poutine to the next level creating Disco Fries. Look at these guys waiting near the deep fryer!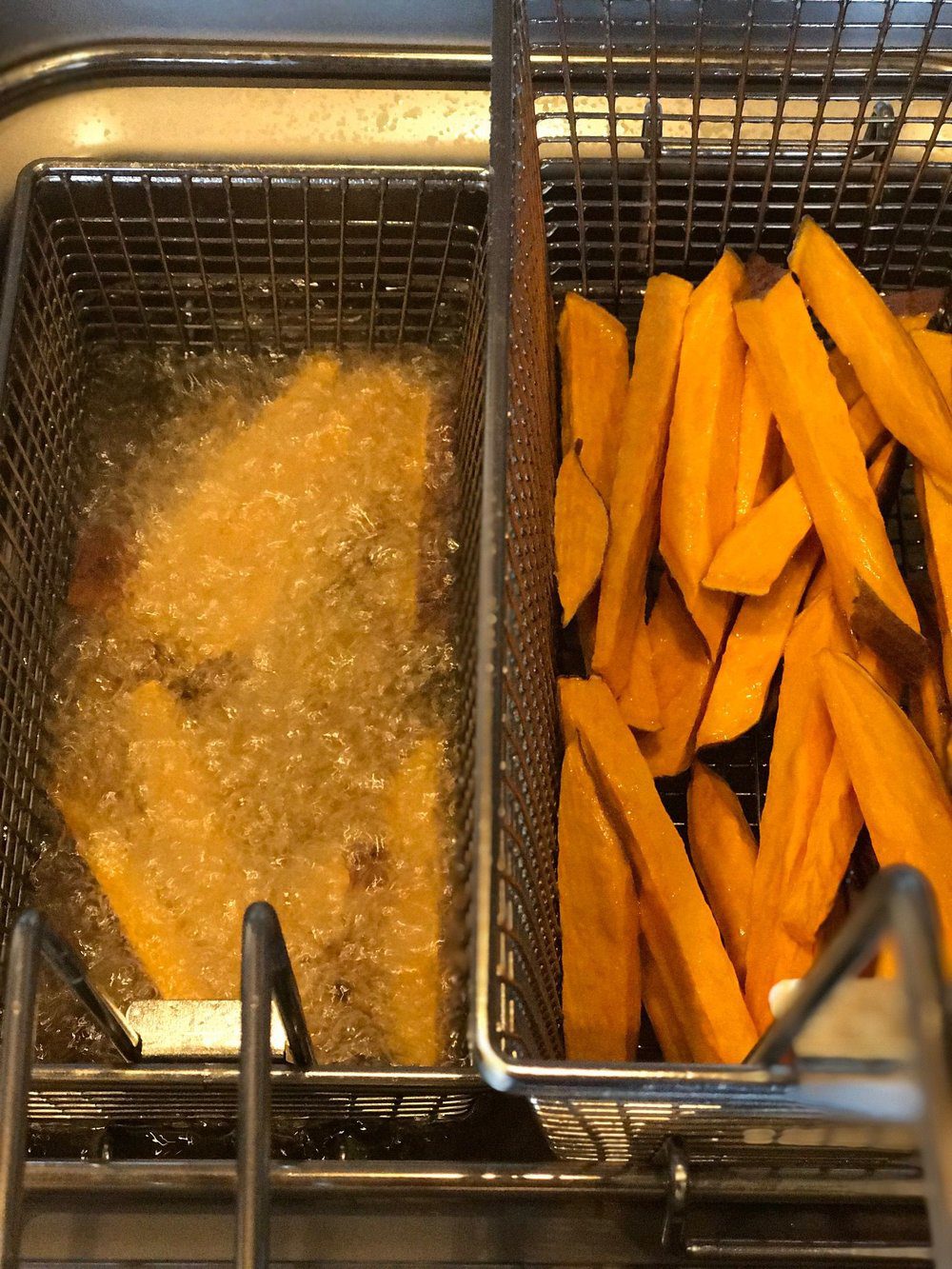 This version starts by covering steak fries with cheese sauce and topping that with brown gravy. *Although others claim melting mozzarella cheese is a must to be an authentic Jersey fry. I created two sauces (well, 1 Hot Sauce concoction, 1 gravy) that elevate these buffalo chicken sweet potato fries to a new level. See them pictured below!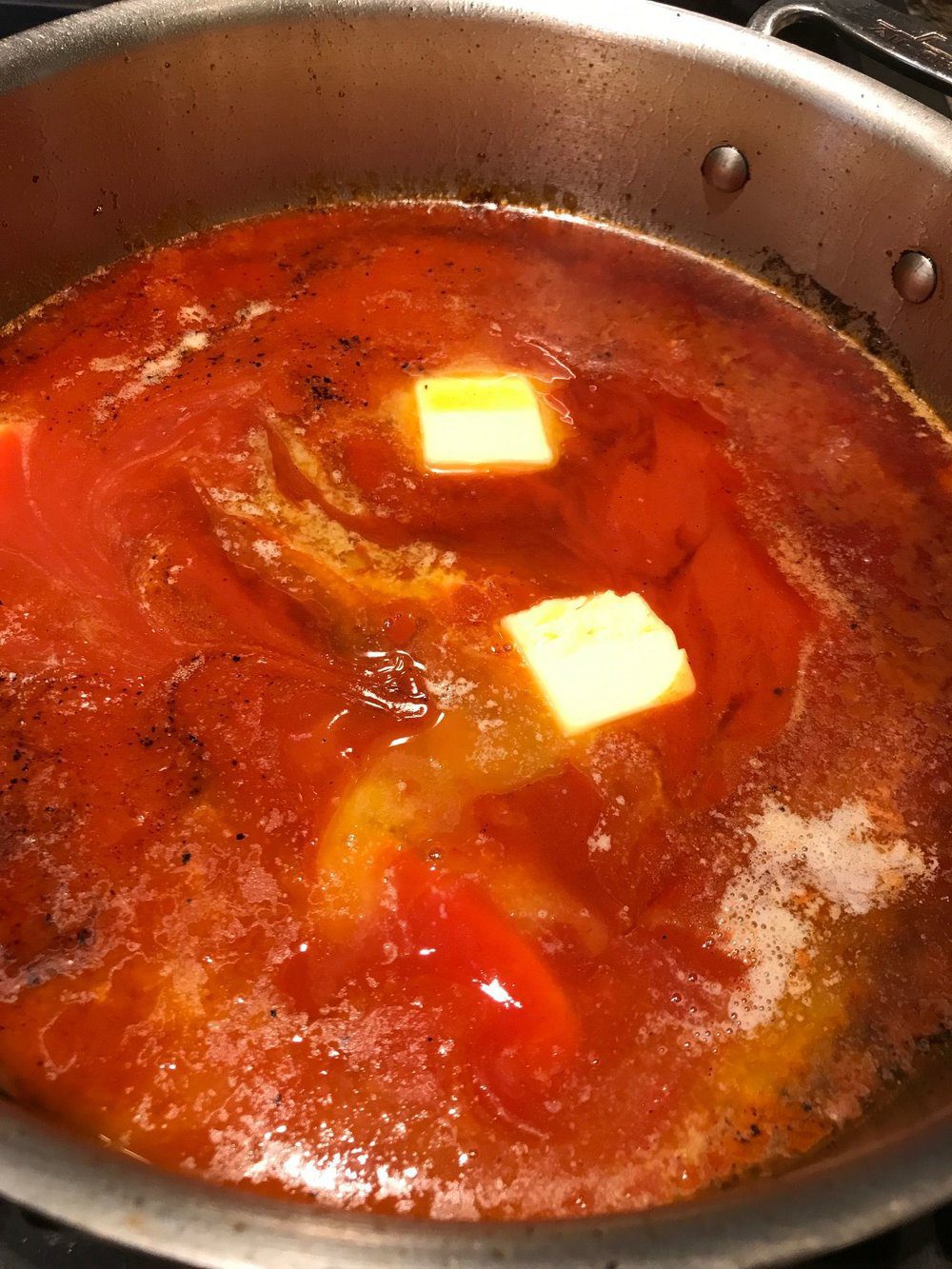 This hot sauce is a celery, garlic & red wine vinegar infused delight!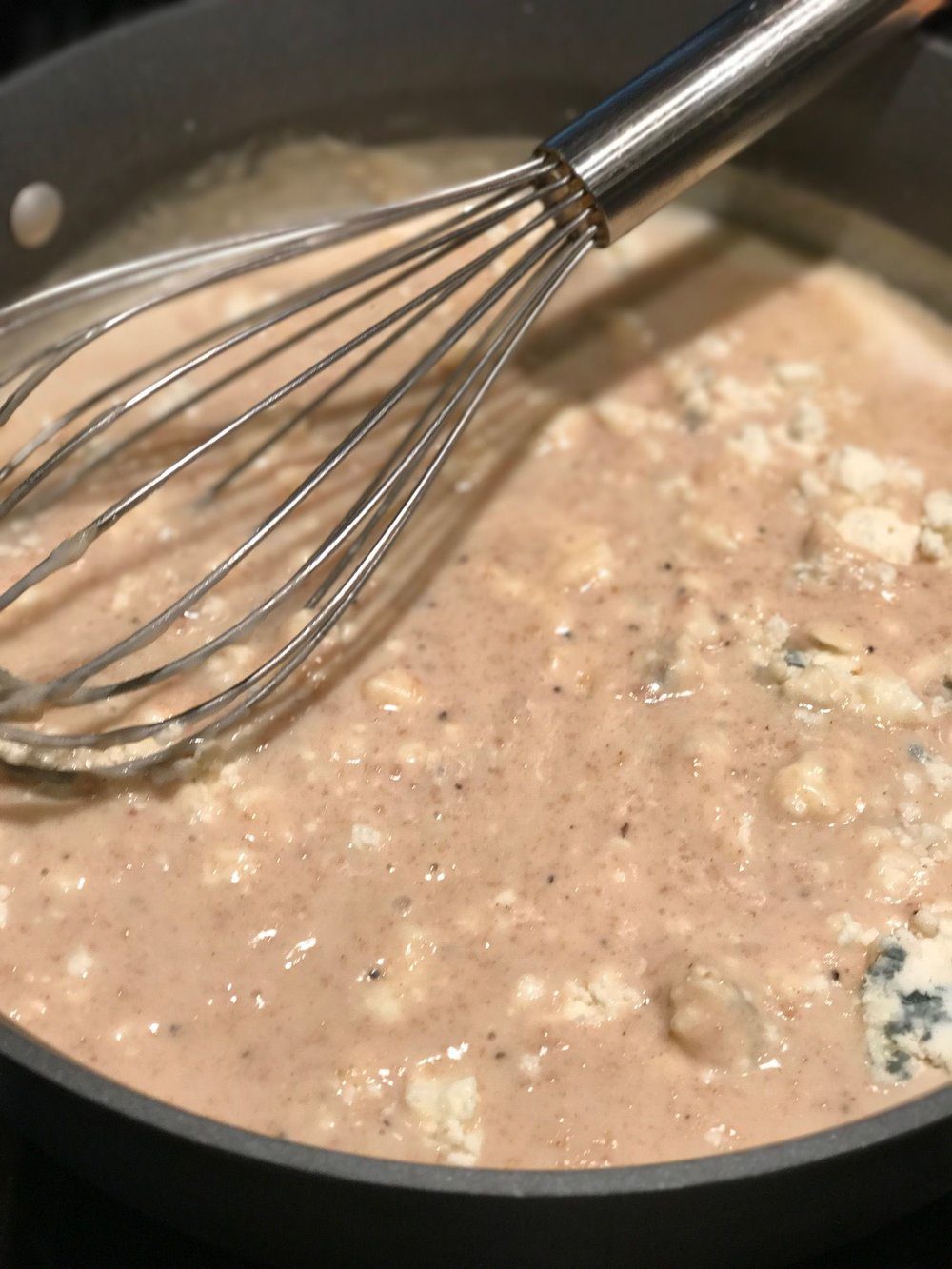 Blue Cheese Gravy — SO GOOD!
If you are traveling anywhere in the good ol' U S of A, you might just pop into a Cook Out. This is a chain of fast food restaurants, well known for their many shades of shakes. But, in my humble, personal opinion these guys have the best darn chili-cheese fries in the country! Served from a brown paper bag, with just enough grease, hot cheese sauce and chili gravy to satisfy your craving for months and months, you just can't beat them!
Now where the heck am I going with all of this, and why is your tummy growling? Well, dear fellow foodies. I have created the ultimate in poutine/chili-cheese/disco fry dishes. I have taken the sauced fry, and mated it with this buffalo chicken: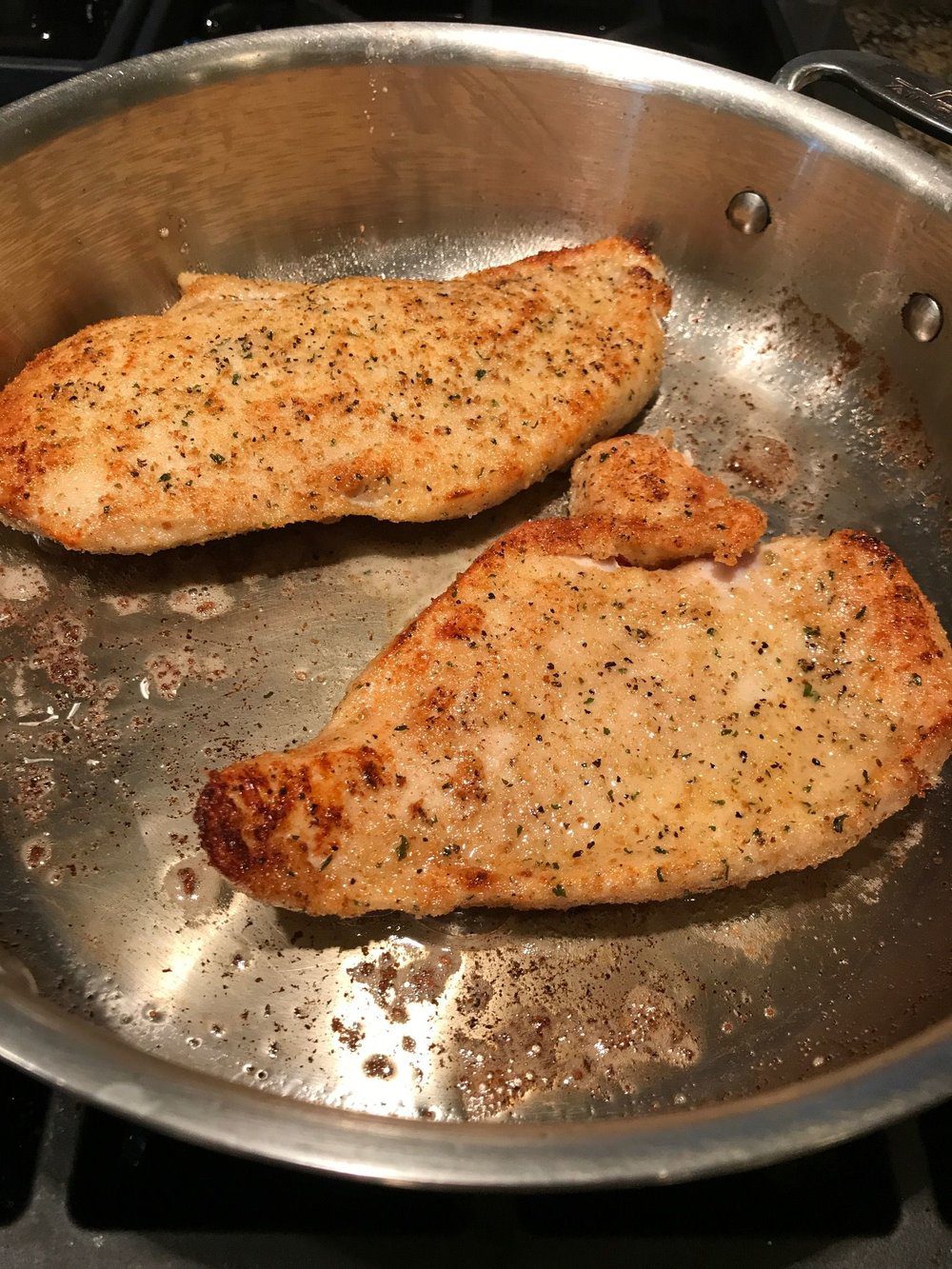 This Buffalo Chicken just screams for sauce!
I'm just in in time for football pre-season tailgating! Ladies and gents, I give you my recipe for Sweet Potato Fries with Crispy Buffalo Chicken, topped with Blue Cheese Gravy. You're going to love it!
Sweet Potato Fries with Crispy Buffalo Chicken
Covered in Blue Cheese Gravy
Serves a crowd
45 Minute Cuisine
Poutine meets Disco fries and brings along Buffalo wing flavor in this elevated French fry dish.
For fries:
3 medium sweet potatoes, scrubbed and cut into ½-inch thick spears
Oil for frying
Kosher salt
For blue cheese dressing:
4 tablespoons butter, ¼ cup
¼ cup unbleached all-purpose flour
2 cups milk, room temperature
1 teaspoon onion powder
2 ounces Blue cheese, crumbled, about ½ cup
1 teaspoon kosher salt
½ teaspoon ground white pepper
For chicken
2 boneless, skinless chicken breasts
½ teaspoon coarse black pepper
½ cup seasoned breadcrumbs
2 tablespoons olive oil
For hot sauce:
4 tablespoons butter, ¼ cup
2 to 3 garlic cloves, peeled and minced, about 1 tablespoon
1 (5-ounce) bottle hot sauce (I used Frank's Original Hot Sauce)
2 tablespoons red wine vinegar
3 celery ribs, thinly sliced
Soak the sweet potato spears in cold water for 20 minutes. Drain and pat dry. Heat enough oil to come 1/3 up the ide of a deep pot to 325°. (Use a candy thermometer for this). Cook the fries in the oil until they just begin to turn golden, about 5 minutes. Use a slotted spoon to transfer the fries to a sheet pan lined with paper towels. Pat dry and cover with clean paper towels until ready to assemble the dish.
Place 4 tablespoons butter into a sauté pan over medium high heat. When the butter is melted, whisk in the flour. Cook the butter and flour until it bubbles. It will begin to color. Continue cooking until golden brown, about 8 minutes total. Slowly whisk in the milk. Reduce the heat to medium. Season with onion powder, ½ teaspoon coarse salt and white pepper. Continue cooking until the sauce becomes think and gravy-like. Turn off the heat and stir in the blue cheese. It's okay if the gravy is not smooth. (The blue cheese crumbles resemble cheese curds like in the real deal poutine). Cover the gravy with aluminum foil to keep it warm.
Season the chicken breasts with ½ teaspoon coarse salt and black pepper. Put the bread crumbs onto a plate. Dredge the breasts in the bread crumbs until coated. Heat 2 tablespoons olive oil in a sauté pan over medium high heat. Cook the breasts in the oil, turning once until golden brown and crispy on both sides, about 8 minutes total cooking time. Transfer the chicken to a plate to rest.
Melt 4 tablespoons butter in the same pan that you used for the chicken, over medium low heat. When melted, add the garlic and pour in the hot sauce. Stir in the balsamic vinegar. Simmer the sauce for 5 minutes. Place the chicken breast back into the pan and coat with the sauce. Simmer the sauced chicken over low heat while you finish the fries.
Fire up the oil to 375°. Fry the potatoes for a second time. The first time you cook them the middle of the fry is cooked. The second time you fry, the outside crisps. Cook until the fries are golden brown and crispy, about 5 minutes. Transfer to a paper-towel lined baking sheet and season with salt.
Assemble the dish by removing the chicken from the pan and slicing into thin strips. Lay the fries onto a platter. Top with slices of chicken. Pour the blue cheese gravy over the top. Drizzle some of the hot sauce over the gravy. Garnish with thin slices of celery.